Loyalty means much more than just discounts and free gifts. Customer loyalty programs built solely on points, and price promos won't last in the Age of Experience. Brand interactions that stick out are the ones that cultivate ongoing connection, built on meaningful relationships.
Retention-minded marketing teams are taking loyalty to the next level — from a nice-to-have concept to a well-defined, self-sustaining, revenue-driving program — by offering multi-pronged value for opted-in members.
So, it's time to ask: what kinds of experiences can you offer your customer in return for being loyal to your brand? Let's break down four of my favorite tactics to integrate in a well-rounded customer loyalty program in 2021.
Bring Customers into Your Loyalty Program
In 2021, loyalty will be built on depth of value, not giving steeper discounts. But in order to create that foundation, you 'll need to get customers to join. Any successful loyalty relationship begins with a genuine first impression — from the moment of opt-in.
My favorite local smoothie and acai shop retargets customers who are likely to become a member with non-invasive invitations to join the club.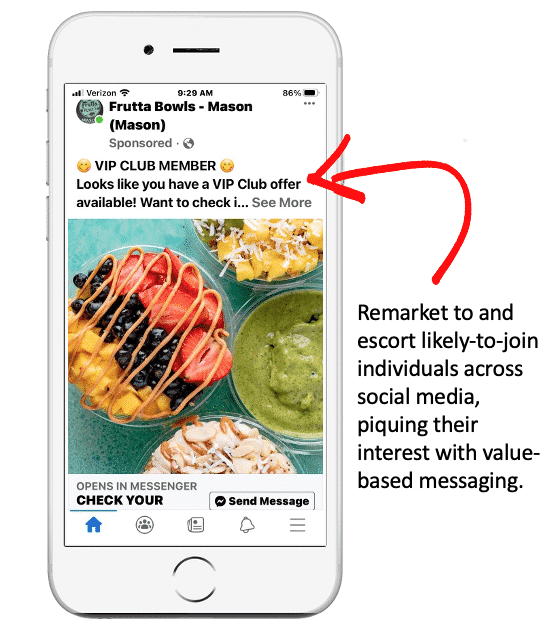 Once brand trust is established, the customer is willing to check out the offer and share their private data in exchange for the promise of personalized value.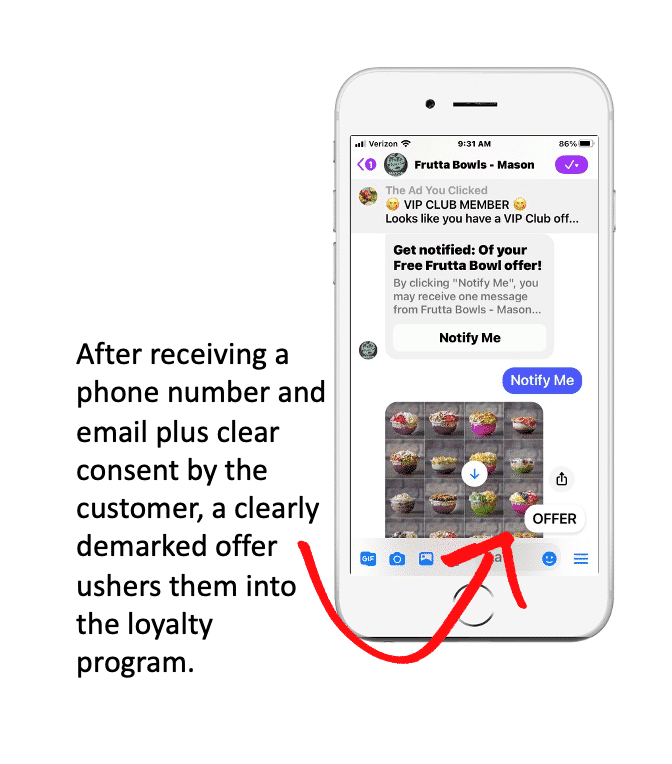 Now, the stage has been set for ongoing relationship building. Frutta Bowls has a good understanding of who their customer is, what they like, frequency of purchase, and more. What else could they — and your team — do in order to generate deeper relationships that go beyond points and prizes? Let's get into it.
Get your priorities straight for 2021.
Discover the 8 most lucrative areas of focus for marketing in 2021.
4 Ways to Create Long-Term Loyalty & Boost Lifetime Value
1. Offer priority customer service
One of the most pervasive pet peeves for customers are long wait times. Providing members with access to a speedier process combats this issue beautifully.
Although we normally see priority service in the travel industry, by no means is this strategy restricted to airlines and airports.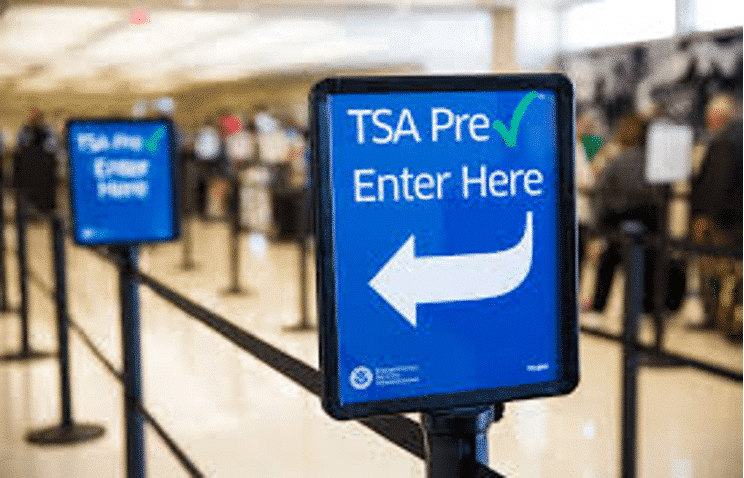 For an extra annual or monthly subscription, brands can offer expedited experiences such as:
Priority boarding, check out, or "skip-the-line" (TSA PreCheck)
Reduced call center wait times
Speedy shipping (Amazon Prime)
Priority access to instantaneous help when customers need it most is one of the most under-looked but easiest wins brands can incorporate into a loyalty approach.
2. Personalized shopping
If you recognize shoppers by name, offer product recs based on purchases, or demonstrate knowledge of their purchase history, 75% of customers will be more likely to buy from you.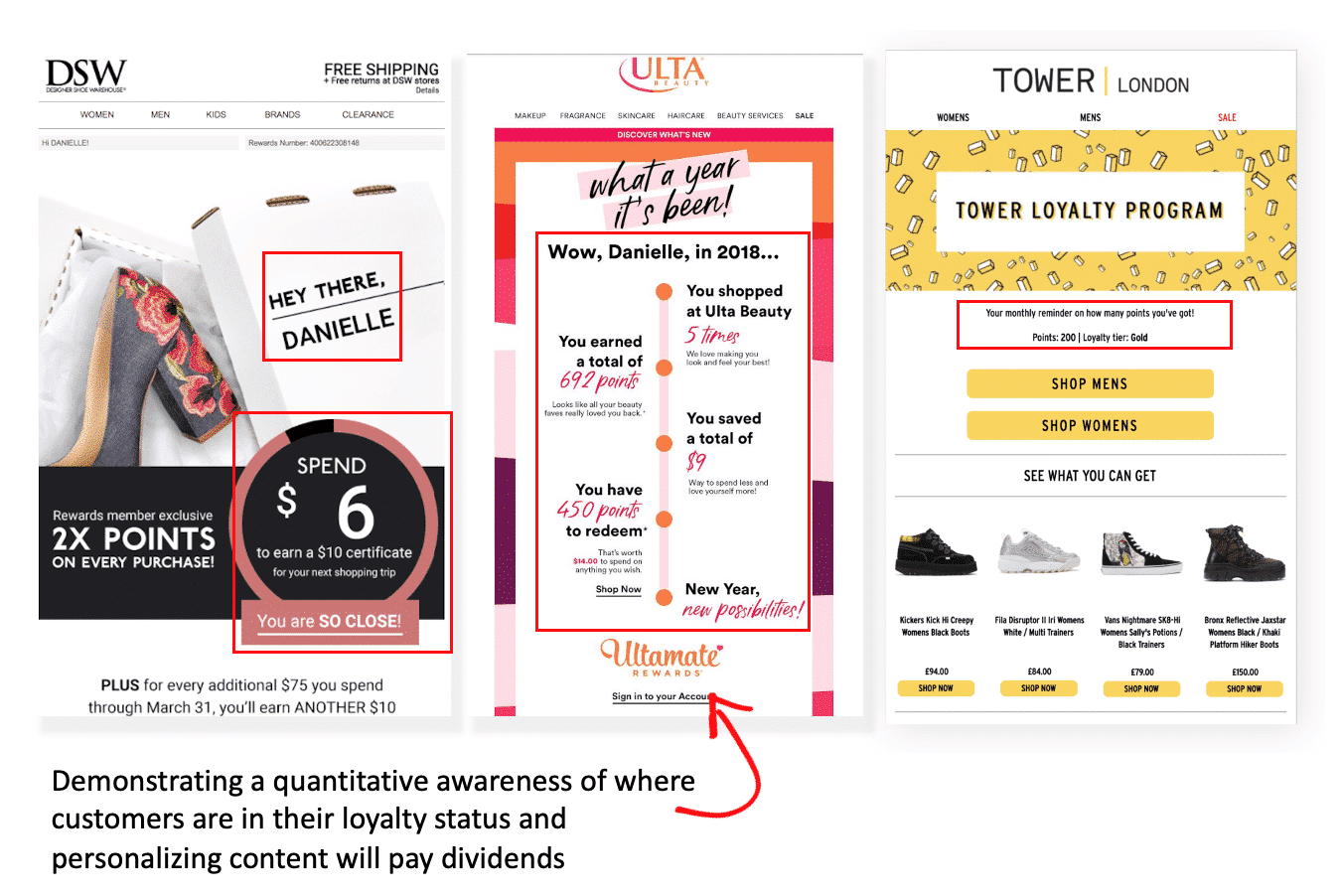 Personalization benefits go far beyond points because they foster a more authentic relationship with members.
Plus, it isn't hard to convince customers that they'll receive more relevant offers by opting into a loyalty program — it feels like a more natural "sell" to promise personalized experiences for them the more they share themselves with you.
3. Exclusive, early, or extra access to products, specials, or sales
I remember when another local (but much larger) store ran an exclusive shopping event for loyalty members only. Two years ago, my local T.J. Maxx and Marshalls did an in-store special where members received early and exclusive access to in-store merchandise before anyone else.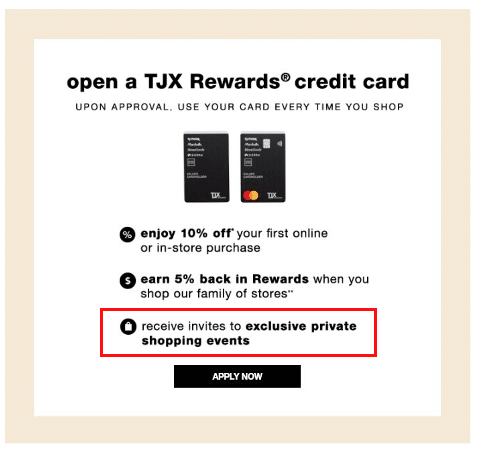 When I first joined OrangeTheory Fitness a few years ago, they hosted a welcome party for new members at a location not yet open to the general public.
Early access to anything quenches our innate thirst for recognition, for status. If you can make your loyalty members feel special by showing them just how much they mean to you, you'll surpass the 90% who are still relying solely on aged loyalty tactics based on emotionless discounts.
➤ Bonus Tip: Further encourage customer loyalty with gamification, free gifts, loyalty rewards, and an extended return policy for returning customers.
4. Access to a program, course, or other premium content
How can you leverage content to create top-tier customers? Point accumulation may inspire short term sales spikes. But investing in inspiration and education are what drive advocacy.
I'm talking about building actual content marketing assets — online programs, magazines, and courses — that educate customers on how to live better, spend smarter, or improve their life.
People don't just want to buy things… they want to grow by gaining knowledge. Give them the educational exclusivity they didn't even know they needed. Here are a few ideas of ways to do this:
Offer VIP access to special programs, sessions, workshops, or presentations
Create a branded membership club, loyalty group, or special access e-newsletter
Disseminate special stories, tips, or tricks for club members
Allow exclusive access to a place, activity, or store
Make a quick pass for in-store entry and checkout, or first-to-know about new items in stock
Offer access to inventory or a new product line before general release
The goal is to build better customers by creating more informed customers. By educating those who buy from you, you can build a relationship beyond another deal, discount, or incentive.
Conclusion
The best loyalty programs, the ones that cut through and actually create better lifetime customers, use an integrated mixture of rewards, experiences and customer education.
Make 2021 the year you reconsider how your loyalty program works to drive revenue, advocacy and brand value over the long haul.
Handpicked Related Content: