I was shocked to learn that 7 out of 10 people who begin a shopping cart on your website will not checkout. Earning just 30% of all interested shoppers aren't odds worth betting on.
Cart abandonment is way more prevalent than we'd like across all industries and the impact can be severe if not addressed.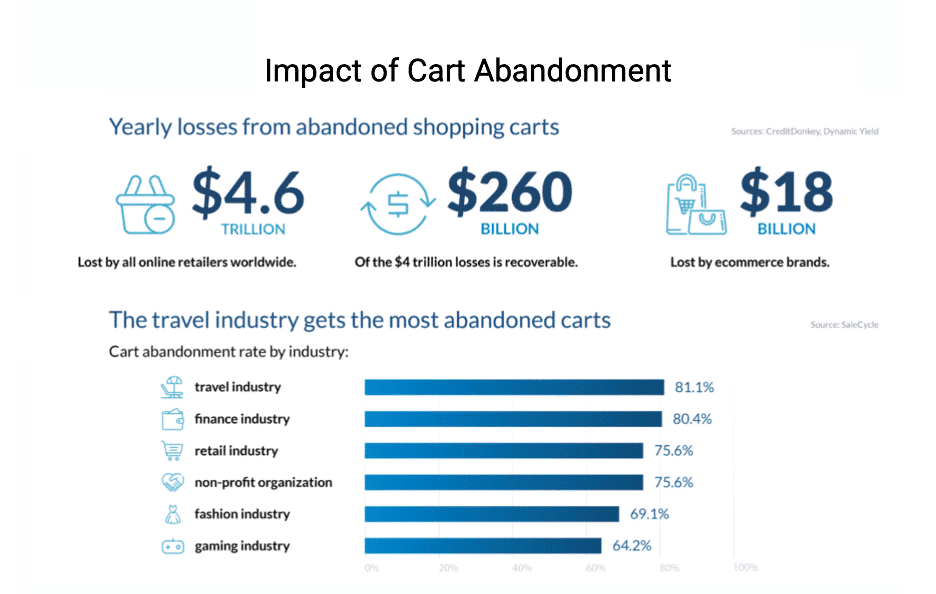 In short, converting customers and inspiring online purchases (especially first-time) is difficult. Breaking through the many emails each of your contacts gets every day isn't easy either (269 billion emails are sent every day). But, this isn't just a doom and gloom narrative. We'll show you exactly how to break through the clutter with the right methods, incentives, and 1:1 content to convert this segment of your audience.
This post outlines 10 strategies retailers can take to combat this serious problem and make sure it doesn't continue for long at theory expense.
What is cart abandonment?
Cart abandonment occurs when would-be shoppers begin building their collection of desired items with an intent to check out but without making the actual transaction. At this stage in the buying cycle, customers are already engaged with a brand and have shown demonstrative interest in making a purchase.
For many online retail businesses, what we call "abandoned cart" is the most effective triggered campaign that can be sent.
What are abandoned cart emails?
Email is the easiest and most effective way to re-engage these hot leads. About 44% of abandoned cart emails are opened by customers.
Abandoned cart emails are triggered when someone leaves a cart unattended for a period of time, or if they exit the browser, close an app, or other shopping platform with items saved in their cart. These types of emails remind the shopper that they left something valuable in their cart, often recommending the items that were left in the cart, and often similar items.
Abandoned cart emails effectively give contacts a second chance to buy. They:
Allow for revenue recovery by bringing the customer back to complete the purchase
Can be fully automated so there's no need to think about them once they're active
Can include dynamic incentives based on the value of the cart
Why is that so important — I mean, why not just let bygones be bygones?
Because, recovering just 1% of your customer base could increase your revenue by 10% (Adobe, 2015).
In fact, one of our top-performing client brands — a memorabilia product company — used cart abandonment campaigns to generate $14K in 30 days.
But what's the trick? What are the secrets to converting shoppers who start but don't finish a purchase? Which specific tactics work best and where should you focus your efforts?
In this guide, we'll break down the intricacies of cart abandonment emails, including expert insights on what works and what doesn't and real examples from brands KILLING cart abandonment and driving results… all to help you create abandoned cart emails full of value, enticement, and profit-generating potential.
What should shopping cart abandonment emails contain?
Alright, let's get to it — what do abandonment emails need to actually have? Well, consider the reasons consumers abandon carts to inform what should be included in them:
Keep in mind that, with the email specifically, you're trying to get the customer to click and come back.
Abandoned cart emails should be simple, to the point, and easy to understand (e.g., should be clear that the point of the email is to give the contact a chance to cash in on items they liked but didn't purchase).
Here are three elements that make a successful cart abandonment email campaign:
Incentives. In controlled doses, include free shipping or discounts NOT previously offered to encourage purchase.
Right products. While it seems obvious, be certain you're showcasing the product name, price, image, and short description for the right items. Data shows you know what each individual intended to buy, so include exact elements of those items to inspire purchase.
Recommend items. Take typical abandonment emails a step further and upgrade them to include recovery recommendations, too. Abandoned cart campaigns can be a dual threat for up-sells or cross-sells. Cart recovery recommendations allow you to present related items that customers may also like — but don't overdo it as you don't want to risk distracting them.
Examples of Successful Cart Abandonment Emails
Cart abandonment campaigns are the remedy to reeling in and retaining those who build a collection of saved items but do not convert.
As such, these emails serve as a great opportunity to take personalization to the next level with witty banter, a conversational tone, or humor. These examples showcase how some top brands are approaching abandoned cart campaigns
Replacements, Ltd., a kitchenware brand, saw a big opportunity to regain revenue with cart abandonment reminders, generating more than $10,000 from their initial campaign and a total of more than $101,000 in additional revenue within the first four months of running these simple but effective emails.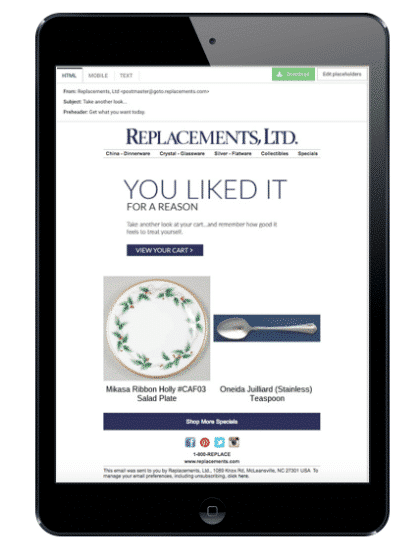 Here are a few more examples of abandoned cart emails: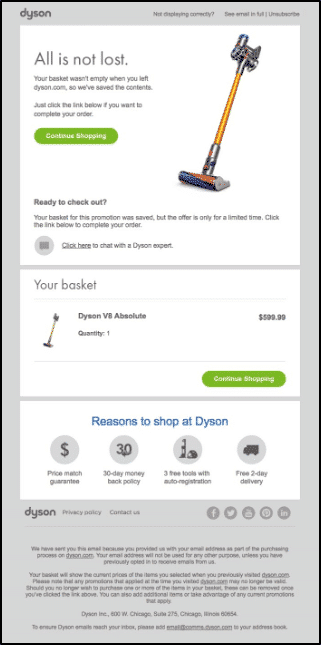 The best abandoned cart emails instill a sense of urgency. Additionally, they show which products were left behind, with a clear CTA to return to the cart for purchase.
One trick you can do is to position abandonment emails as if there was actually an issue the customer may have experienced while attempting to check out — as if to put the burden on the brand instead of blaming the customer for bailing on a purchase.
Let's dive into further strategies to regain those would-be transactions.
5 Abandoned Cart Strategies to Drive Sales
Just because you can automate them doesn't mean abandoned cart campaigns can't be modified or iterated-upon. They also come in different flavors which can be aligned to your customer journey, too. Let's break down five of these.
1. Regular/Generic Abandoned Cart. A standard follow-up message to drive shoppers to your website where items were added to the cart but no purchase was made. Tactics that work well to supplement these include offering personalized discount codes and free shipping.
2. Fast Abandoned Cart. A follow-up message very quickly after a visit to your website where items were added to the cart but no purchases were made. Tactics that work well here include sending an email or push notification immediately after to remind shoppers what they left behind. You can create a sense of urgency, too, to incentivize action.
3. Abandoned Browse. Think of abandoned browse messages as preemptive strikes that target browsers who indicate interest in certain items but never make a purchase or add items to their cart. An effective tactic to use here is exit-intent popups, right then and there.
4. Abandoned Browse (Top Selling Category). Follow up a visit to your website where a user has browsed for the top selling category where no purchases were made and no items were added to the cart. You can promote your top category with banners on your home page, pop ups upon entering or exiting your site, or as recommended content. Other tactics that work well here are showing customer ratings, reviews, or testimonials.
5. Abandoned Browse (Top Selling Product). Follow up a visit to your website browsed for top selling items where no purchase was made and no items were added to the cart. Again, you can create a sense of urgency by showing how fast this item is going, plus you can use social proof to show how many people have bought it in the last week.
Here's a few best practice tips to get the most bang for your buck with these revenue-saving emails.
1. Don't Just Send a Single Email
Sending your first email 1-3 hours after the cart abandonment can typically increase your conversion rates by up to 20%.
After 24 hours, sending a second email to contacts who've still not purchased can improve conversion rates by up to 50%.
As outlined above, fast abandoned cart messages are the best way to follow up shortly after a visit to your website where items were added to the cart but no purchases were made. An email or push notification sent immediately after to remind them what they left work best.
2. Consider Offering Discounts in the Second Email
Proposing discounts and/or free shipping in the first email could create unnecessary costs for your company, and your customers can exploit this.
Consider why the carts might have been abandoned before executing. Rather than offering discounts in the first email, think about offering them in the second email, with a message that emphasizes a heightened sense of urgency.
3. Send at the Right Time
It may be tempting to send your email immediately after the basket is abandoned, but this actually unsettles many customers. We've found that a subtle reminder anywhere between 1 and 4 hours after abandonment tends to be optimal. The price comparison and decision-making period is longer for high-priced goods and services (vacation, car, investments, etc.) as people prefer to discuss with their families and friends, or compare prices on other sites. In such cases, waiting a few more hours to send your first email would be more effective to give them time to complete their investigation.
---
"Timing is key when it comes to abandoned shopping cart emails.
Typically, the best results come if you send the abandoned cart email within one hour after abandonment. If the shopper does not take action on the first message, I've found that sending a second message exactly 24 hours after abandonment yields the best results, as people are routine-based and you have the best chance of reaching them at the same time of day that they were shopping previously. After 24 hours, the success rate drops immensely, but you can also send a third abandoned cart message several days or exactly one week after abandonment and test to see how those perform.
When you send the email, always show the shopper what items they left in their cart. If they were interested in something previously, showing them that product may be the incentive they need to complete the purchase."
~ Adam Q. Holden-Bache • Email Marketing Expert & Author of How to Win at B2B Email Marketing • @AdamHoldenBache
---
4. Ensure Content Generates Urgency
Customers have become numb to some brand emails, cart abandonment messages included. To stand out in the inbox, think outside of the box. The subject line, "You forgot something," likely won't generate as much attention as you'd like in the inbox. If you have the creative freedom, flirt with your brand's tone of voice and sense of humor to catch eyes and clicks.
Within your subject line, preview text, and body copy, use words that create a sense of urgency to ensure purchases are completed immediately.
For example, abandoned browse messages for your top selling product — a must have — can initiate a second visit to your website for your most popular item which someone looked at but never acted on.
Also, be sure to clearly communicate how long the items in the abandoned basket will remain in the basket. You can use countdown clocks to encourage customers to take advantage of a limited time offer. Don't be afraid to use emotional messages with creative elements in these emails.
5. Add Social Proof
For customers on the fence about buying, there's few better options to convince and persuade than showing what others have said, achieved, or accomplished with the same items.
Add a pronounced section showcasing top feedback from other customers who also purchased the product(s) in question. If possible, include the product or service ratings
6. Use Conversational, Witty Tone
Use a friendly, even witty tone rather than a businesslike, salesy tone.
It also works well to speak from a customer service perspective with these emails. You can use language like this:
"Remember …"
"Did you experience any problems during your purchase?"
"Is there anything we can do to help?"
Bonus Tip: Include a customer service phone number or email in the content. Also, try to reduce the feeling that the email was sent automatically from your email system.
7. Don't Delay the CTA
It's crucial to place the CTA buttons "above the fold" and be sure to link the action button to that person's cart. Always use CTAs that imply some semblance of urgency to get would-be buyers to notice it and click.
You can play around with vibrantly colored and attractive call-to-action buttons, with language like:
COMPLETE SHOPPING
GO TO YOUR CART
VIEW YOUR CART
8. Maintain Focus
Don't give too much detail or marketing related information in abandoned basket emails. It's also best to avoid other promotions or upcoming promotions in the content – this is not a daily marketing email. The last thing we want to do in these situations is distract the recipient and draw them away from the one thing these specific emails are intended to do.
Bonus Tip: Be sure your CTA points directly to a checkout page with the items set and ready to go – not a generic product or category page. Make it as easy to checkout as possible. In this instance, be wary about advertising and other promotions on your site so the customer doesn't become distracted.
9. Seek Feedback
One way to leverage abandonment situations is to ask the customer why they didn't buy.
This kind of tactic is bold and aggressive, and should be reserved for the second or third abandonment email if you're sending a series.
You can also incorporate positive testimonials from your most popular category at this stage to create goodwill and showcase why customers should pay attention.
Qualitative feedback (both positive and why individuals didn't convert) can be turned into treasured insights for your team if not external-facing marketing material.
10. Answer the Questions of Who, Why & How
Regardless of the email, identify who you are engaging with first. Leads? Loyal customers? Who is a context clue for why, the next question to ask yourself before creating a cart abandonment campaign.
Why are your customers abandoning carts? Cost issues? Commitment issues? Isolate the problem then find the solution.
Finally, with any new touchpoint, recognize how it influences the overall customer experience. Each engagement opportunity, despite the end result, is an opportunity to enhance your relationship with your customers.
Conclusion
The best cart abandonment emails showcase products left behind, offer a clear call-to-action to return and purchase, and, in certain instances, include recommendations for similar products.
Sending automated, personalized cart abandonment emails at the right time, with the right allure, and the right content is not an easy feat.
Top brands are cutting through the inbox clutter and finding success by using customer data to inform relevancy with each email, maximizing conversions and boosting retention along the way.