Call Centre
Your first-party data, now connected to your customer service team to drive personalized customer experiences and higher satisfaction
The Emarsys Customer Engagement Platform powers 20 billion personalized messages a month
across 1,500+ global enterprise and fast-growing mid-market brands.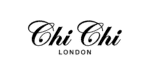 Emarsys is an industry leader

Hannah Wilkinson
Global Loyalty & Retention Manager, Charlotte Tilbury

"We connected Zendesk with Emarsys in the hope that it would give our Customer Care team better visibility and insight of the customers reaching out. It did just that. Our Customer Care agents are now able to quickly pull up a customer's profile without the need to reach out to the CRM team. This allows them to see on a granular level their last communication, last product/s bought, and even products to upsell based on Emarsys Predict. This visibility has improved our Care Teams' responses, and is another action towards being truly omnichannel!"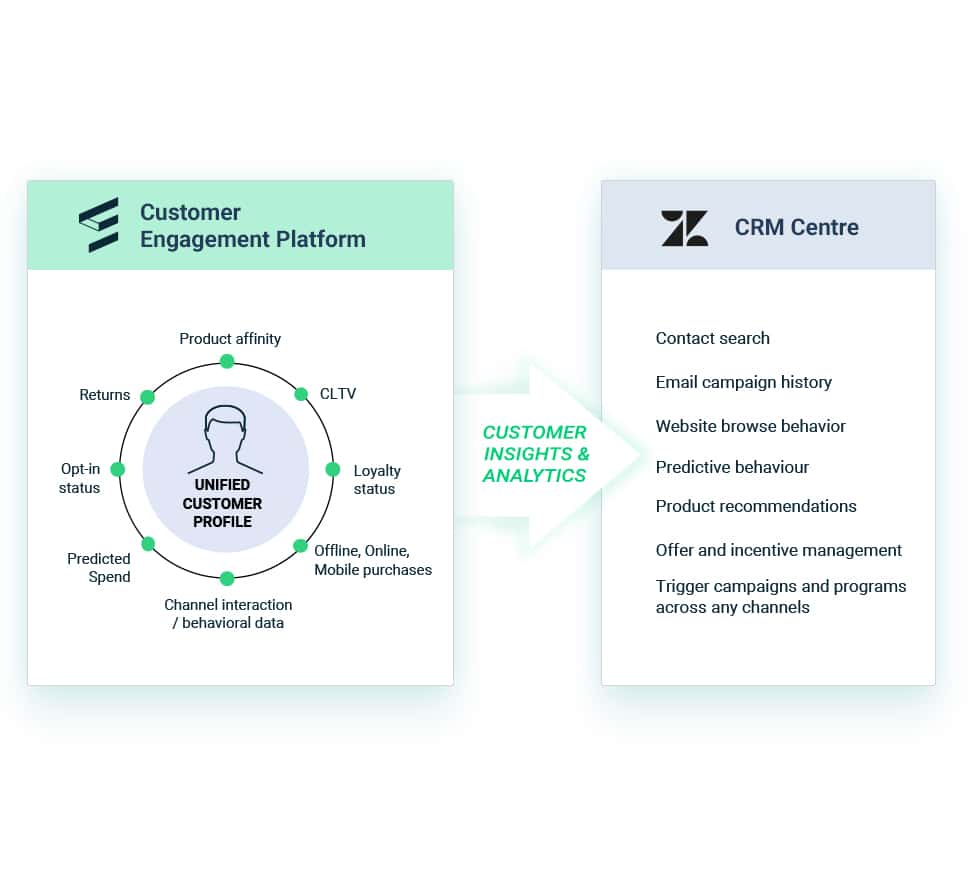 Raise your CLTV and increase loyalty
Nurture and grow customers through personalized services. All data (past purchase history, browsing history, web behavior, products viewed, loyalty status, and predicted spend) is funneled into Emarsys customer engagement platform where your team can personally connect 1:1 with customers and use their profiles to produce positive customer experiences and grow lifetime value.
You'll be able to see everything about a customer you wish you could before, in real-time, to create better experiences and outcomes for your brand, while boosting your CLTV, NPS, and brand reviews.

Sara-Jayne Grabiec
Global Customer Experience Manager, AllSaints

"It was life-changing for our team. Now, we've expanded significantly and handled a multitude of requests from global customers."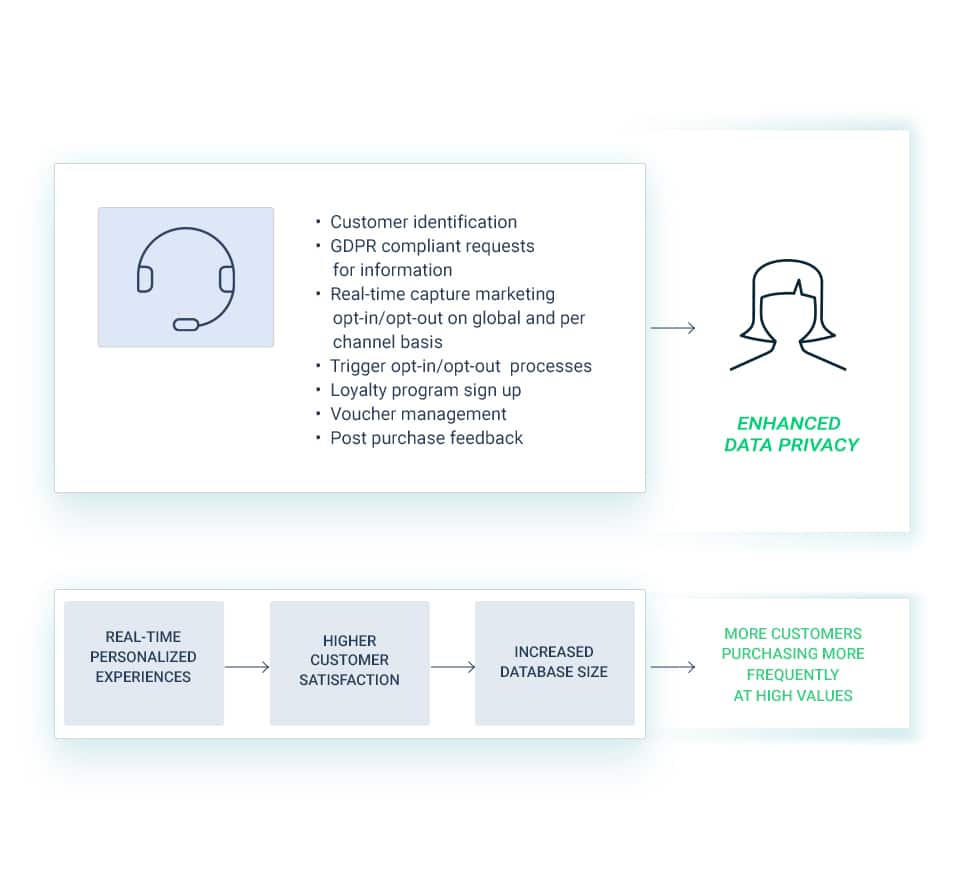 Every customer interaction becomes a positive experience
Turn conversations into revenue as offers, vouchers, and other actions are easily triggered by your team within Zendesk. Your team can seamlessly opt-in customers to loyalty programs or other marketing campaigns in real-time.
All data, insights, and interactions from any Zendesk support ticket flow into the Emarsys customer engagement platform and can be accessed by other departments to turn them into future revenue opportunities.

Dmitrii Vertiporokh
Director of Digital Development, Faberlic

"Zendesk helped Faberlic transform its customer experience into a well-oiled machine. As customers continue to expect better support, we want to give them faster, more personalized answers to their requests."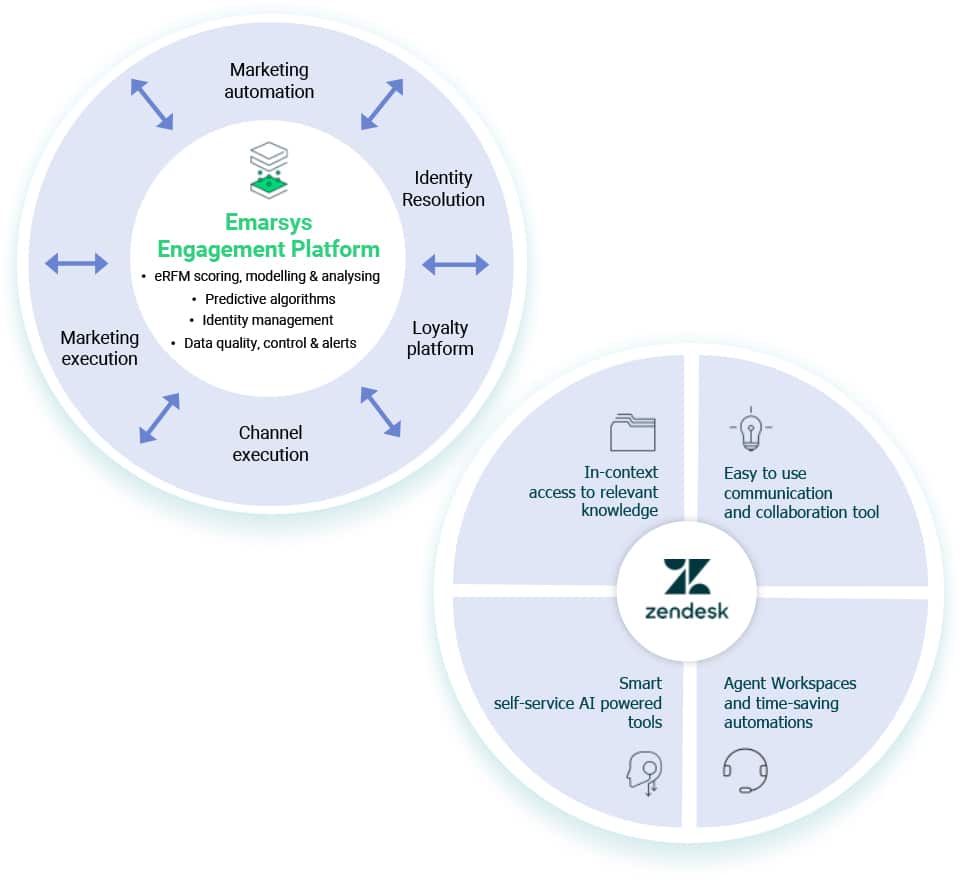 Fully integrated
Integrate all your data from websites, mobile apps, data warehouses, even other e-commerce platforms so you can manage personalized 1:1 customer communications and loyalty programs from a single application.
Reduce your marketing technology stack and your overall cost while providing deeper personalized customer communications.
More Channels
Our Satisfied Customers Include