This three-part series will explore how marketers can take advantage of arguably the fastest-growing digital channel: mobile. Today's article is the third and final piece in the series, where we explore current innovations in the mobile sphere, what they mean for you, and take a look at key metrics to zone in on with your app.
Part I and Part II of this series discussed the different kinds of mobile brands and the types of apps most appropriate for each, as well as how to incorporate mobile within your omnichannel strategy (and 8 big use cases to ensure you've got it covered). So, what else do you need to know to top it all off? We'll explore the latest mobile trends — including Apple's latest release of iOS 12, working with artificial intelligence, how to measure mobile success, and how to spur long-term engagement.
How to Increase Mobile App Engagement
More than a fifth of mobile apps are used just one time within the first six months of being downloaded. Most are deleted within a week. However, mobile apps are being downloaded at a faster clip than ever before:

This means brands that can "get it right" have much to gain. But what does it take to become a mobile engagement master?
We covered several big uses cases to get right when it comes to app engagement, but here's three other ideas for spurring more mobile engagement:
1. Spend extra time on UX and error checking
CX is the battlefield where loyalty will be won. This puts a premium on the brands that can provide the cleanest, most engaging, more intuitive and interesting user experience… and you could argue the mobile device is the #1 spot where the customer experience should be optimized.
Now is the time to consider an extra sprint in your development cycle. It's the time to add in an extra round of QA. It may be worth it to take extra care to get "the little things" right to ensure end-to-end mobile optimization.
2. Get email subscribers to opt-in via mobile
Cross promotion isn't just something that can (and should) be done for products and services… but for your various engagement channels, too.
The more communication touchpoints you can get subscribers opted-into, the more ways you can reach them, the tighter "hold" you have on your relationship, and the more likely they are to convert.
So, how can you do that with mobile, specifically? Consider:
Asking app users to opt-in for SMS updates when they sign up/download the app
Promote your app to those who initially sign up for SMS updates
Leverage email to push users toward app downloads and/or SMS notifications
Make sure it's easy to see the benefits of engaging on mobile on your website
If you have an in-store presence, use signage and an incentive to sign up on mobile
3. Find the optimal mix between push and in-app notifications
In-app and push notifications serve different purposes. Push is more interruptive; in-app is more native.
Push can be a great way to get the message out to everyone and drive traffic to the app. It's a good way to activate dormant users or engage high-frequency users at the times they're most likely to engage.
In-app messages should be more tailored to individuals based on behavior in the app. If you know there's a customer with a particular interest in a certain category, you can notify them of that when they're actively engaging with the app.
Additionally, both methods can be used for cross-sell or post-purchase messaging.
iOS 12 Is Out — What Are the Implications for Mobile Marketers?
The majority of mobile users (especially Millennials) are Apple customers. So, it's key to be up to date on how the iPhone (and tablet) continues evolving. iOS 12.2 came out from Apple back in March. While the update won't mean much for brands, they will impact usability and experience for consumers, including:
Minor updates for Siri, Apple News, Apple TV, Screen Time, and App Limits
Other minor updates to the operating system including enhanced battery life
Safari — warnings for unencrypted websites, and preventative measures for cross-site tracking (prevents certain sites from tracking you when you go from one site to the next)
The cross-site tracking change is nothing to be worried about, though, when it comes to cross-device/channel identification.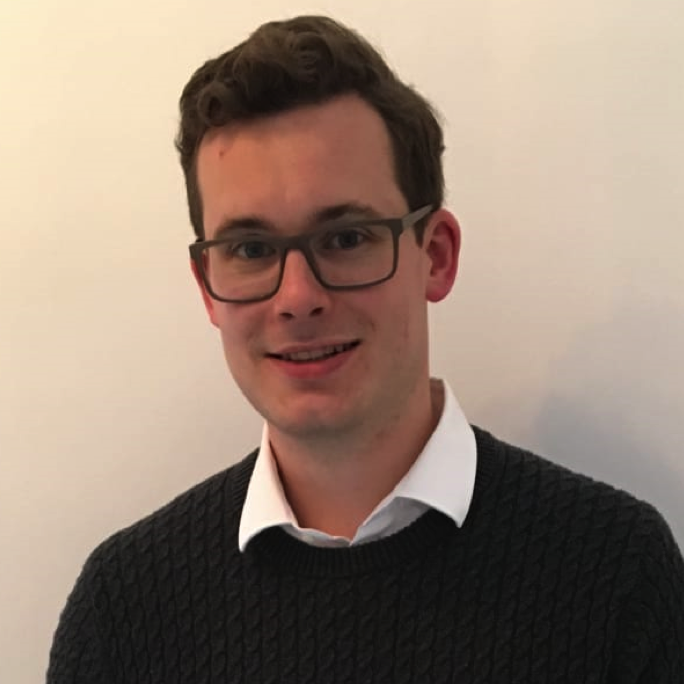 "In the update, what they've [Apple] done is remove the 'Do Not Track' flag which was used to tell a website not to track a user. It really wasn't having a lot of impact. Now they've fallen back to the normal anti-cross-site tracking — but renamed it as Intelligent Tracking Prevention 2.0. Effectively, the main way it stops tracking is by causing havoc for ad platforms which use a single cookie to track across multiple websites. It doesn't really hit device fingerprinting that hard because the fingerprint can be created without cross-site cookies."
Joshua Scotton, Co-founder & COO, Personify XP
Overall, the update enables any app to work with Siri, and now developers can create shared AR experiences. New privacy features also help protect users from being tracked on the web.
Are You Ready to Integrate AI with Your App?
Apps like Uber are pioneering AI-infused experiences within the user journey. While AI can be leveraged for mobile-also, mobile-first, and mobile-only companies, you should be aware of the pros and cons to using it.
Pros
Efficiency and scale. Human-driven personalization is impossible, and AI remedies that shortcoming. If you have a massive active database of app-engaged users, AI might make sense. Travel brands, for instance, can use AI to populate content within itineraries, where they can show the customer the most updated itinerary based on past information and current trends.
Mapping, tagging, and geolocating customers. These capabilities are part of the next frontier in mobile marketing but will enable further levels of personalization based on where consumers are, too.
Open Time Content. Ensure mobile emails or other dynamic content is up to date based on when, where, and who is viewing that content on the mobile device.
Cons
Use cases for AI in a mobile context are still somewhat limited. "Selling" AI to the executive team won't be easy, so choose a partner that can not only help you formulate that business case, but which also understands your goals and objectives.
Probabilistic cross-channel identification is very much still up and coming, and remains imperfect in terms of targeting the right person with the right content. When targeting anonymous users via mobile, AI can be hit or miss. It's best to stick to using it to communicate with your known audience, your database, with personalized messaging suited for them.
Key Mobile Marketing Metrics
For evolving mobile brands, measuring success and setting key KPIs will become more important.
Strong mobile-focused and established mobile-first companies are ready to make connected devices a part of their overarching strategy. While metrics will differ from brand to brand, here's the most important things to consider at each stage:
Awareness & Acquisition → social engagement, app downloads, # of app sessions, # of visits to mobile site, time spent on site, # of subscribes/signups, % of time logged into account, # of active users
Exploration & Conversion → interaction with ads, time spent on site or in app, items viewed or stored in cart
Engagement, Continued Purchase & Growth → # of app downloads, # of signups, % of time spent in personalized account, % subscribed, customer satisfaction, % second-time purchases
Loyalty & Retention → retention (returning users/buyers), satisfaction, # of sessions per month, AOV, # of payments, CLV
Win-back → # and % of churning app users
In the #acquisition phase, #mobileapp downloads & # of sessions is more important, while for #retention, #AOV, transactions, & satisfaction is most critical CLICK TO TWEET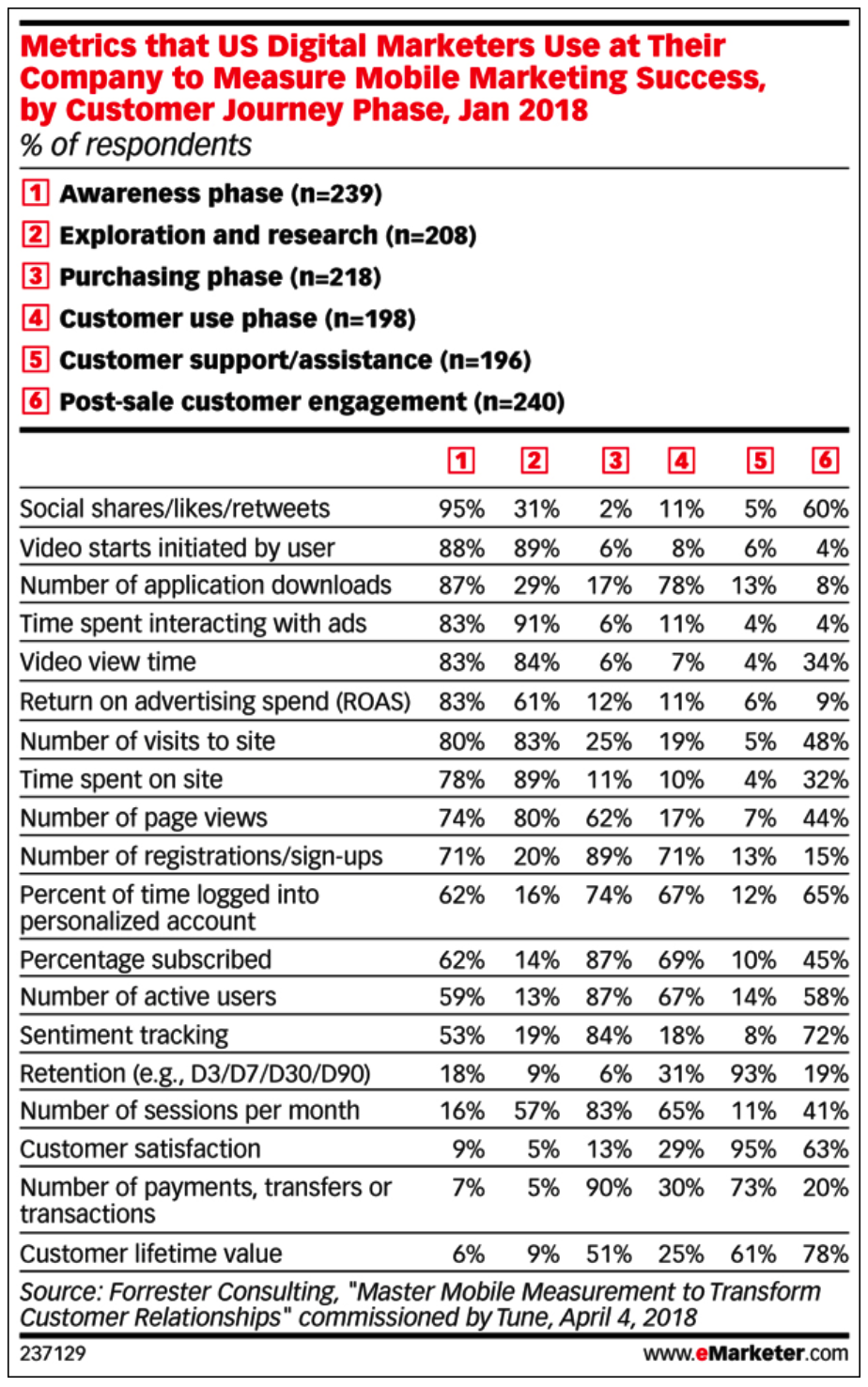 The value and emphasis you place on each stage AND each metric will vary depending upon your business model.
For example, if you only use your app to collect new subscribers or for gamification but aren't actively pushing purchases in-app, you'll be more concerned with the amount of downloads, signups, and engagement. Conversely, if your app or mobile website is your most lucrative channel for spurring transactions, you'll want to focus on those metrics around UX, customer satisfaction, retention, and CLV.
Overall, judge the success and health of your app by: downloads, active users, average visit time, retention (and ratings/reviews), revenue tied to the app, and CLV of app users.
Final Thoughts: Looking to the Future
Mobile apps can be used for a plethora of use cases to suit your business. Looking to the future of mobile, several trends sit on the horizon — many of which have been foretold, too, by Marketer + Machine podcast guests:
Increase in mobile video
Higher-quality brand interactions
More capabilities and use around voice search and voice commerce
Greater developments around social commerce
Ultrafast 5G data-processing for better personalization
For now, look for ways to optimize your mobile app, making in-app messages and push notifications work together for a unified brand experience that keeps users coming back. Then, you'll be set for the future and whatever comes next.
Handpicked Related Resources:
---