At Emarsys, we know how valuable every marketer's contribution is. That's why we gathered industry-specific knowledge over the last two decades to define strategies and tactics that work – and work quickly.
Now more than ever, businesses must be agile and rapidly adapt to changing trends. But that can be impossible if you don't have the right technology and the right partners to bring together data, marketing, and… well, people. That's where we can help.
Accelerate Business Outcomes with Emarsys Summer Release 2020
It is with great excitement that we share our Summer Release 2020 today, the culmination of a lot of hard, strategic work that improves your customer engagement, accelerates your time to value, and generates results quickly.
Among the many new features that add measurable value, revenue impact and attribution are at the top. You can track performance in real time, optimize your automation strategically, and see exactly which programs and channels are driving profitable growth.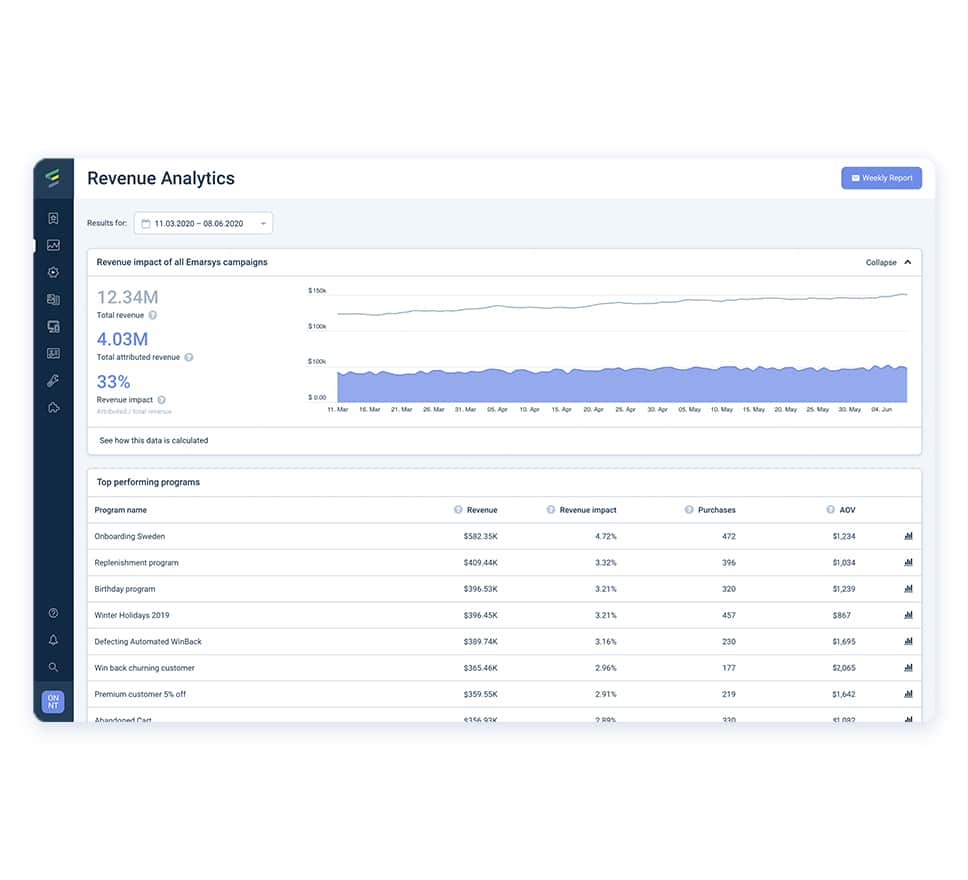 Our release features require no additional IT support and allow you to track revenue impact throughout the entire platform. Let's take a look at what you can do now using a unified CDP to scale automation and track revenue growth.
Marketers Doing More with Less
Brands and their marketing teams operate in a world that has irrevocably changed. Even before the pandemic began, marketers were arguing for consolidated technology, actionable data, and analytics to do their jobs well.
Marketing Beyond Business As Usual
In many cases today, marketers are asked to do more than BAU. We've seen successful brands make an agile shift to digital, the lifeline that's currently driving the most revenue and engaging customers. This means monitoring trends and executing on insights to engage new customers and retain existing ones in real time with personalized and contextual experiences across all channels. The brands who have already made the shift will come out stronger and better aligned for desired outcomes.
But what about the marketers who are struggling to keep pace?
Connecting Marketers with a Vast Knowledge Base
The biggest challenge right now is to feel connected and know for sure what the best was to engage customers is. The Emarsys platform helps greatly there. Proven industry-specific use cases are already inside the platform, and this knowledge layer helps marketers answer two difficult questions: Which strategy or tactic should you use to meet an objective like revenue or customer growth? And how should you execute the strategy?
People lie at the heart of every business. Your teams are stronger when they are connected to industry-specific knowledge that's been crowdsourced from their community. They are more successful when they're empowered with marketer-friendly technology and supported by a partner that is passionate about working together toward a common, critical goal: to accelerate business outcomes and drive revenue.
F.E.A.R. can stand for two opposing mindsets: Forget Everything And Run vs. Face Everything And Rise. The Emarsys customer engagement platform was built to make the latter possible.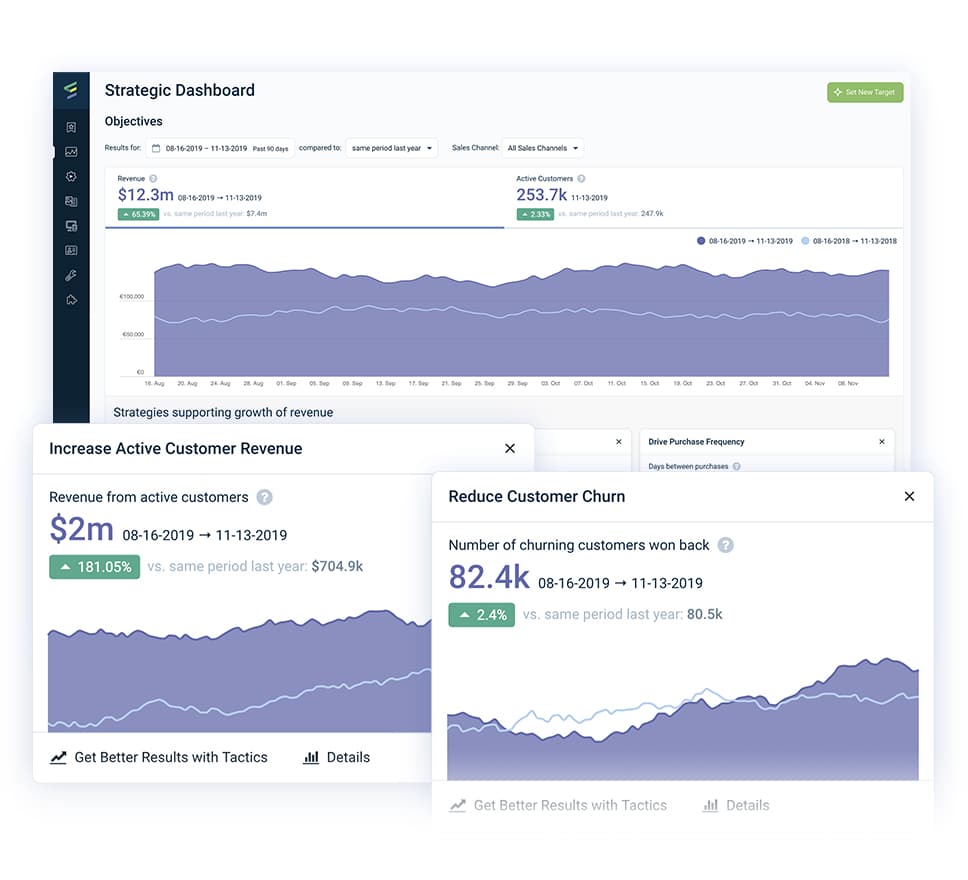 Accelerate Time to Value with a Fully Integrated Customer Engagement Platform
Over the last few years, businesses have seen a drastic increase in their need to store and organize data. A fully integrated customer engagement platform solves the data silo problem by making data more accessible across the platform for all your team members.
The Emarsys Customer Engagement Platform unifies customer data through an open architecture and API to drive more intelligent omnichannel engagement and fuel personalization across all channels. In the Summer Release 2020, we've updated the personalization engine to make it even easier for you to build a complete customer profile out of your first-party data and launch targeted campaigns faster.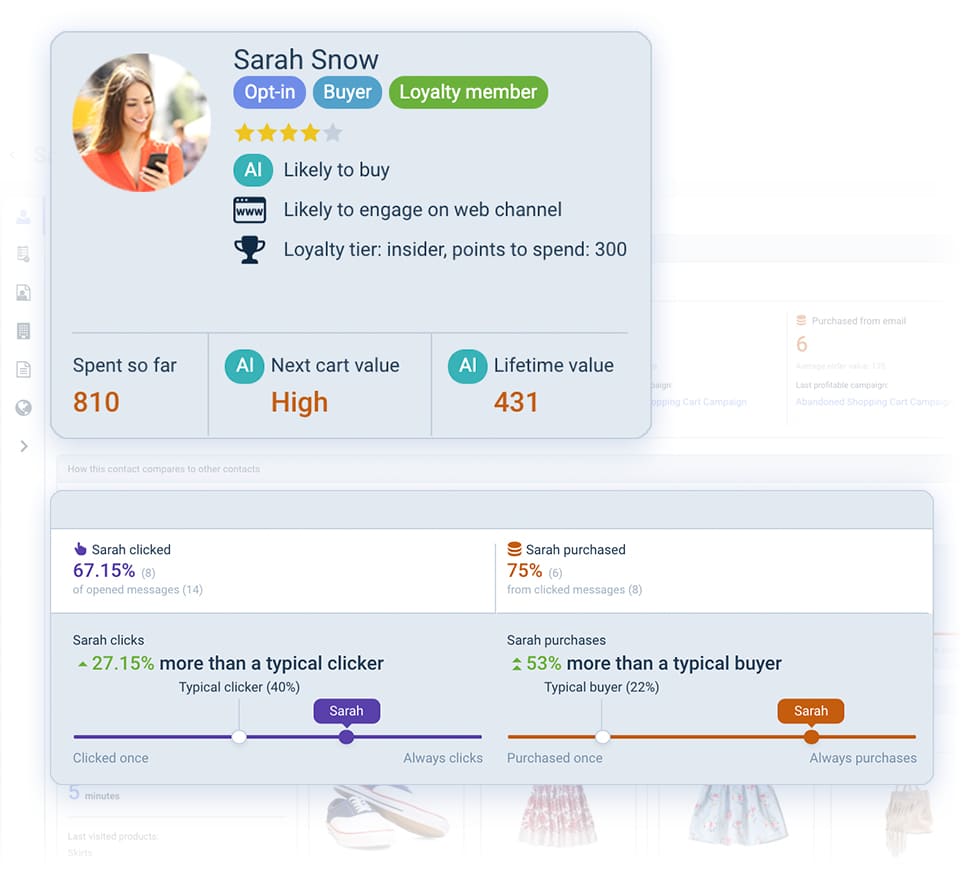 One hot new feature is Interactions, which gives marketers the unparalleled ability to use and process contextual data in real time. This allows you to truly be able to react to consumer actions online and optimize your automations, target customers in the moment with real-time decisions and content all served in seconds, and elevate the way interactions and experiences are personalized across key channels.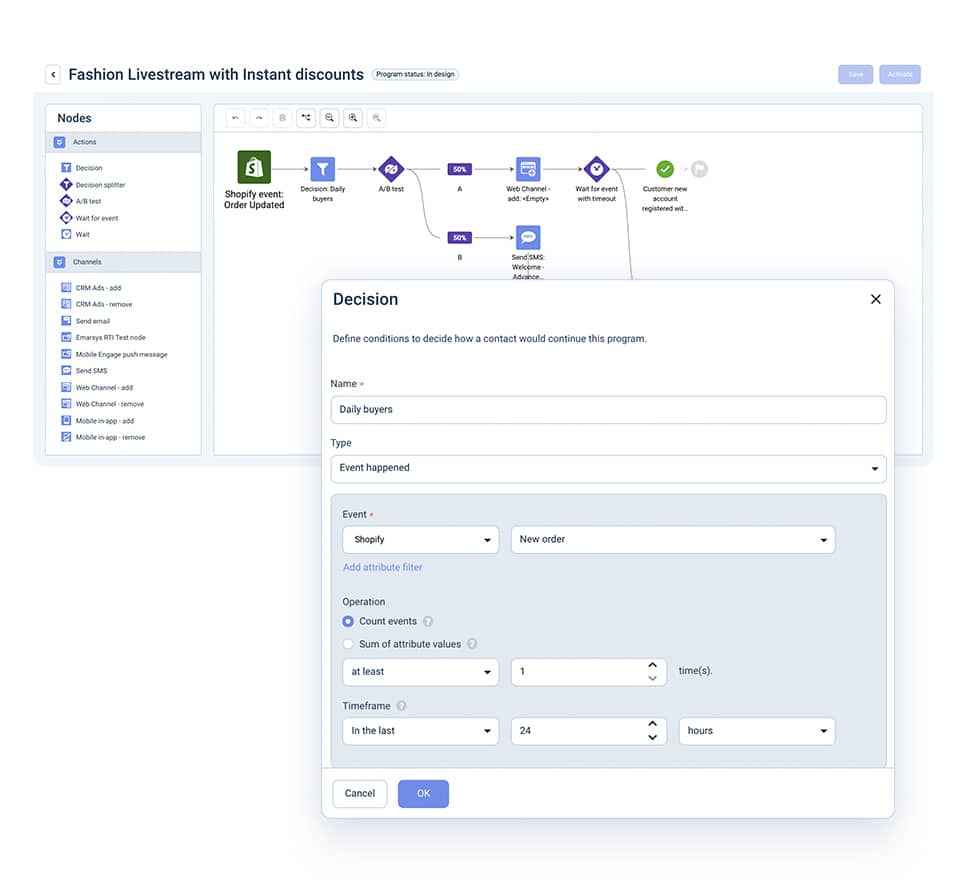 "Emarsys Interactions offers Tipico a platform that matches the customer-centric nature of our sports betting business. Being able to use real-time event data in combination with historical data points to calibrate our decision making in customer journeys is of great benefit to us. This allows the operational teams to react quickly to results and to set up A/B tests with ease. At the end of the day it brings us a big step closer to target our customers at the right time and on the right channel in a highly segmented approach."
Everything you want to do as a marketer relies on the quality of data, and you are more likely to succeed when all your customer and product data are united in one platform. Having a real-time view of customers allows you to deliver true 1:1 personalized omnichannel experiences… and faster than you might have thought possible.
Did you know the Emarsys Summer Release 2020 has 26+ new features designed to help brands like yours drive revenue and growth?
Proven Omnichannel Automation Strategies and Use Cases
We all know how hard it is to shift to digital without machine learning and automation. A true omnichannel platform is the fastest way for a brand to grow quickly, and automation lets you scale in a cost-effective way, with a better idea of what works and what doesn't. Instead of making the wrong guesses on what would engage the widest sub-segment, you can use AI to determine the best option for each individual customer. With measurable KPIs and predictive segments reporting, you can see the impact AI has on your campaigns at a glance.
In the Summer Release 2020, the user interface has been redesigned to be more intuitive, but what's more, is that our platform comes with knowledge already inside the platform made up of two decades of e-commerce and retail use cases that brands have leveraged to grow.
We've also added customer loyalty strategies and use cases, and with the built-in crowdsourced knowledge, it is now easier for you to quickly seize new opportunities as they arise and take effective action.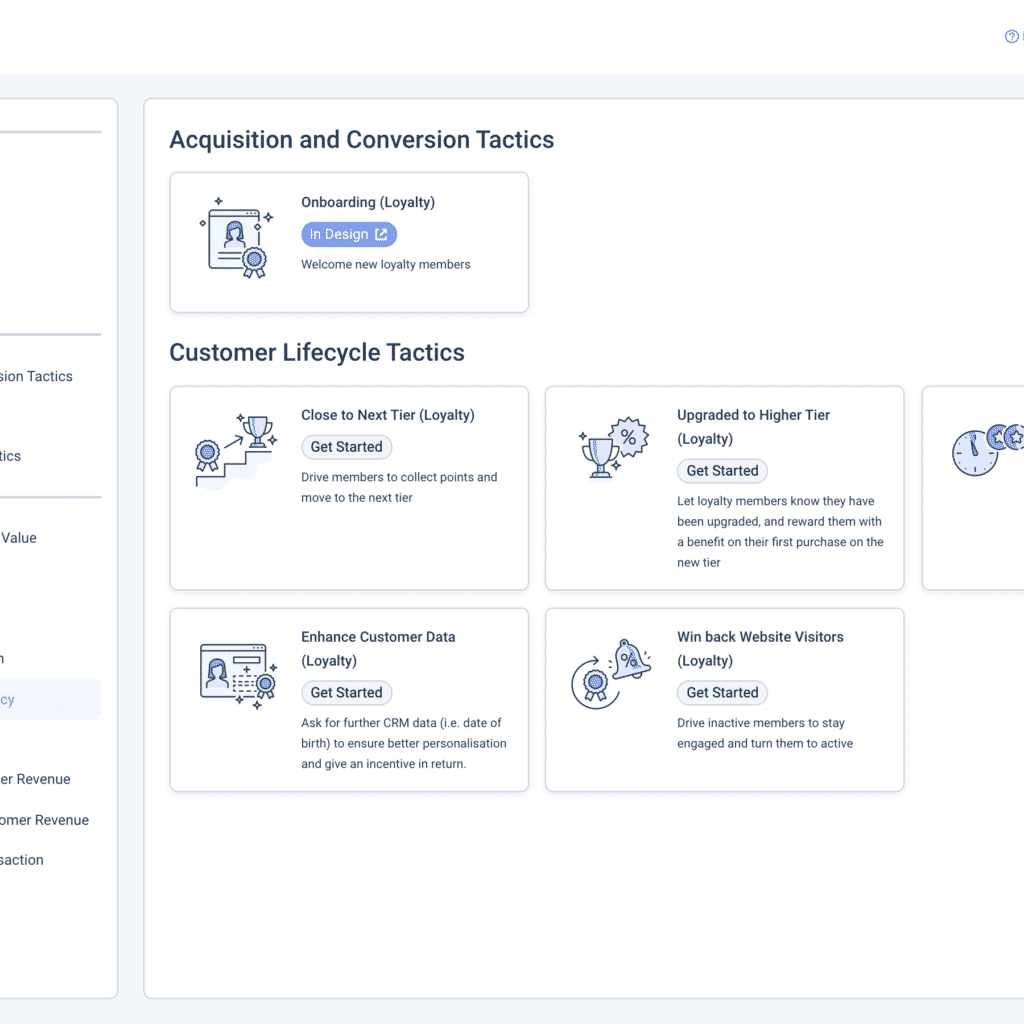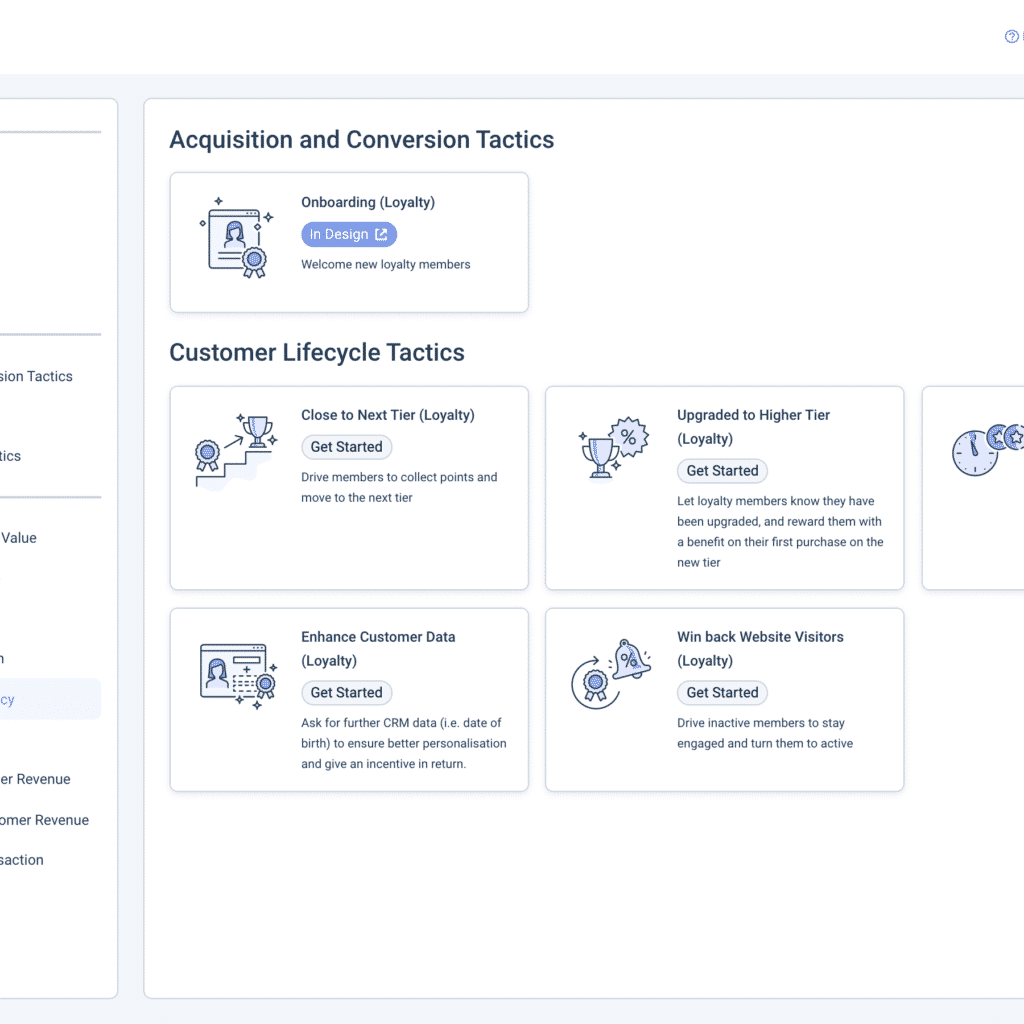 "Tactics allow us to get tested and proven automations up and running very quickly. After deciding on a goal and a customer incentive, the only thing left to do is for our designer to create a few graphics, and we can go live."
Creating Loyalty Experiences
A happy and engaged fan base is the goal of every brand, and now based on relevant use cases, Emarsys Loyalty makes it easier for marketers to engage the customers who buy the most and strengthen maximum customer lifetime value. With proven loyalty strategies built into the platform — like Member Acquisition, Increase Premium Customer Revenue, and Drive Purchase Frequency — brands execute and deliver an exceptional omnichannel experience faster than ever before.
And you don't need to do a bunch of research to find the right use case. Emarsys Loyalty is ready to use once implementation is complete and will help you accelerate your time to market.
SMS and CRM Ads
The Emarsys customer engagement platform has been built to be channel-agnostic, but we have also improved channel-specific features.
Now you can track SMS links and make your SMS campaigns interactive and measurable. You can also leverage shortened URLs to personalize the customer journey all the way through to conversion, without increasing the cost for each SMS campaign.
CRM Ads allows you to optimize acquisition budgets and increase lead to first-time buyer conversion by creating profitable audiences based on product affinity and lifecycle or predictive segments.
But the big improvement in CRM Ads is the new Google Lead Ads feature, which allows you to capture leads from paid ads without having to export CSV files and manually import them into the Emarsys platform. Now data capture is automated, allowing you to instantly see lifecycle segments. You can also build lookalike audiences and tap into the leads closest to your high-value customers.
Mobile
Emarsys has added more sophisticated features to the Mobile channel, giving marketers more accuracy in targeting the right customer and more freedom in crafting the right customer experience within mobile apps and other rich media,
Actionable messages can positively impact revenue for customers who prefer mobile shopping. Besides new Silent push and Contact Preview features, you can now combine push messages with Action buttons. This simplifies the customer journey and increases click-through rates.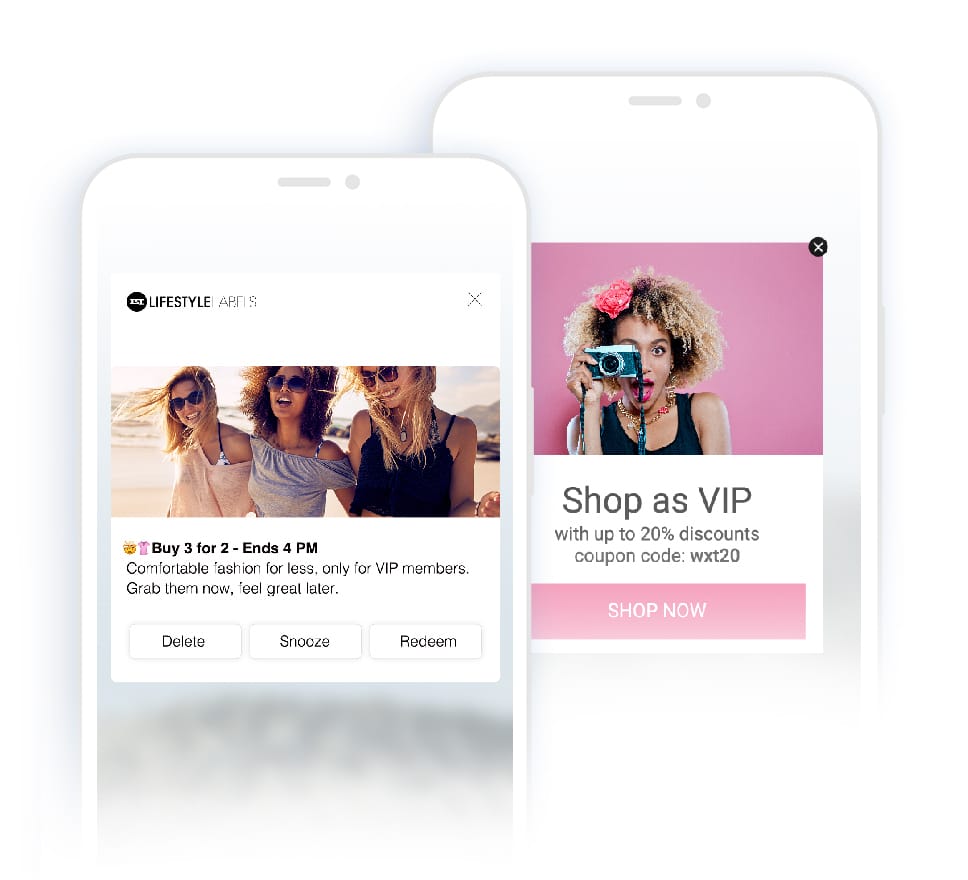 Revenue Attribution Brings Marketing Execution and Growth Strategies Together
Attribution of sales in omnichannel automations is often the missing link between performance reporting and strategic business reporting. But what if you could do this without complicated, manual reports?
The Summer Release 2020 delivers one of our most powerful features: Revenue Impact makes tracking revenue clear and measurable. You can see which campaigns are growing your revenue, the growth rate of your contributions, and how your marketing team can improve the impact ratio over time. This kind of certainty fuels optimization and is the quickest way to know for sure where you should invest your marketing budget.
Revenue Attribution has been improved as well to cover omnichannel online and offline revenue. This feature goes beyond what you'll see in Google Analytics and provides online and offline revenue impact through Emarsys channels.
And as our customers know, the Emarsys platform allows you to see results within days, not weeks, of launching a campaign, improving your ability to drive profitability by seeing which channel or campaign is delivering the results your brand wants.
Marketers can track revenue in the Revenue Analytics dashboard. Here you'll see revenue and the number of purchases for each of your automations. You can also leverage the Revenue Attribution Digest Email that summarizes which campaigns brought in revenue and delivers a report straight to your inbox.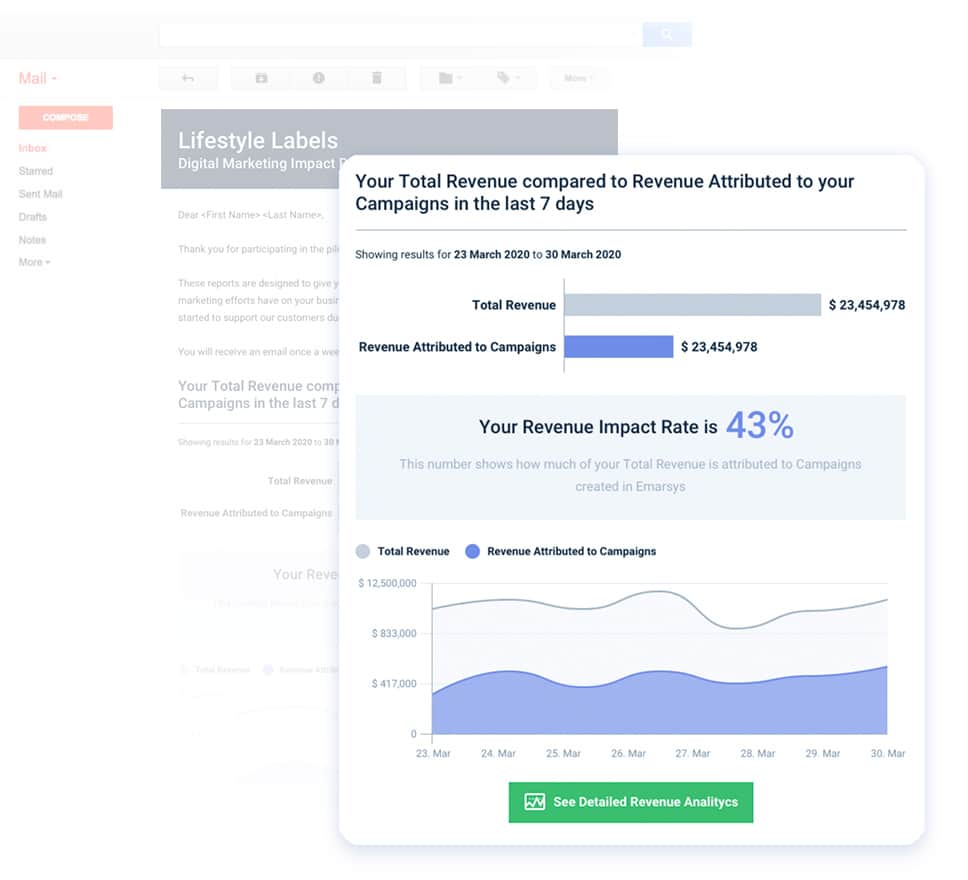 "The [Revenue Attribution Digest] email is nice to keep executives informed — I think you are on the right track."
Discover how the Emarsys Summer 2020 Release can help your brand accelerate business outcomes through revenue attribution.
Final Thoughts
Emarsys remains dedicated to solving the challenges today's marketers face. Manual segmentation was never going to scale, leaving automation as the best alternative. But not all automation platforms are created equal. Our customer engagement platform brings together marketers, Emarsys developers, and over 1,500 brands and their first-party data.
With budgets being tightened, revenue impact and attribution also gives you a tremendous tool in deciding where you should spend your marketing dollars – and because you're tracking everything at a glance, you have the power to make changes and monitor revenue growth in real time.
We're all in this together, and by relying on consolidated technology and each other's expertise, we are equipping you with the tools to strengthen your business today and for the months and years to come.
Handpicked Related Content: