In our growing digital economy, traditional retailers face an enormous task: maintaining customer retention amidst a gigantic shift from brick-and-mortar to online.
The e-commerce movement has spurred countless changes that retailers are being forced to contend with. Among them is figuring out how to remain relevant to customers who are also adapting to the "one-click culture." For customers, it's never been easier to brand hop for a slightly better experience, more affordable product, or just to try something new.
Yet you and your team are still responsible for hitting the mark and increasing [X metric] by [Y amount].
Retail marketers are being pulled from every direction. Whether your goal is to drive revenue, ROI, or retention, assembling the pieces to make it happen is hard.
What's Wrong with Retail Marketing?
Driving repeat footfall to the store AND website (traffic), engaging customers so they spend more (AOV), buy more often (purchase frequency), and become more inclined to engage (conversion rate), or join your fan club (subscribe) are all challenges that retail marketers are facing.
It's easier to reach customers than ever before. But with an influx of tech, channels, and more data, reaching those high-level business objectives can require adjustments along the way. It's easy to feel lost (and come up short of those high-level business objectives).
A slight recalibration of things – a re-evaluation of what you're aiming for, a re-assertion of the means by which you can get there, and a re-commitment to the methods which will bring about success – is needed.
Start with objectives, move to strategy, then choose tactics
It's as if we need to go back to the drawing board a bit. Our old "Marketing 101" forefathers would tell us, among other things, to remain calm in the face of calamity (eh hemmm… had they imagined the advent of IoT/VR/AR, envisioned the implications of scaling 1-to-1 messages among millions of database contacts, or anticipated the channel proliferation we're dealing with?!).
Nevertheless, retail is undergoing a shift and retail needs to respond in kind. When we map out what we're trying to achieve, we need a path to follow, and a methodology where we can backtrack if need be, tracing results to the points that got us there, all the way up to the initial intended goal. An "Objectives → Strategy → Tactics" mindset is one workable way to start thinking about your marketing processes.
Uncover the KPIs that matter most to your business.
Use Case: Driving Retention Among Churning Customers with Automated Win-back Campaigns
This "Objectives-Strategy-Tactics" approach is less about changing what you're doing now and more about reverse-engineering and optimizing the methodology to ensure desired results are met.
Let's say the objective you're shooting for is to increase retention among existing contacts. The next step is to connect that objective with the means (strategy) and methods (tactics) to make it happen. Here's how this process might look:
What leadership gives you:
► "Get active customers to spend [X]% more within the next year"
What you need:
In short, a plan. If your objective is to drive retention, the steps that you'll follow will involve careful consideration of key strategies and choosing the best derivative tactics that will help get you there.
A well-defined strategy to guide the way
► "Target churning customers to get them buying again"
In this example, you might choose to focus on churning customers as one strategy to bridge between the objective and tactic(s) because it's a measurable, attainable goal – in fact, one that's worked before for your specific industry (we'll get to this at the end).
Easy-to-implement tactics tailored to your business and for your customers
► "Initiate win-back campaigns to high-value lifetime customers" with personalized content including awe-inspiring creative and attention-grabbing copy
Execution of your tactics is where you'll spend most of your time, energy, and resources, so, for you, it's the most important stage of this new three-tiered process.
Editor's note: you'd likely be working with more strategies and tactics than one for your given objective. We're using one here for simplicity's sake and to showcase how the process can work.
Let's jump into what the "tactics" step looks like in greater detail.
Uncover other strategies that impact customer growth with Benchmarketing.io
Choosing your tactic: win-back campaigns to high-value, long-time customers who show signs of leaving
Win-back email campaigns include specialty content with a specific purpose for a specific audience. Recipients have either outgrown or simply gotten bored with what they'd been receiving, and have "gone cold".
They need a change of pace to spur engagement or make a new purchase. These emails need to leverage the best creative, most compelling CTA, and most cunning appeal. The more personalized these messages are, the better the chance of re-engagement. The good news? These contacts should be some of your oldest and, theoretically, most well-known. Therefore, you should have a decent amount of data about them – what they like, previous history, etc.
Win-back or re-engagement campaign?
It's worth drawing a distinction between win-back and re-engagement campaigns. While there may be some overlap, win-backs typically aim to get lapsing customers to purchase. They're product-focused, including nice offers for high-value customers. Re-engagement programs target people who have stopped opening your messages. These typically do not come with an offer and may push the contact to follow them on social or perhaps opt-in via another channel.
You can recognize typical re-engagement campaigns by the cute little "is this really goodbye?" type of messaging.
For both win-back and re-engagement, however, the goal is essentially the same: break these segments out – treat them as a very special unit of your database, and, most of all, make them feel special.
Regardless, layering in artificial intelligence should take care of most of the personalization you'd seek to incorporate in these campaigns, including incentive recommendations, product recommendations, send time optimization, and they should test multiple subject lines.
Reactivation of inactive contacts with win-back emails
Using historical patterns of engagement and past purchase cycles, it is possible to predict when a customer is most likely to move from the defective to inactive stage of the life cycle. This allows intervention with timely, automated campaigns at that critical point in between. The ultimate goal, here, is to reactivate customers and prevent churn.
"You can predict when a #customer is most likely to move from defective to inactive & intervene w/ a timely, #personalized, automated #winback email at that critical point," says @ARTimlin CLICK TO TWEET
Win-back email examples
Here are several win-back email campaigns to help you understand how you may consider crafting yours.
In an effort to catch attention and differ from the crowd, using animation is a nice option.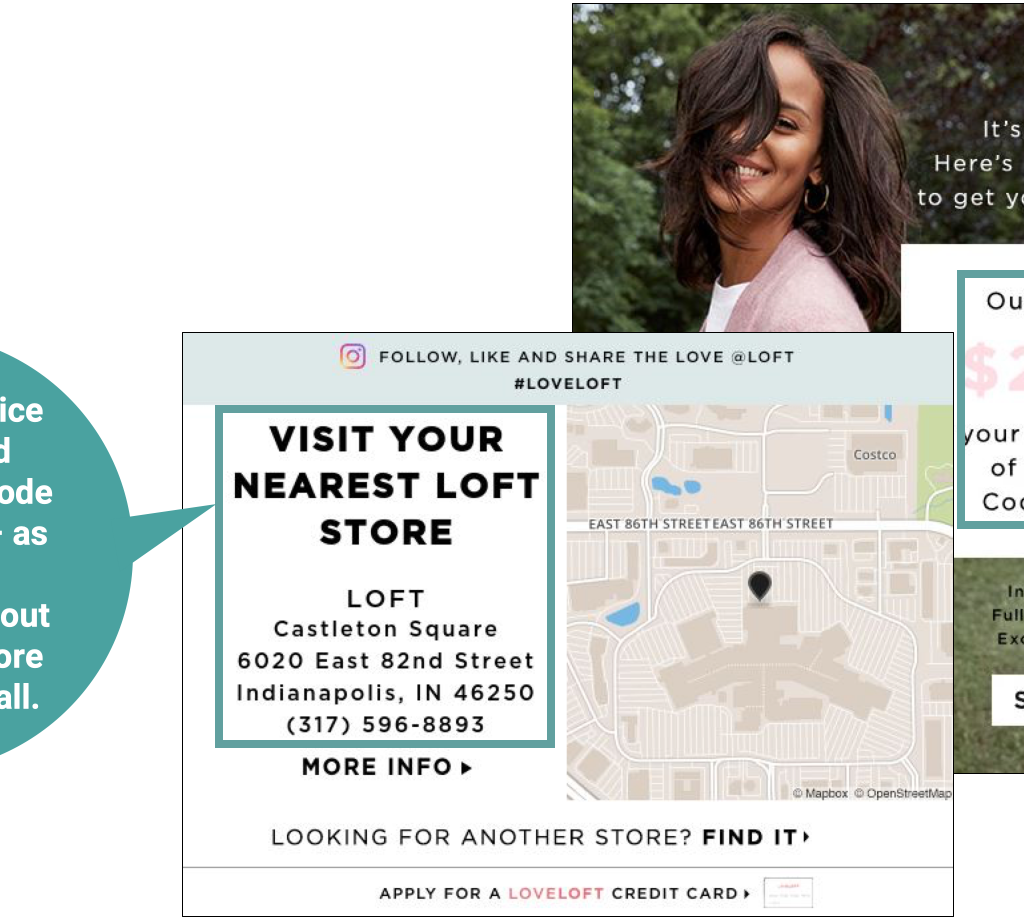 Many win-back emails give the customer options as a sort of "catch all" as well. Loft (above) personalizes their win-back email by encouraging in-store visits, as does Bed Bath & Beyond (below).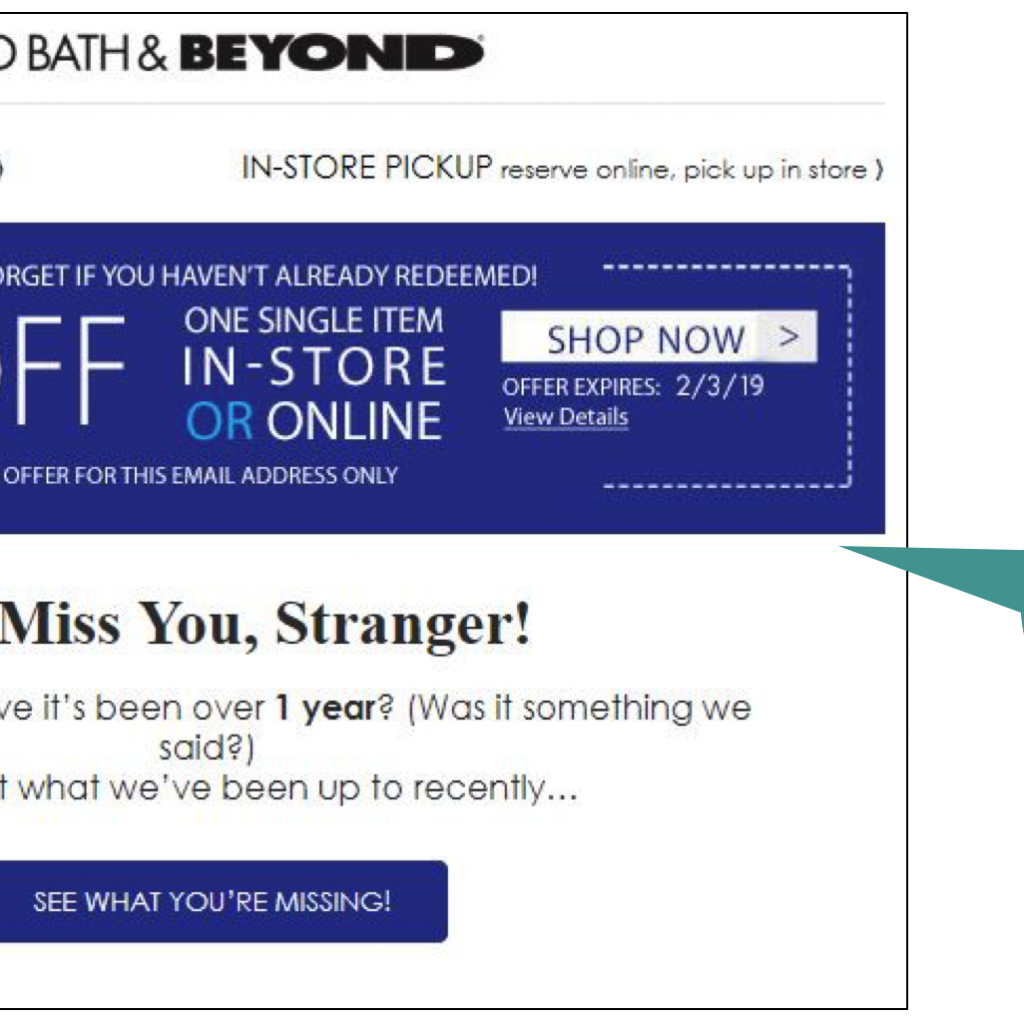 Win-back campaigns can and should be created to target even more niche groups within the segment. For instance, you'd want to use a different appeal for long-time buyers that always spent big as opposed to contacts that bought three times and made small purchases.
Here are three points to consider when getting started thinking about and constructing campaigns to win back high lifetime value customers:
Identify the precise high-risk points in your most valuable customers' buying cycle and lifecycle. In other words, when are your highest value customers most likely to leave… and why?
Implement personalized programs with the right content and intervene when customers reach these high-risk points if they do. Abandonment campaigns might be a relevant way to make this interjection.
Automate win-back programs across multiple channels (email will be the most common) with the most relevant content for each, individual customer.
Final Thoughts
Retail marketing is hard enough as-is, and a lot of variables are making it even more challenging – pressure to remain relevant, to successfully make the tectonic shift from physical stores to the online sphere, and to simultaneously soothe the rising generational demands for personalized brand interactions at every second.
Within this Goals-Strategies-Tactics model, you can align high-level demands like driving retention among retail customers, with strategies and tangible tactics that will work to bring that objective to fruition.
It's only when you can connect objectives (like targeting active customers) to strategies (such as focusing on churning customers) that you can align the tactics (e.g., win-back programs for high-value customers) that will work to give you the return your team needs. This is the future of retail marketing.
We understand how challenging retailers have it – and the overwhelming demands of being a marketer. That's why we created a strategic dashboard to help you prove the connection between the work you're doing and what you've been asked to accomplish. Once your business objective is determined, it's a matter of a push of a button to essentially tell the technology what you want to accomplish. This initiates an automated, detailed, pre-populated plan of attack with strategies and tactics (based on billions of consumer data points and vertical-specific blueprints that have worked before) to help you achieve that goal made at the outset.
➤ Learn more about the only marketing platform that knows your industry and your business.
Handpicked Related Resources:
Identify the KPIs and strategies that impact your business most. Visit Benchmarketing.io today.