Nearly every aspect of 2020 has been atypical. Black Friday was no exception.
Many retailers were relegated to limited capacity in their stores, while others didn't even open their physical locations. Instead of customers rushing through your doors to get their hands on the best deal possible, they turned to your website or app in droves, clicking and tapping their way toward your must-have Black Friday offerings. For the first time (though likely not the last), we experienced a truly digital-first Black Friday.
Compared to previous years, Black Friday 2020 may have been unusual. But for us at Emarsys, when it came to making sure our clients had the best possible marketing execution and performance, it was business as usual.
Here's a quick recap of what we expected, what occurred, and what insights we learned to help you prepare for the next holiday season.
What We Anticipated
Since the onset of COVID-19, we've seen how successful retail brands quickly adapted to an omnichannel customer engagement strategy. This allowed retailers to maintain continuous engagement with customers across any channel and drive business results, no matter the conditions.
And although many e-commerce brands had an existing online presence, they still needed the right marketing strategy and technology in place to keep their new customers engaged and loyal.
Knowing how a strong digital-first strategy helped brands accelerate business outcomes this year, we anticipated our clients would look toward delivering memorable personalized experiences digitally on Black Friday. Likewise, their customers would be expecting amazing mobile and web experiences.
This meant it was critical to ensure our clients got the best possible performance from their omnichannel customer engagement platform, and that their Black Friday game plan was executed smoothly and effortlessly.
A Different Kind of Shopping Experience
For many customers, Black Friday doesn't feel the same without being in festively decorated stores and shopping centers, or being shoulder to shoulder with other excited shoppers clamoring over the Black Friday deals. Of course, sometimes this excitement goes too far in the form of trampled-down storefronts, or customers fighting in the aisles over products. The traditional Black Friday experience — for better or worse — was simply not possible in 2020.
For our clients, moving Black Friday online this year, and having Emarsys manage their delivery of highly personalized online experiences, meant their customers could have a safe, stress-free shopping experience and still benefit from sales and special deals. 
Record Highs and Smooth Sailing
Digital communications were a large part of the Black Friday equation this year. While expected, the numbers represented a new high, and were a testament to how our clients maximized the value of their omnichannel customer engagement platform.
But even with the huge increases in volume and traffic, our standby support team found Black Friday 2020 to be a rather quiet event — no phone calls coming in from clients in need, no urgent SOS emails, no problems. This meant our clients were able to do everything they needed to do this year in terms of marketing execution without any technical or delivery issues.
Black Friday 2019 vs Black Friday 2020
Looking at the stats side by side, the emphasis on digital this year is clear. Although the increases were significant, we were able to handle the additional transactions with ease.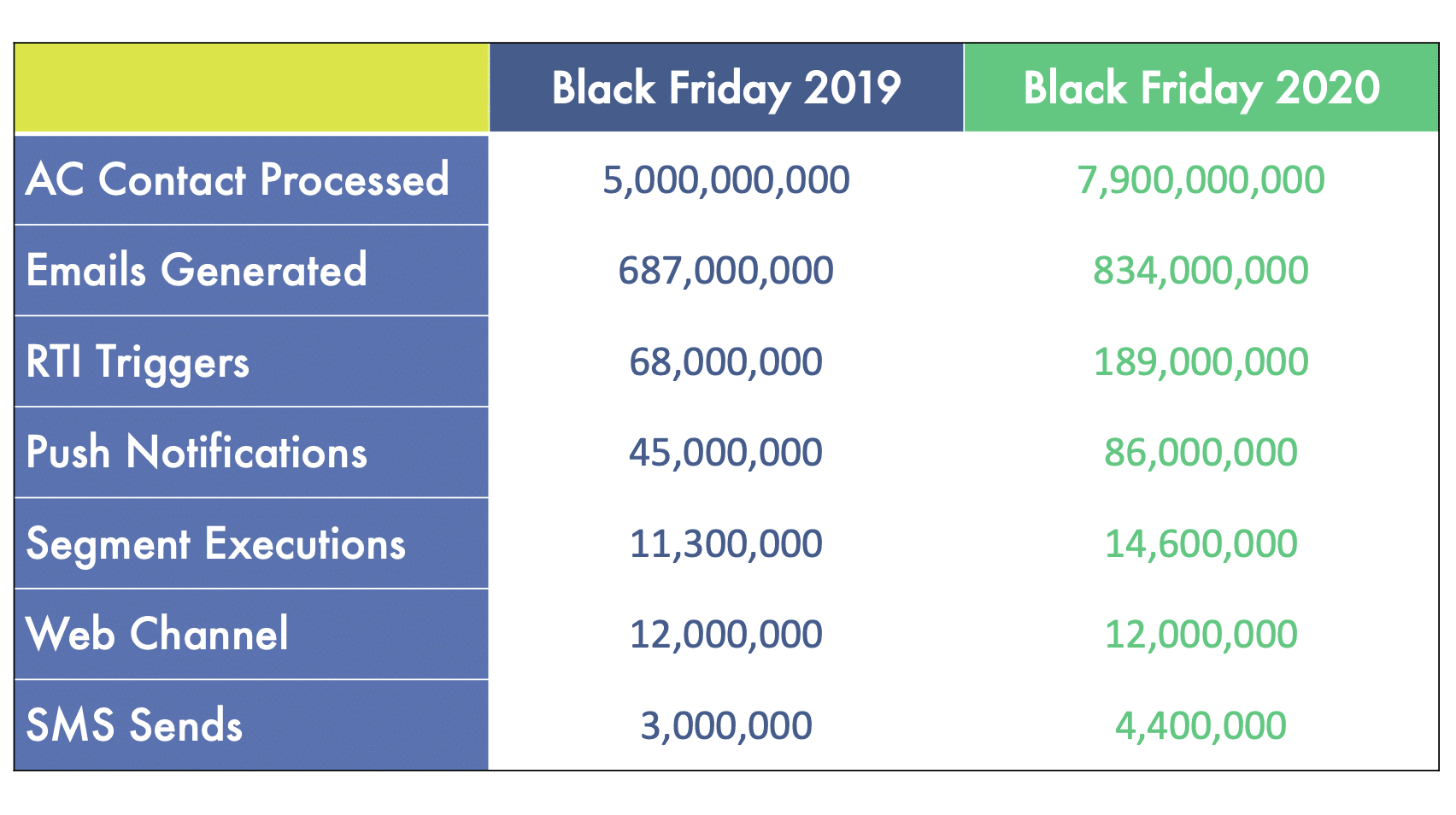 Cyber Monday 2019 vs Cyber Monday 2020
Black Friday wasn't the only big day in terms of performance. Cyber Monday has always been digitally led, but 2020 was different. With all the new online shoppers that brands acquired throughout the year, engagement on every channel was going to be massive. But even with the increase in online communications and experiences, everything executed smoothly.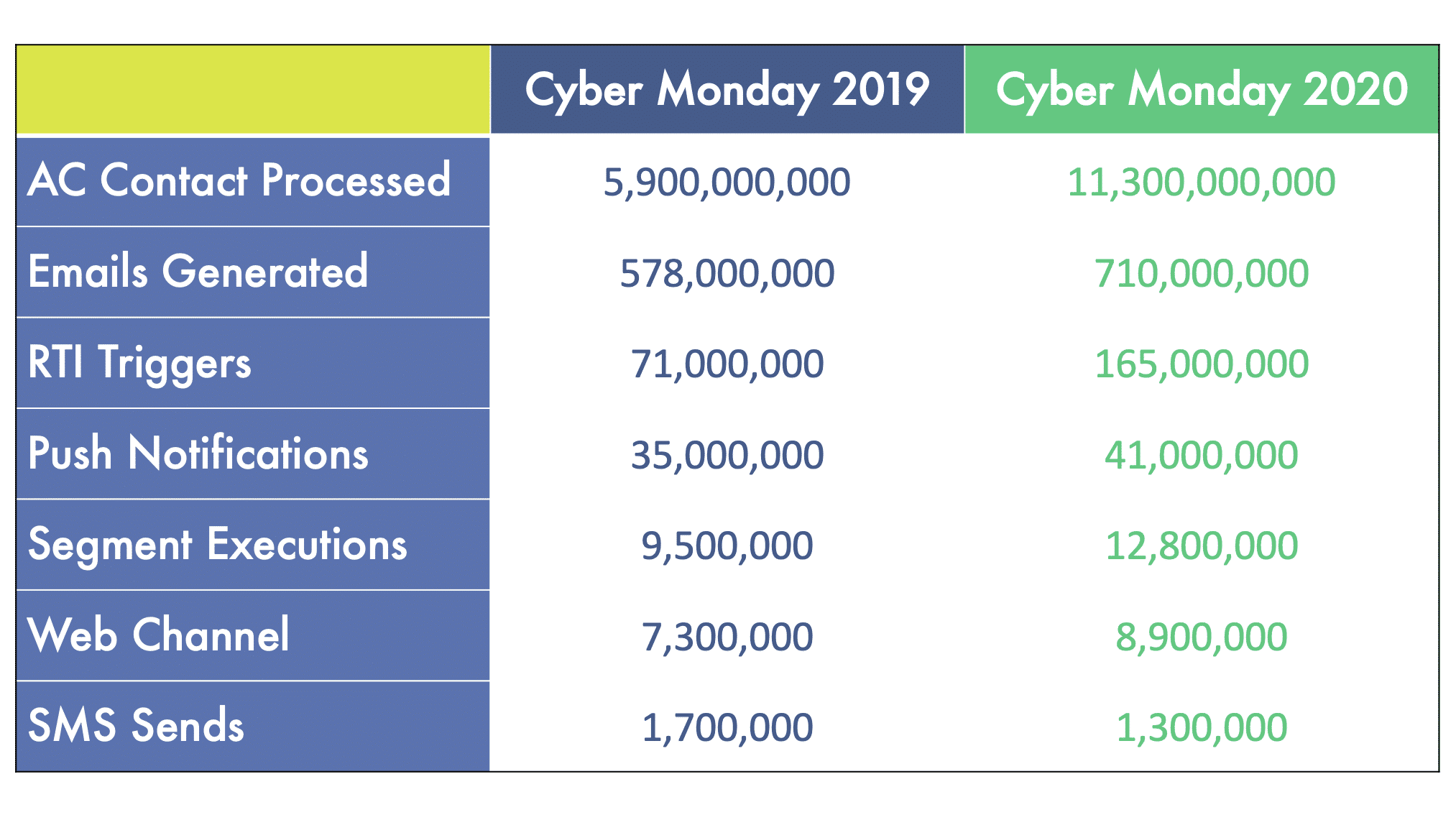 Key Takeaways
There are many valuable insights to be gleaned from this year's Black Friday, especially when looking at the numbers. But here are some of the stand-out takeaways:
Personalized marketing is a HUGE factor for brands. Particularly for retailers who didn't have the benefit of in-store experiences, true 1:1 experiences were vital this year.
Brands that had built a base of loyal, lasting customers throughout the year were able to leverage their loyalty programs with great success. Keep an eye on loyalty being an essential element of brands that drive business results in 2021.
More and more brands are looking to connect with customers through mobile. The number of push notifications we helped deliver this Black Friday nearly doubled compared to 2019.
Email was one of the hottest channels this Black Friday. Although brands are continually discovering new ways to engage with customers, email remains one of the most powerful channels available.
The increased volume this shopping season meant customers would receive more messages, but these messages still needed to be highly relevant and targeted. Solutions like Max AI helped brands deliver on this via AI segmentation and AI-powered content recommendations.
For more in-depth takeaways on how brands used Emarsys to deliver results during this year's Black Friday, check out this post.
What This Means for Our Clients
A true digital-first Black Friday may not have been predicted at the start of 2020. But this year taught many businesses the importance of agility.
Although we look to remain agile and innovative by building technology and solutions that help our clients succeed, we always aim to ensure our clients are provided consistent, reliable performance from their Emarsys omnichannel customer engagement platform. The two biggest shopping days of the year — when the number of executions and transactions are the highest — are no exception. We never settle, especially when having a successful Black Friday or Cyber Monday is critical for your business.
Black Friday 2021 may seem far away, but it will arrive before you know it. And of course, as always, no matter what your marketing strategy will be or what conditions you're facing, we're here to help you deliver the predictable, profitable outcomes your business demands, and the 1:1 personalized omnichannel experiences your customers deserve.
Handpicked Related Content: