More than 300 billion emails are sent and received every day, with each one of them vying for someone's attention in a crowded inbox.
With this level of competition, batch-and-blast sales emails are no longer enough to stand out from your competition and win that all-important subscriber engagement.
You need to create engaging emails with valuable content that your audience wants to read.
However, creating engaging emails that get attention in noisy inboxes can be hit and miss without a framework in place to guide your efforts.
In this article, we're going to walk you through everything you need to know about customer engagement emails, revealing the 8 email types you need to start creating right now.
First Things First: Why Send Customer Engagement Emails?
Believe it or not, email marketing dates all the way back to 1978. The first mass email was sent by a marketing executive at Digital Equipment Corporation by the name of Gary Theurk. His 'campaign' went out to 400 recipients and resulted in roughly $13m worth of sales.
Email pre-dates every digital channel by a long way and yet, 40+ years later, it still returns the highest ROI of any digital channels, roughly $42 back for every dollar spent.
Customer engagement emails are an effective way of driving consistent sales while reaping the ROI that email marketing campaigns are famous for. They are written to entice your audience with special offers, seasonal messages and promotions that are personalized based on their individual browsing habits, product affinities and behavior.
The goal is to drive engagement by delivering email content that adds value to the lives of your customers and builds the all-important trust you need to drive consistent, repeat sales.
8 Types of Customer Engagement Emails to Send
If you're collecting emails from a pop-up or checkout and only using them for sales campaigns, you're missing out on a goldmine of engagement and potential brand building.
Welcome emails are typically set to send automatically as soon as a new subscriber joins your list. Since your open rates are likely to be much higher at this stage, welcome emails help you take advantage of this by building anticipation for sales, cross-promoting your other social channels to increase subscriber touchpoints, and indoctrinating subscribers into your brand and USPs.
Welcome emails are your chance to tell your brand's story and arouse interest with your readers. They lay the foundation for the relationship subscribers will have with your brand and can be the difference between subscribers quickly converting into customers, or losing engagement and churning before they even buy.

If you're ending your customer communications at point of sale, you could be costing your business some serious conversions.
Many brands make this mistake – and that's good for you. Why? Because if you take the time to thank your customers for their purchase, you're immediately setting yourself aside from the competition in their minds.
To get started with thank you emails, create an automation in your email marketing platform triggered on store sales, and send a thank you email to each customer shortly after they complete a purchase.
Use this email as an opportunity to thank them for their business and reinforce the reasons they bought the product in the first place by outlining your key brand USPs.
You can even take it one step further and use thank you emails as an opportunity to upsell customers to new orders. Consider including a limited-time discount code to entice buyers to grab additional products they've browsed, or include a referral link to give them an easy way to share your brand with their friends.
Not only will you see an increase in engagement, but this build-up of excitement can also lead to lower return rates – helping you improve your ROI.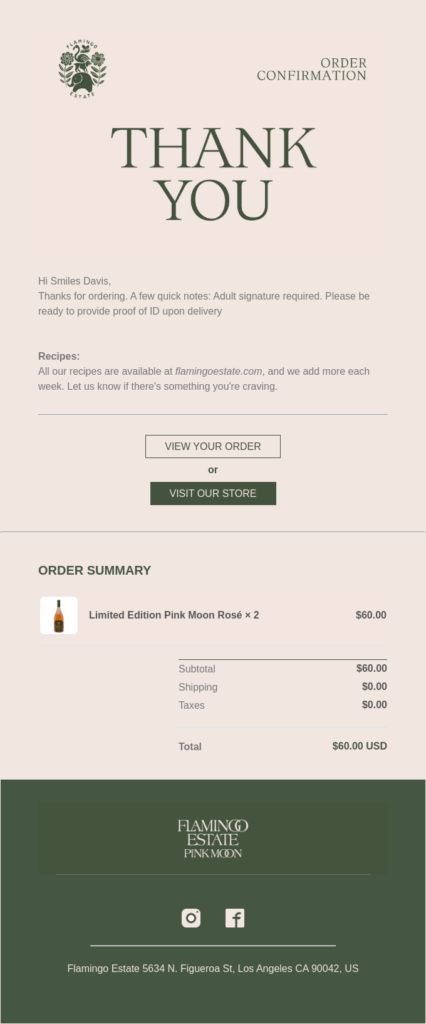 Cookie-cutter, one-size-fits-all promotional emails are a surefire way to annoy customers and, over time, lose their trust. If you're sending the same offer to everyone on your list, your engagement will only diminish over time.
If you want to increase your email engagement, you need to give your customers what they want – offers that are tailored to them.
The customer engagement platform you choose should have AI-driven product recommendation widgets that allow you to quickly nudge customers towards products they may be interested in.
Instead of blanket special offers sent out to your entire customer database, you can deliver emails with offers that are personalized to each individual customer's interests, previous purchase history, and predicted lifetime value.

Subscription anniversary emails
In the grand scheme of things, your one-year anniversary since you subscribed to your dog food mailing list probably isn't a key milestone in your life.
However, a well-crafted, on-brand email that acknowledges this but offers a strong promotional offer anyway has a good chance of standing out in cluttered inboxes.
Conversely, for an audience segment that frequently opens and clicks on emails, a subscription email thanking them for their enthusiastic engagement with a personalized promotion you know they'll love is a great way to delight customers.
Offers that tend to perform well are exclusive discounts, upselling customers to higher subscription tiers, or even inviting them to join your VIP programs or events to increase their loyalty even further.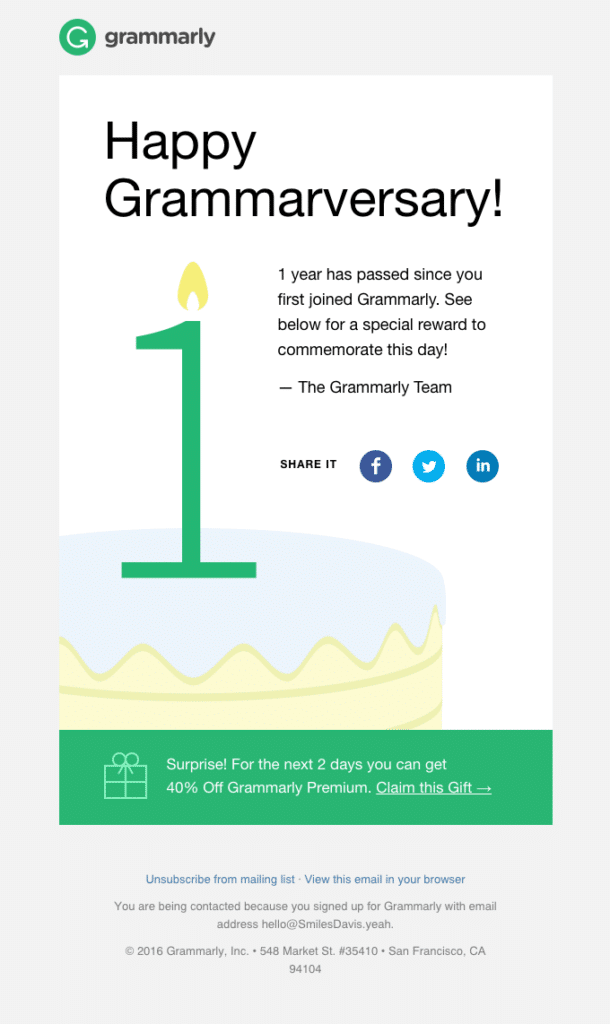 Reviews are the lifeblood of any e-commerce business and provide invaluable social proof to back up the benefits of your products.
However, without prompting, only a small percentage of customers will actively seek out your product pages and leave a review. And when customers who've had a negative experience are more likely to do this than those who've had a positive experience, you need to take the situation into your own hands.
Feedback request emails are an easy-to-create yet highly effective way of gathering invaluable feedback on your products, improving your on-site experience, and capturing and displaying the glowing positive experiences your customers are having with your products.
These emails can be an excellent method of securing high-value User Generated Content (UGC), too. By incentivizing your customers to take a selfie with your product or shoot a quick review video, you'll build an invaluable bank of content that can be repurposed and published cross-channel (just make sure you have explicit permission to do so).

Birthday celebration emails
Sometimes, it's good to simply show your customers that you care. By collecting birthday data from a pop-up or at point of sale, you open up an invaluable opportunity for email engagement.
Start your email automation a few days before the big day to build up excitement and prime your potential customer for a purchase. Then, on their birthday, trigger an email with an exclusive discount.
Combine this with personalized product recommendations and give your customers the gift of the chance to get a product they've had their eyes on at a limited-time lower price.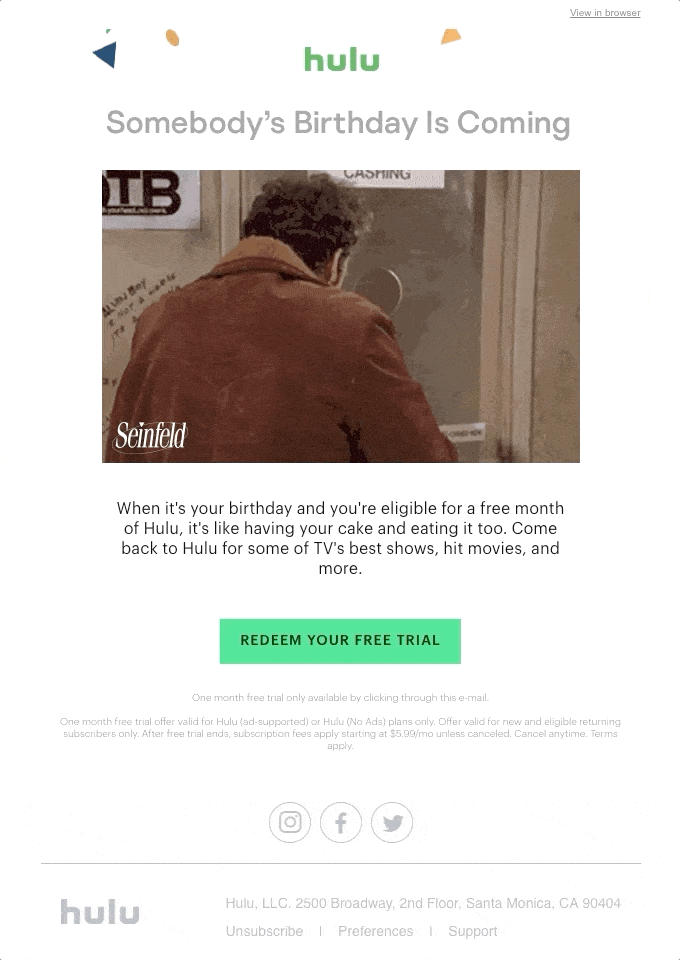 Customers window-shop at retail locations, and your e-commerce store is no different. The digital world is full of distractions – even customers who have every intention of buying a certain product can get derailed and forget what they were looking at.
This is where cart abandonment emails come in.
With a cart abandonment email automation, you can monitor site visitors who add items to their shopping cart but leave before buying and give them a gentle nudge to head back to your site and pick up where they left off.
If you want to drive even more action, combine cart abandonment emails with a limited-time discount or a low-stock notification. Both are excellent tactics when it comes to capturing attention, removing price objections and encouraging budding customers to convert then and there with a little added urgency.

From Black Friday to Cyber Monday to Thanksgiving, Christmas and Singles Day, there are a handful of key dates every year that are firmly marked out in every e-commerce marketer's calendar.
However, when every ambitious marketer in your niche is competing for customers, if you want to stand out and win that hard-fought customer attention, you need to choose your email content carefully.
Here are a few options to consider:
Warm-up emails: Send out alert emails in the run-up to your sale to prime customers to keep their eyes open.
Personalized offers: Create personalized sales offers based on your subscribers' browsing and purchase behavior to give them limited-time discounts on products you know they'll love.
Gift guides: Increase average order values with holiday gift guides, featuring deals on best-selling products for him and her.
Wishlists: seize the opportunity for referrals and customer acquisition with wishlists, so your subscribers can easily drop hints to friends and family for gifts they'd love to receive.
Be sure to tackle key objections in the content of your email by including customer service contact information, as well as shipping cutoff dates for Christmas period sales.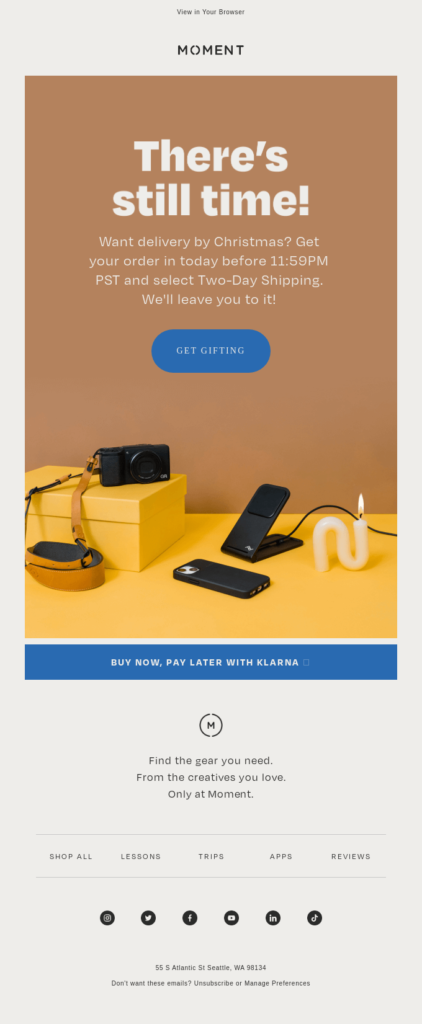 Personalized Email Automations are Key to Consistent Customer Engagement
Building an engaged audience doesn't have to be a fight to stand out. With the email automations above, you'll have everything you need to capture audience attention, nurture them through to their first purchase and keep them coming back.
If you're in the market for a customer engagement platform that ties email into your cross-channel marketing mix, our customer engagement platform combines industry-leading email deliverability with real-time, AI-powered personalization.
In simple terms, this means you can send the email types we outline in this blog to specific audience segments. These segments can be created based on customer behavior across web, mobile, and email, or properties such as interests, locations, and demographics. 
Handpicked Related Content: