Due to COVID-19, retailers have been forced to step back and figure out how they can now provide the same attention and care to customers online as they do in-store.
The first step is to understand what customers want during this period. The next step is to leverage technology so you can take immediate action to meet those demands through digital channels.
The more significant takeaway today is that the shift to digital won't end when the pandemic's over. The time is long gone when you could argue that the growth potential of digital wasn't worth the risk of investing in. E-commerce has a permanent seat at every retailer's table. The brands who will grow the most will be the ones who can quickly understand what their former in-store customers want and leverage technology to meet those demands.
E-Commerce Is No Longer a Secondary Option for Retailers
Even though the pandemic has disrupted the world economy, consumers are still buying things but in more targeted ways. This has led to certain products quickly going out of stock — a great challenge for retailers at any time.
However, stock depletion has been compounded by attempting to comply with health and safety precautions such as the number of shoppers in stores and how far apart they are from each other. Even though some brands remain open by limiting the number of customers inside a store at one time, foot traffic for most is dead.
As a result, everything had to shift to digital.
Most retailers have been preparing their e-commerce strategy for years, though no one thought they'd see a test case of pure digital this soon and under these conditions.
What we're learning, though, is that e-commerce is quite an effective way for retailers to engage customers at home during a crisis. Brands are experimenting with improving services and resources they already offer, while others are introducing new processes that provide something valuable for customers.
Let's take a look at some retailers successfully expanding their e-commerce strategies.
Using Technology to Give Customers a New Safe Way to Shop
International health and beauty retailer A.S. Watson was impacted by the pandemic early on when consumers in Hong Kong bought all the available masks and hand sanitizers. This challenge was complicated by the crowds of shoppers in their stores and long checkout lines, making the social distancing precaution impossible.

Thinking creatively, A.S. Watson leveraged their technology stack to solve these two challenges (depleted stock and overcrowded stores) and launched an online ordering system where customers could buy masks and sanitizer online and then pick up their order at one of the Hong Kong outlets at a designated time. This wise move allowed A.S. Watson to replenish stock at a manageable rate, keep their customers happy by continuing to deliver what they wanted, and keep their customers safe by adapting to quarantine precautions.
Delivering the In-Store Cooking Experience to Customers at Home
Sur La Table, an American retail company that sells kitchenware products, was ahead of the curve in some respects because they had decided their retail strategy had to become more digital. This move put the brand in a solid position to adapt to changes in customer behavior.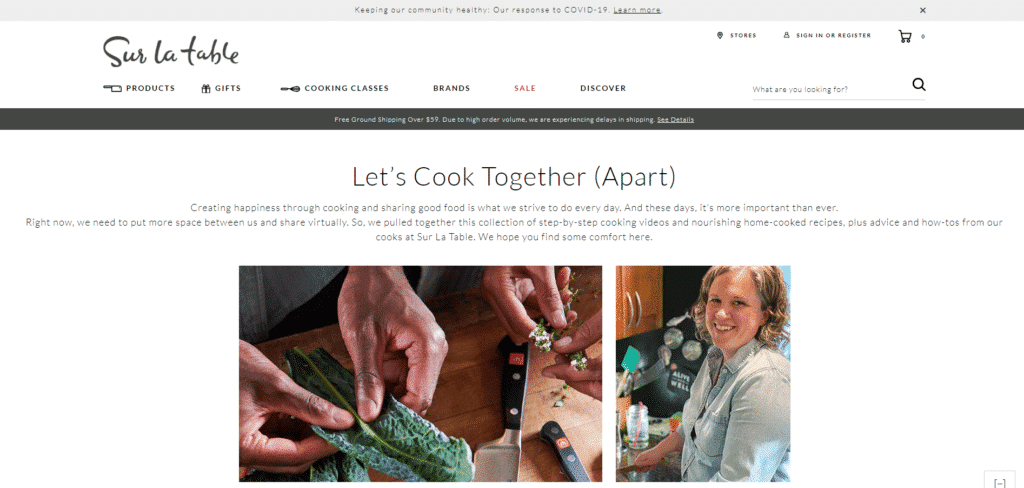 Before quarantine, Sur La Table realized that their best stores were the ones that offered culinary classes. This led them to plan on closing stores without kitchens.
Then COVID-19 came along and stopped many retailers in their tracks. Sur La Table, however, moved quickly to shift even more of their brick-and-mortar business to online. With so many customers quarantined at home, the brand noticed that their audience was taking in a lot more long-form content (cooking videos, recipes, and other meal planning and prep content), especially on Instagram and YouTube.
Since people stuck at home, they tended to cook more meals, which led to an increase in ordering bakeware, glassware, and other tools online. Using its customer engagement platform, Sur La Table was able to see these trends in real time and quickly leverage their online engagement strategy. They added a community to their website to better engage with a greater group of fellow customers and Sur La Table cooking experts. Ultimately, the brand took its excellent in-store experience and brought it online in a very successful way.
The New Normal's Face-to-Face Experience
Australian and New Zealander beauty brand MECCA depends on in-person relationships with customers, and social distancing has profoundly impacted their core business model. However, MECCA thought quickly on their feet. By putting the customer first, the brand realized they had to deliver a face-to-face experience, even when they couldn't be within six feet of customers.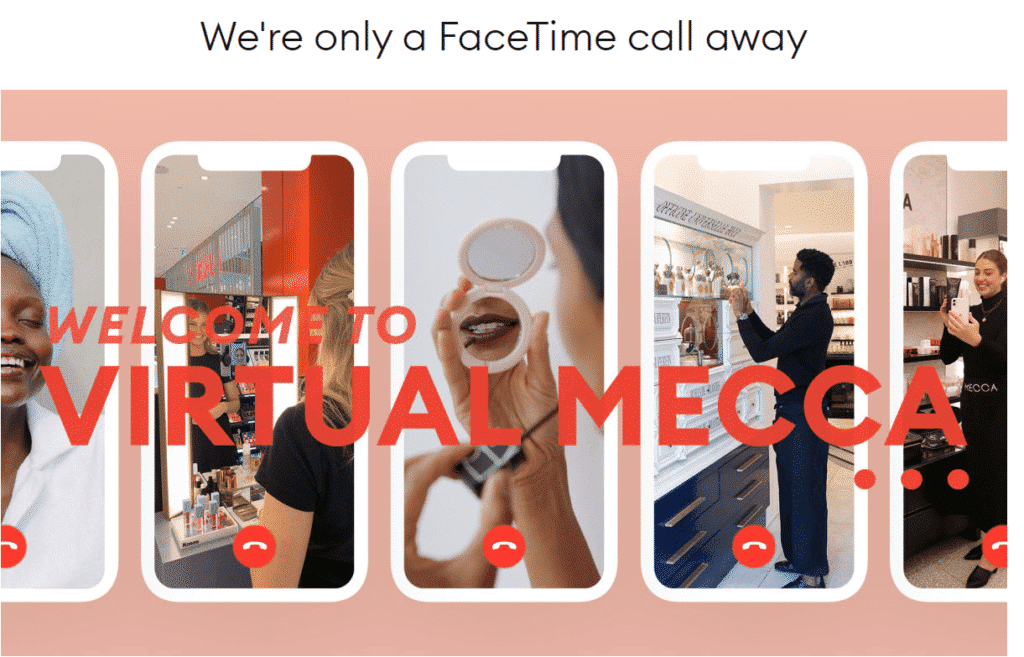 The brand created a special service where MECCA hosts and specialists virtually assist customers in the same way they would in-store. Customers can schedule a FaceTime call for beauty or fragrance consultations, and skincare and makeup lessons, so they're still getting that direction and care from an expert beauty brand.
When Lipstick's Down, Turn to the Products Customers Want Most
Online retailer Adore Beauty saw a 24% drop in luxury beauty products like lipstick and lip gloss, two items that generally do well during an economic crisis (as counterintuitive as that might seem). However, at the same time, the brand was seeing triple the number of new customers.
By looking into current customers patterns, Adore Beauty quickly discovered that the crisis was driving sales of anything hygiene-related. Their real-time data clearly showed that their audience wanted hand wash, hand sanitizer, moisturizers, bath oils, and facial masks.
Via their customer engagement platform, Adore Beauty sent emails to customers about their favorite "stay at home" self-care picks in masks, derma rollers, bath oil, and scented candles. Plus, they created an Adore Beauty Hangout where customers can find videos and blogs on beauty-related topics, curated music and podcasts, and a live Instagram hangout every Monday evening, essentially all the same components of shopping in-store for self-care and calming products.
Permanent Digital Shifts
For the brands discussed here, many of the steps they've taken to hear and satisfy their customers are laying the foundation for a permanent shift to digital. Here are some possible developments these brands may see in the post-coronavirus world.
A.S. Watson
In the future, A.S. Watson will be better prepared to manage stock during an emergency. But they will also be in a better position to develop new ways to connect with customers online and deliver the same in-store value. Plus their customers will remember how well the brand treated them during this time.
Sur La Table
Sur La Table has expanded their brand into channels like never before and will be able to serve their customers with a wider range of content and experiences both in-person and online. Customers are clearly responding to the brand's shift to digital in ways that neither the customers or the brand could have predicted three or four months ago.
MECCA
After the pandemic, MECCA will have a new set of customer engagement channels that complement their face-to-face services. Not only will existing customers have new options, but new customers will respond to the online changes MECCA has made.
Adore Beauty
The self-care portion of Adore Beauty's e-commerce business will undoubtedly bring in new customers who, for one reason or another, have yet to visit an Adore Beauty store. It's also a powerful way to create a community of customers interested in engaging with a brand who cares long past the purchase — and is there during a frightening time.
Final Thoughts
Brick-and-mortar stores are taking heavy hits, some industries worse than others, but this current shift to online does not predict the death of the physical store.
If you're a retailer who has already invested in and built your e-commerce business, you are in a better position to spot areas where you can innovate and improve your relationship with customers versus brands who've been slow to develop an online business that's as strong as the in-store experience.
Once we get through the pandemic, we will, most likely, see an even bigger and more permanent move to digital because we've reached a tipping point. E-commerce is no longer an option or a backup revenue stream. It will be the only way retailers survive this period and come out the other side more strongly connected with all their customers quarantined at home.