Retail Revival was a gathering of industry leaders and experts, assembled to bring you the strategies, tactics, and insights you need to adapt and acclimate to a brave new world of digital-first retail.
While the first two days provided a big-picture view of the state of retail & e-commerce (e.g., The Future of Retail) and customer engagement strategy (e.g., Empowering Commerce Anywhere), day three zoomed in to examine the most important part of the retail marketing equation: the customers.
During Retail Revival's Day 3 Main Stage Session — Putting the Customer Back in Commerce — we learned about the importance of customer obsessions, along with the critical steps brands are taking to truly understand their customers and drive customer loyalty. We heard from:
Bobby Berk (CEO, Bobby Berk & star of Netflix series Queer Eye)
Antoni Porowski (Best Selling Author, Chef & star of Netflix series Queer Eye)
Rick Almeida (VP eCommerce, PUMA)
Anna Ullman Serse (CEO & Owner, JOY Shop)
Daniel Marsden (CEO, Lounge Underwear)
Melanie Marsden (Chief Brand Officer, Lounge Underwear)
Ben Norton (VP of Strategic Adoption, Emarsys)
Courtney Shaffer Lovold (VP of Client Success, Emarsys)
Sara Richter (CMO, Emarsys)
Here's a quick recap of the major takeaways from the mainstage speakers, plus details on a few other amazing Retail Revival sessions from around the globe.
More Than a Makeover
Bobby Berk and Antoni Porowski are most famously known as stars of the hit Netflix reality series Queer Eye. But both have unique professional backgrounds and expertise that give them a unique perspective on what it takes to lead teams, build businesses, and connect with customers.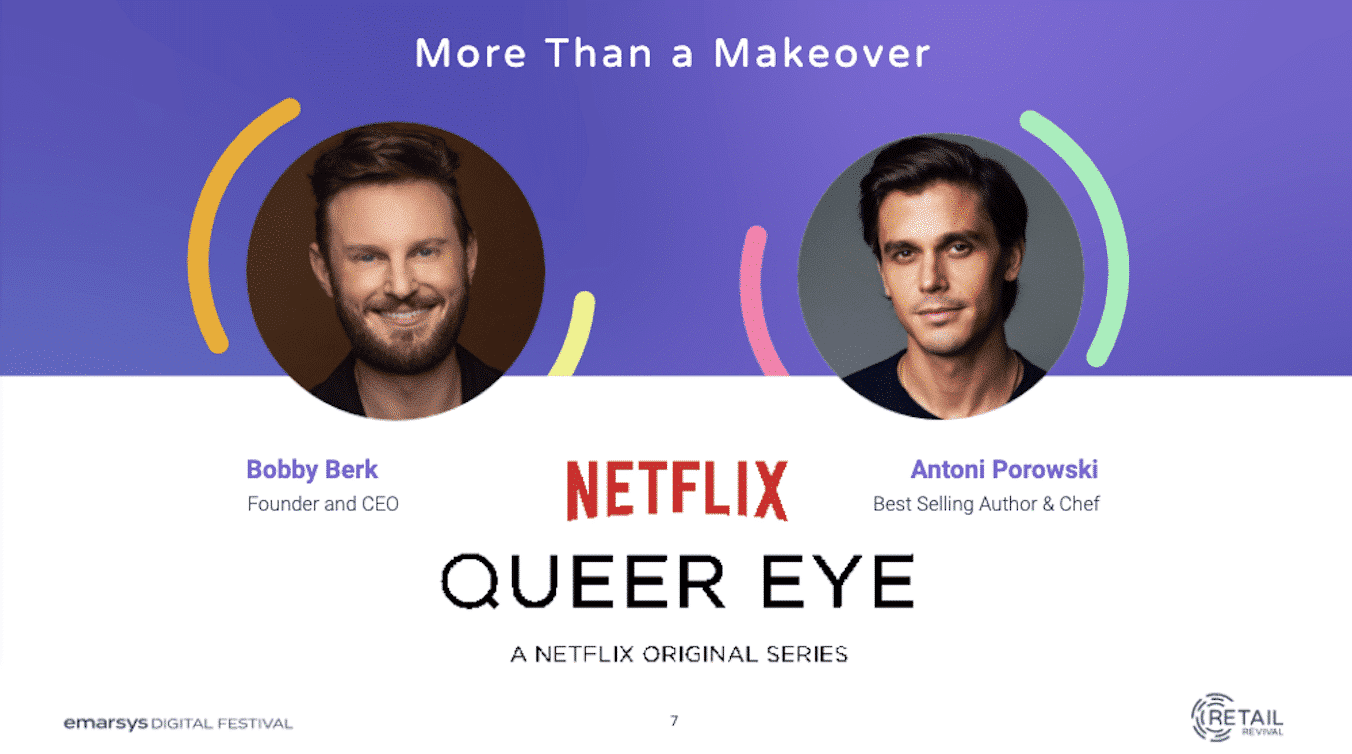 Some of Bobby's earliest working experiences were in retail, working for brands like Gap, Express, and Restoration Hardware. Later, his time working in e-commerce gave him the skills to launch his own e-commerce business and sell furniture online. For Bobby, one of the most important lessons about building brands that will connect with customers is: the story.
"If you think about the businesses we've worked with on Queer Eye and think about their massive success, it's because people relate to their story. One of the most important things you can do in retail and e-commerce is have a story your customer can relate to. […] Customers connect to brands that have a story, and that are doing good in the world."

— Bobby Berk (CEO, Bobby Berk & star of Netflix series Queer Eye)
Antoni's background as a chef, author, and television star has taught him what it takes to not only build and nurture a brand, but to lead a brand. As a leader with so much on his plate (writing books, filming new episodes of Queer Eye, writing new TV projects, building his own business), he's learned how important it is to manage his time, and to apply self-care.
"My whole system of values and what's important to me, the actual value of time, has been my biggest learning lesson over the last year. And that's something I don't want to forget moving forward. If you're doing too much, you're not really taking care of yourself, and you start to neglect yourself."

— Antoni Porowski (Best Selling Author, Chef & star of Netflix series Queer Eye)
Business leaders and marketers alike can benefit from the wealth of insights that Bobby and Antoni shared.
Knowing Your Customers & Giving Them What They Want
Retail and e-commerce experts have spent a good deal of time in 2021 reflecting on how exactly their industries were impacted in 2020 due to the COVID-19 Pandemic. Rightfully so, last year caused significant changes to customer engagement and customer loyalty (many of them positive) that will echo for years to come.
The panel discussion "Knowing Your Customers & Giving Them What They Want" unpacked how building relationships with customers is more important than ever.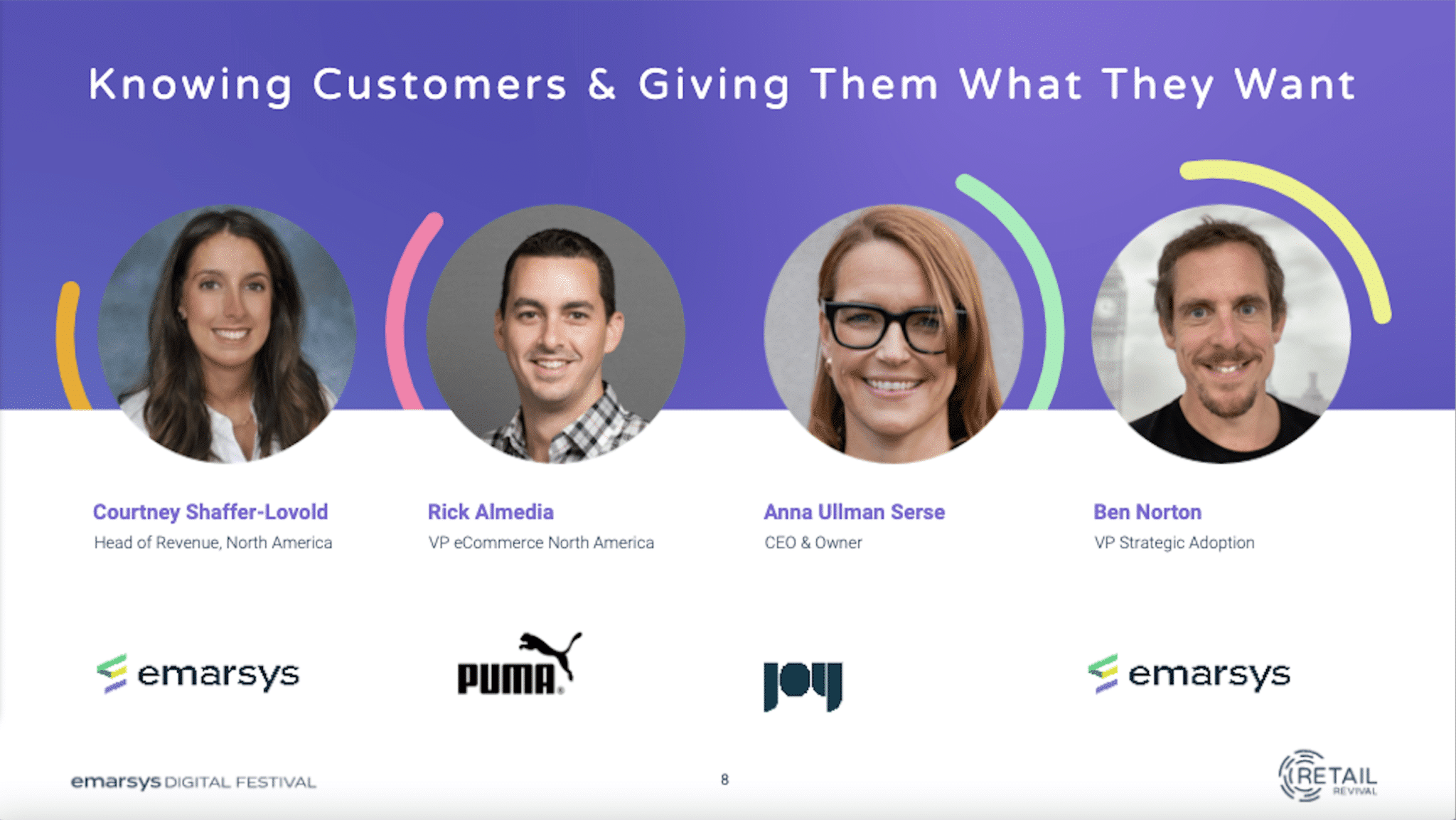 Anna Ullman Serse, CEO & Owner of JOY Shop, talked about how the brand uses personalization to drive customer loyalty. Anna shared a word of warning: as you're setting up personalized campaigns for your business, don't get caught in the trap of hyper-focusing on your own KPIs. Lead by focusing on the needs of the customer — listen to them, see what they engage with the most — and use that to tailor personalization.
Rick Almeida, VP E-Commerce at PUMA, discussed how PUMA takes customer engagement from theory to practice by nailing down the basics. Customer engagement isn't just about the transaction, it is the basis for a customer relationship. Identify the cues, indications, and behaviors that give you an opportunity to continue the conversation with your customers and extend their journey. For example, PUMA personalizes post-purchase follow-up with complementary product recommendations to complete the customer's outfit. 
These insights just scratch the surface. To learn more about how PUMA and JOY are building lasting relationships with customers, you'll want to watch the entire session. Plus, you'll get personalization strategy tips from Ben Norton (VP of Strategic Adoption, Emarsys) and Courtney Shaffer Lovold (VP of Client Success, Emarsys).
How Lounge Underwear Became One of the Fastest Growing eCommerce Brands
Daniel Marsden (CEO) and Melanie Marsden (Chief Brand Officer) started Lounge Underwear five years ago from their living room, and have built it to a 40M+ direct-to-consumer online-only business. In their chat with Sara Richter (CMO, Emarsys), the brand leaders offered some of the insights they learned growing the highly successful e-commerce company.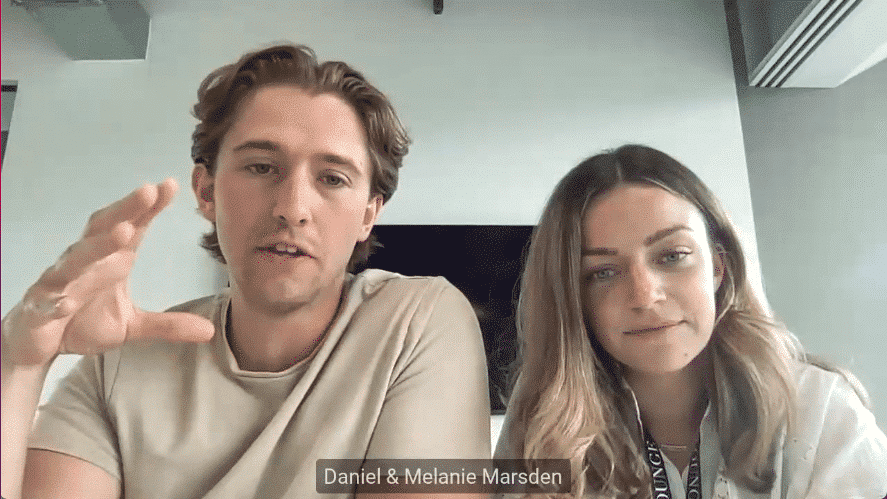 Even though Lounge is a modern, digital-first brand, Daniel offered some classic, old-school advice that can benefit all marketers and business leaders: work hard, and embrace failure.
Lounge Underwear wasn't the couple's first attempt at building a business. But their earlier "failures" taught them how to leverage social media and influencer marketing, which was pivotal in Lounge's growth. "If you fail, keep going," Daniel said. "A massive part [of success] is timing. We could have started 12 months earlier, or later, and it would've been totally different… keep failing until you make it.
Melanie added to the importance of social media as a means of staying in-touch with customers and building the relationships that lead to loyal, lasting brand advocates. She shared how, in the early days of the brand, she would personally respond to every customer who DM'd the company account on Instagram — day or night. This added a "human touch" to their customer engagement, and made the customer "feel like they were talking to a best friend." Interacting with everyone who engaged with or showed interest in the brand was what sparked its explosive growth.
Retail Revival Around the World
Retail Revival's Day 3 Main Stage sessions explored the exceedingly important role of the customer and customer obsession when it comes to retail marketing. However, Day 3 also offered numerous key sessions on other critical marketing topics. Highlights included:
How Bulk's DTC Approach Delivered a Knock-Out Blow to the Challenges of 2020 (EMEA). In this session, we learned how Bulk overcame gym closings and other COVID-19 fall out by doubling down on customer experience, using first-party data to amplify their DTC efforts, and reinforcing their position as a lifestyle brand in the market. Session link: https://bit.ly/349Okm1
How Covetrus Helps Vets and Pet Owners by Using Personal, Predictive Marketing (AMER). This chat gave us an inside look at how the brand uses data from veterinarians to make predictions about how and when consumers are likely to buy, and tips for driving true customer lifetime value. Session link: https://bit.ly/3gQRxOV
Final Thoughts
Although it's important for retail marketers and brand leaders to keep an eye on what's happening in their industry, and the retail landscape as a whole, it's imperative to keep the customer in focus.
Day 3 at Retail Revival taught us that the most successful brands are the ones that remain customer obsessed, and know that the key to creating lasting customer relationships and driving lifetime value is to provide satisfying personalized experiences that customers deserve.
But don't stop short at Day 3. Register now at retailrevival.emarsys.com to get on-demand access to all of the main stage sessions, as well as the 40+ Sessions and 60+ Hours of Content only available from Retail Revival.
Handpicked Related Content: