I get it. It's frustrating.
As a marketer, your company has loads of disconnected data.
And you have to log in to each tool to pore over the data and make your best-educated guess. You look over reports in your email marketing platform, your website analytics, your social media data, and your ads.
This tech stack approach — adding more marketing technology — creates headaches because of your siloed data.
What if you could view all your customer data in one place, allowing mere mortals to decide on the best steps to take?
Is this even possible? Keep reading to find out.
How Data Platforms Work
Your company probably has one of several platforms to organize and sort data.
To better explain how you can connect all the data your heart desires, let's look at the most common platforms.
CRM (Customer Relationship Management)
The most common platform, a CRM collects customer and prospect information — such as name, email, and title — for the entire organization. It stores interactions with customers and prospects so everyone is on the same page. If a customer reached out about a question, if a prospect downloaded a whitepaper, or even if your customer opened your email, this information can be found in a CRM.
DMP (Data Management Platform)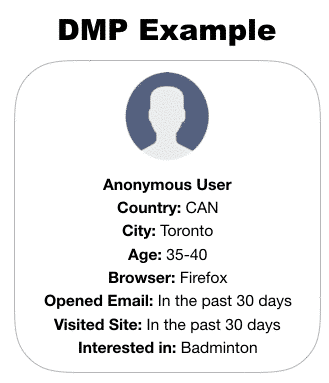 A DMP collects data from a variety of sources and segments the information so advertisers can create lookalike audiences to target potential prospects in the hopes of converting them to customers. Wow, that was a mouthful. Go ahead and read that again. Don't worry. I'll wait.
This is a simplified explanation of a DMP – just know the incoming data is anonymous and created for display and paid search. It's not designed to provide individual profiles of your prospects and customers.
CDP (Customer Data Platform)
A CDP down data silos and pulls together data that generally isn't integrated — everything from email to SMS to social to offline transactions to your website — to give you a complete 360-degree profile of customers.
It's designed for marketers. So if you're anything like me, you're glad when technology works. Kind of like when I maniacally wave my phone in front of a card reader to pay for my coffee, Apple Pay just works. Mind blown.
Data Platform Comparisons
Data is like a puzzle, disconnected until someone comes along and fits together all the pieces. Each platform is designed to connect data together, but for different purposes.
A CDP is designed to eliminate data silos and funnel all customer interactions with your company and website into one place.
Your marketing team can make the best possible decisions in connecting one-to-one with customers on their preferred channel, providing you with a true omnichannel approach.
No longer do you have to waste time logging into all your separate marketing tech accounts, or relying on other internal departments to pull together some data.
Final Thoughts
The Emarsys CEDP (Customer Engagement Data Platform) gathers all your data and uses AI to generate smart attributes about individual profiles. You can view their probability to purchase, potential future value, and even assign a customer lifecycle stage based on your business needs.
You can even create a host of segments based on all your customer data collected such as location, purchase history, website behavior, and any other relational data added to your system.
It's no wonder Forrester named Emarsys a leader in The Forrester Wave™: Cross-Channel Campaign Management (Independent Platforms), Q4 2019 Report.
Handpicked Related Content: