New analysis of marketing trends and predictions from 2021 shows that over a quarter never came true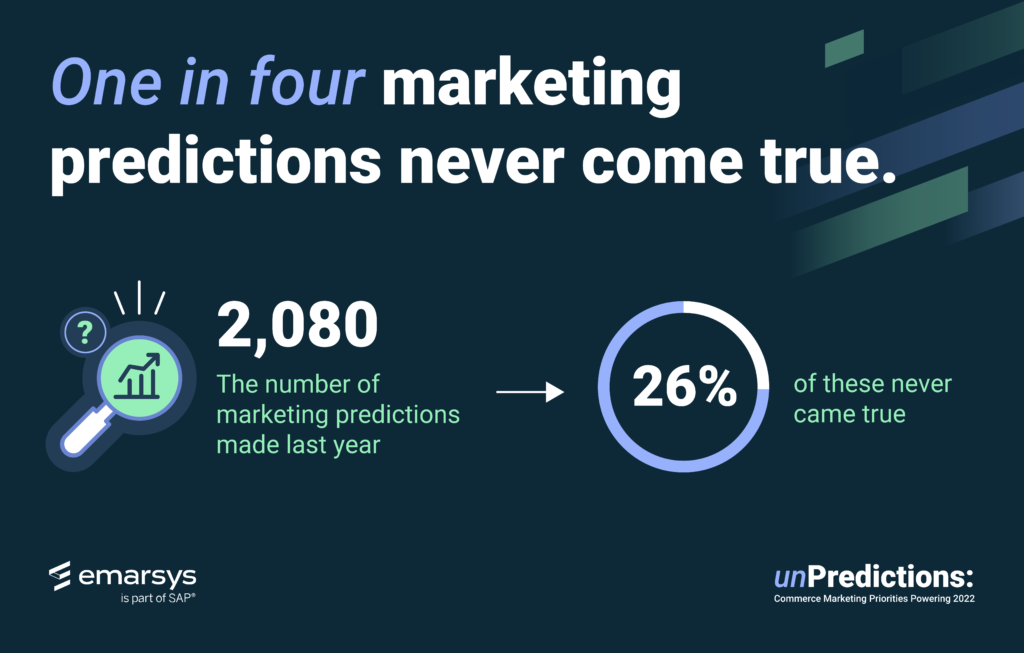 Indianapolis, US, January 2022 — In an analysis of over two thousand predictions made about marketing and commerce in 2021, nearly 600 (26%) never came true. That's according to a new analysis from marketing technology company Emarsys.
The data was released to coincide with Emarsys' "unPredictions" report, which encourages marketers to avoid hype and focus instead on those technologies and trends that will have a meaningful impact on their businesses in 2022.
Key trends that did not come to light last year included consumer adoption of smartglasses and a predicted boom in voice search for commerce.
Others however did prove a more reliable indication of what was in store in 2021, with many marketers predicting a renewed focus on privacy, the boom in influencer marketing, and the continued growth of ecommerce after stores reopened.
Rather than focusing on high-level trends and futuristic tech however, Emarsys' unPredictions report calls on marketers to adopt a more practical approach, focusing on existing challenges such as email personalization, using data to drive customer experience and consolidating their martech stacks.
As Joanna Milliken, CEO at Emarsys explains, "Every year marketers are bombarded with reports and analysis predicting the year ahead. All too often, these predictions focus on the most eye-catching elements of marketing but fail to provide an adequate roadmap for marketers' day-to-day challenges.
"That's why we publish our unPredictions report. Rather than obsessing over the latest flashy trends, we focus on the complex realities that marketers face every day — whether that's siloed data, shrinking budgets or broken martech stacks. While we all love talking about bitcoin payments and NFTs, it's the day-to-day challenges that marketers need to be focused on in 2022 — the things that will genuinely empower and enable them to do their jobs more effectively."
To download Emarsys' unPredictions 2022 report visit https://emarsys.com/learn/white-papers/commerce-marketing-priorities-powering-2022/