Channel proliferation is making marketing as strenuous as it is exciting. If our ultimate goal as marketers is to put the customer at the center of everything, how are we supposed to achieve that in the face of so much "stuff?"
As today's guest, Sandra Wroe of WorldRemit describes, the easiest way is to start with email at the center — and then to take on those auxiliary channels like push messaging and social media ads. At WorldRemit, an online money transfer service, Sandra is at the forefront of digitization and technology. She and her team help migrants send "mobile money" back home to their families, primarily living in sub-Saharan Africa and Southeast Asia. Many of WorldRemit's users (and their families) have limited or no access to the Internet — something that we shouldn't take for granted.
As Head of CRM, Sandra understands the challenges of information overload, personalization, and technology.
"2019 is about enhancing the #customerexperience we're giving people through our communications," says Sandra Wroe of @WorldRemit CLICK TO TWEET
Show details and highlights
►(1:56) What is mobile money? WorldRemit is on the front lines.
►(3:30) A balancing act: data overload and what to do with it
►(5:23) What's changed in the past few years?
►(8:05) Did you start with tech (instead of strategy)?
►(9:48) Sandra on the future: proving the value of communications
►(11:48) Rapid Fire!
As Sandra describes, there's SO much that we can do, as marketers. From IoT to personalization technology, and more… there's a lot going on. This leads into three key takeaways for today's episode.
3 Key Takeaways
As Sandra says, we have to "think about what the right channel for each person is, along with the right content, context, time, and frequency… the number of possibilities increase a ton, and it becomes hard for the marketer to figure all of that out if they don't have the machine to rely on." So, use machines to help you where it makes sense.
How can you break through and be more customer-centric? If they want to, WorldRemit's app users can sign up for daily push notifications to see daily transfer rates instead of typical emails. These notifications alone drive nearly 8% of their app traffic. Find what your audience wants, and deliver it!
Not everything that matters is measurable, and not everything that's measurable matters. This is the second time I've heard this in the past week, and for good reason: the data explosion can create a mental construct that "if we can, we should." But it's not that simple and not always feasible to measure everything under the sun. Identify the activities and key results you're looking to drive, and focus there.
Other information
How do I subscribe?
You can subscribe to Marketer + Machine in iTunes, here.
Where can I find all episodes?
To see all Marketer + Machine episode archives, click here.
Resources and links discussed
Sandra loves the Marketing Week newsletter
Sandra's favorite book, Chief Customer Officer 2.0 by Jeanne Bliss
"Marketer + Machine" can be found on iTunes, Stitcher, SoundCloud and Spotify. If you enjoy our show, we would love it if you would listen, rate, and review.
This article features content from Revolution 2018. Join us for in London March 2020 for our next event. Interested in learning more? Click here.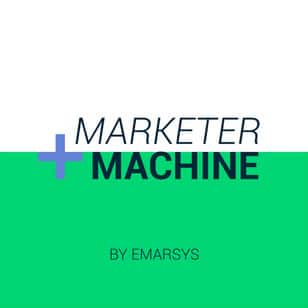 On Marketer + Machine, you will get an in-depth look at the creative, strategic, and innovative ways marketing leaders from around the world are not only acquiring but also retaining customers in today's uber-competitive marketplace.
Listen on your favorite podcast platform:
Our Satisfied Customers Include