Brenda Stoltz, President of Ariad Partners, joins the show to talk martech, strategy, and how the two are intimately interrelated — yet simultaneously separate and distinct.
As Brenda discusses, technology is a catalyst to energize everything else you want to achieve. It truly empowers marketing organizations to make clear-cut decisions, armed with massive amounts of data. But tech should never serve as a hindrance or distraction that comes before the strategy.
"Marketers can and should lead the enterprise in two areas. One, be the voice of the #customer across the enterprise. Two, be a strategic driver. Elevate #marketing to a strategic level within an organization." — @BSStoltz #VOC CLICK TO TWEET
Show details and highlights
► (1:32) How can martech make you smarter, richer, and better? When used as a strategic function!
► (6:34) How to link marketing automation to strategy
► (7:43) Artificial intelligence provides power for innovation
► (9:22) Marketing-sales alignment must start outside of the technology
► (12:22) Marketers have a LOT on their shoulders — tech helps
► (16:03) Brenda on the future: dominance of Amazon puts impetus on e-commerce brands to get attribution right
"Savvy marketers are using #martech to bring clarity to chaos – they can automate tasks, leverage #dynamiccontent, & stay in contact w/ customers in a way that isn't cold/inconsistent," says @BSStoltz CLICK TO TWEET
Lindsay's key takeaways
Martech can't make poor marketing good marketing. It's a tool, and it can help scale and bring efficiencies, plus bring you more insights and information.
Are you using marketing technology to analyze campaigns on a tactical level, or have you thought about it at a strategic level? How can you use AI to apply data and insights to provide personalization at scale?
Martech isn't the silver bullet to suddenly mend the decades old marketing-sales alignment challenge – but it can drive accountability, consistency, and process.
Other information
How do I subscribe?
You can subscribe to Marketer + Machine in iTunes, here.
Where can I find all episodes?
To see all Marketer + Machine episode archives, click here.
Resources and links discussed
"Marketer + Machine" can be found on iTunes, Stitcher, SoundCloud and Spotify. If you enjoy our show, we would love it if you would listen, rate, and review.
---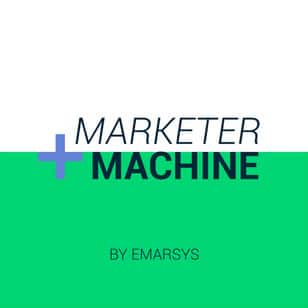 On Marketer + Machine, you will get an in-depth look at the creative, strategic, and innovative ways marketing leaders from around the world are not only acquiring but also retaining customers in today's uber-competitive marketplace.
Listen on your favorite podcast platform:
Our Satisfied Customers Include