Jay already shared what he wants marketers to know a few months ago, but he joins the podcast to discuss helping, not selling. As he explained, relevancy creates both time and attention. Marketers must understand that less is more — it's about creating marketing that's so good that people would pay for it. Data and technology are available to all of us to deliver exceptional experiences. Eventually, every one of your competitors will have great technology. It's up to us to differentiate ourselves in the only way we can — better strategy. It's about the wizard (marketer); not the wand (the software or tech stack). Personalization at scale has been the holy grail for a while, but being able to do it affordable has been the challenge. Now, we can get closer to being able to 1-to-1 marketing by relying on AI and machine learning. 
"If you give somebody the information that they really need, in the format they prefer, & at the point and time they desire, the time necessary to consume that thing is magically created " says @jaybaer       CLICK TO TWEET
Show details and highlights
► (2:20) The current state of CX — and "liquid" customer expectations
► (4:34) How do we actually create better customer experiences?
► (6:37) Relevancy is the key to the fight for attention
► (10:18) Don't sell harder, sell softer — create marketing so useful that someone would pay for it
► (12:26) Convince & Convert's "5 x 5 x 5" process
► (15:55) Learning to use technology, machine learning, and AI for 1-to-1 marketing
► (20:20) Jay on the future of marketing: relationship cultivation
Smart marketing is about helping, not selling
Data is just a means to an end — it's not "big data," but big understanding that we need. We're rotten for data, but starved for insights in some instances. We need to use data to understand what consumers want (market to people how we'd want to be marketed to), and then use technology to bring those experiences to life in ways that cater to customer preferences. If you sell someone, you can make a customer for a day… but help someone, and make a customer for life.
"Marketers need access to #data where they can make smart #CX optimization decisions. We're going to start treating CX more like #digitalmarketing where it's more rigorous, more testing, & more optimization" says @jaybaer       CLICK TO TWEET
The future of marketing will be augmented by better technology that will help us improve the experience across every channel. In an effort to boost trustworthiness, the "messenger" will also start to shift from the business to a real person. Right now, influencer marketing is akin to the Wild West; but traditional PR and the marketing crew will have to merge.
Key Takeaways:
We are no longer held to the standards of our verticals, industries, or business sizes. We are all on the same scale and the bar is set by the best brands in the world.
Don't sell. Help. As Jay says, "If you sell something, you make a customer today. If you help someone, you create a customer for life."
Big data without understanding is useless. As Jay said, it's not about big data or even big technology. It's about big understanding.
Other information
How do I subscribe?
You can subscribe to Marketer + Machine in iTunes, here.
Where can I find all episodes?
To see all Marketer + Machine episode archives, click here.
Resources and links discussed
"Marketer + Machine" can be found on iTunes, Google Play, Stitcher, SoundCloud and Spotify. If you enjoy our show, we would love it if you would subscribe, rate, and review.
---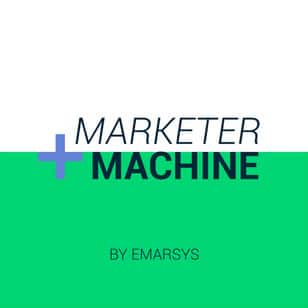 On Marketer + Machine, you will get an in-depth look at the creative, strategic, and innovative ways marketing leaders from around the world are not only acquiring but also retaining customers in today's uber-competitive marketplace.
Listen on your favorite podcast platform:
Our Satisfied Customers Include