Seasoned brand leadership and marketing leader Denise Lee Yohn joins the show to dish out insights on retail marketing leadership, common challenges to tech adoption, and customer experience, innovation, and more. If there's one thing she wants marketers to know (but is pretty sure they don't), it's that it's not about the tech, it's about the people. You'll be far more successful if you think more broadly about your opportunity to cultivate a customer experience culture.
"People value #experiences more than products" says @deniseleeyohn CLICK TO TWEET
Show details and highlights
► (2:00) Tech is changing the game.
► (5:26) What are overwhelmed marketers supposed to do?
► (8:12) How two of Denise's favorite brands are using tech to be more human: Amazon & Reformation
► (15:05) Brand-building starts inside a company.
► (16:39) AI and the future of retail
► (18:44) Making your marketing more human
► (23:10) Denise on the future of marketing: creating a customer experience culture in your organization
"Even though #technology might be an enabler, #experiences are delivered from a human to a human " says @deniseleeyohn CLICK TO TWEET
Quit cherry-picking tech puzzle pieces
Using technology to win the customer experience will ultimately yield unsuccessful results. Many organizations are adopting new tech in response to the three Cs:
Competition. Everyone else is using a certain system.
Convenience. It's easiest to buy and use.
Cool. The shiny new object.
The problem with the three Cs is that they neglect the core of the "why" — which should be creating very human experiences based on what customers want and expect from you.
In order to achieve complete harmony internally and externally, think broadly as a change agent — and partner with others across the organization. Start with strategy, then move to how technology can help solve the problem.
"We can't lose sign of the humanity of the #customerexperience – think about people first & #technology second" says @deniseleeyohn CLICK TO TWEET
Lindsay's key takeaways
While tech can and should help us deliver to rising expectations, it cannot and should not be our strategy.
When you're considering purchasing a tech solution, ask yourself if you're basing your decision on what your team actually needs or if you might be putting too much weight on what your competition is doing, what might simply be the convenient choice, or simply feeling like you need to jump on the bandwagon and try the latest cool thing.
Whether you're in B2C or B2B, remember that you're always looking to stand out to and engage with a human. So don't get so wrapped up in the tech that you forget how to drive personal touches, relevancy, emotion, convenience, and meaning to a person.
Other information
How do I subscribe?
You can subscribe to Marketer + Machine in iTunes, here.
Where can I find all episodes?
To see all Marketer + Machine episode archives, click here.
Resources and links discussed
"Marketer + Machine" can be found on iTunes, Stitcher, SoundCloud and Spotify. If you enjoy our show, we would love it if you would listen, rate, and review.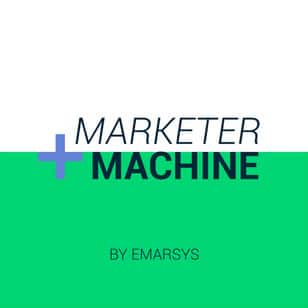 On Marketer + Machine, you will get an in-depth look at the creative, strategic, and innovative ways marketing leaders from around the world are not only acquiring but also retaining customers in today's uber-competitive marketplace.
Listen on your favorite podcast platform:
Our Satisfied Customers Include