RFM modeling allows marketers to gain visibility and understanding of the influence that their marketing efforts have on driving repeat revenue, preventing churn and winning back dormant clients. Using this innovative methodology, you can better understand the true health, activeness, and engagement of the various segments of your database. You can also define opportunities within repeat segments to fill revenue gaps.
Caren Carrasco, Senior Partner at Benjamin David Group, joins the show for a deeper dive as she takes us through a sort of "use case" and shares why RFM modeling has the potential to change your business. As Caren explains, RFM modeling can help you, ultimately, implement communications based on segments and further personalize existing communications.
Show details and highlights
► (2:03) Introduction to Benjamin David Group and RFM modeling
► (5:24) How RFM modeling works and what you need to get started
► (9:00) Lead scoring and data mining for "moments of truth"
► (10:33) How automation comes into play
► (14:09) Expected results from RFM modeling: snowball effect
► (15:28) Thinking of trying RFM modeling? Just do it!
► (18:46) Caren on the future of marketing: omnichannel is here.
► (20:18) Rapid Fire!
"If you track how much repeat business you're driving, that's a good indication of effectiveness for your #RFM #segmentation" says @carencarrasco

CLICK TO TWEET
"For a retail company, the 5-1-5s are a good segment to start working with because they're engaged, they just need to buy more frequently" says @carencarrasco

CLICK TO TWEET
Key takeaways
Gather your team. You'll be most successful with RFM modeling if there are a couple of you working on it together — someone to help you dig into the data, someone to craft the content, etc.
Then, get to scoring and automating. Using Caren's model, start scoring your customers based on the recency, frequency, and monetary values of their purchases. Once you've got that down, it's time to start crafting messages for your segments and monitoring to see what works and tweaking what doesn't.
Just do it. Dive in. Take the plunge. Caren and her team at Benjamin David Group spell out all the steps for you so, if this sounds like it could help you retain your customers and improve your bottom line, download the eBook and just get started.
Other information
How do I subscribe?
You can subscribe to Marketer + Machine in iTunes, here.
Where can I find all episodes?
To see all Marketer + Machine episode archives, click here.
Resources and links discussed
Download BDG's free eBook to learn more about RFM modeling and segmentation
Visit Benjamin David's website to learn more
Grab Emarsys' latest white paper about making impact with AI
"Marketer + Machine" can be found on iTunes, Google Play, Stitcher, SoundCloud and Spotify. If you enjoy our show, we would love it if you would subscribe, rate, and review.
---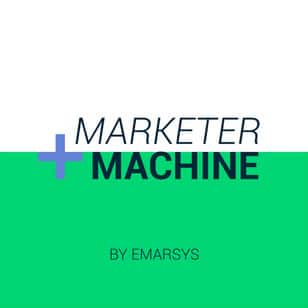 On Marketer + Machine, you will get an in-depth look at the creative, strategic, and innovative ways marketing leaders from around the world are not only acquiring but also retaining customers in today's uber-competitive marketplace.
Listen on your favorite podcast platform:
Our Satisfied Customers Include