Bijan Bedroud is a seasoned marketing executive, and has seen, first hand, the "empty software" epidemic. But, as he describes in this week's bonus episode, it's all of our duty to fight back. A marketers' job is increasingly hard; consumer expectations are steadily rising, as are expectations from the corporate side of things. Software should work for you — with case studies, use cases, and tactics built within the bedrocks of the platform — and make things easier.
"I'm very excited about our [Emarsys'] new vision and strategy. We're going to expand into new verticals — travel, airlines, hotels, subscriptions, publishing, gaming, and more. This will give us a wider diversity of what we can address within the market."
"I'm very excited about @Emarsys' new vision & strategy – expanding into new verticals & diversifying more widely." – @bijanbedroud CLICK TO TWEET
A solution should align with the business priorities of the organizations it's meant to help. Bijan describes how Emarsys addresses this revolutionary idea… at Revolution!
Show details and highlights
► (2:18) Emarsys' new platform — and how it revolutionizes the role of marketers
► (4:06) Empty software — and how relieving this issue makes marketing easier
► (6:01) Moving back to "Marketing 101" and starting with goals
► (7:11) Emarsys' (new) loyalty program
► (7:47) Bijan on the future: mobile marketing
► (9:26) Rapid Fire!
https://emarsys.wistia.com/medias/zcjjtiopn9
".@Emarsys has spent the last 2 yrs building a product to revolutionize #marketing, & what we're trying to do has not been done before" says @bijanbedroud CLICK TO TWEET
Other information
How do I subscribe?
You can subscribe to Marketer + Machine in iTunes, here.
Where can I find all episodes?
To see all Marketer + Machine episode archives, click here.
Resources and links discussed

Good to Great: Why Some Companies Make the Leap and Others Don't by Jim Collins
Connect on Twitter, @bijanbedroud and on LinkedIn
"Marketer + Machine" can be found on iTunes, Stitcher, SoundCloud and Spotify. If you enjoy our show, we would love it if you would listen, rate, and review.
This article features content from Revolution 2018. Join us for in London March 2020 for our next event. Interested in learning more? Click here.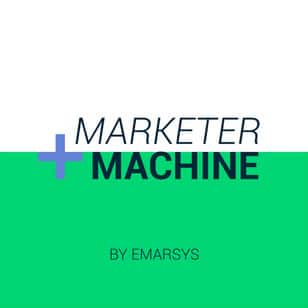 On Marketer + Machine, you will get an in-depth look at the creative, strategic, and innovative ways marketing leaders from around the world are not only acquiring but also retaining customers in today's uber-competitive marketplace.
Listen on your favorite podcast platform:
Our Satisfied Customers Include