Are you using technology to advise you and create valuable, relevant customer experiences? Are you using mar-tech as part of a bigger, data-driven, personalized marketing strategy? Ted reminds us to use data, judgment, intuition, and your gut feeling in tandem with marketing technology.
In this week's episode, Ted discusses remaining relevant in retail, and discusses the transition from offline to online… and how brands can navigate all of the change by delivering genuine, personal commerce experiences.
"Stores are not going away tomorrow, but the role of a #retailer is changing from a physical location to a service that fits the product needs of a consumer whenever, wherever they choose" says @TedRubin  

     CLICK TO TWEET
Show details and highlights
► (2:07) Retail Relevancy (Ted's new book) and how shopping behavior is changing
► (4:58) The convergence of personalization and simplicity
► (7:48) Think like a customer: provide contextual and relevant marketing
► (9:45) Using data wisely
► (11:27) Creating personalized commerce experiences with technology
► (13:31) Ted's Whole Foods enlightenment experience
► (17:05) Ted on the future of marketing: an over-reliance on technology
"#Marketing will win when humans control the #machines — not when machines control humans" says @TedRubin

       CLICK TO TWEET
Remaining Relevant in Retail
Whether in our personal lives, when we shop, or during our jobs, we all look for a return… what will we get back? Return on relationship is the value that's accrued by a person or brand that's due to nurturing a relationship. While ROI is measured in dollars and cents, #RonR is the value — perceived or real — as a result of connection, loyalty, recommendations, or sharing. Authentic engagement needs to happen because a company cares about customers.
"Amazon is eating almost every traditional retailer's lunch b/c they're making things simple…the #retail world is shifting beneath our feet" says @TedRubin

       CLICK TO TWEET
Customer experience is the future. What is the CX like when people interact with our marketing? Start listening to customers, and provide contextual marketing.
One of the things that worries Ted about the future is the careless "programming" of marketing — brands that almost mindlessly mechanize aspects of their digital marketing, regardless of what kind of experience they're creating. This is a world of commoditization. A multitude of vendors can sell the same thing. People will buy from companies that make them feel something. Focus on relationships. A network gives you reach; but a community gives you power. How can you build a community where consumers are truly a part of something?
Key Takeaways:
Use technology to help be better, faster, and scale. It's not intended to replace us and it certainly shouldn't. Only humans can deliver the empathy and relationships.
Marketing tactics sometimes get a bad rap — retargeting, email personalization, spam, digital advertising, and more. When the customer feels valued, these tactics work. When used incorrectly, they can be destructive.
You own (part of) the CX. Poor experiences can happen anywhere throughout the buyer journey . How can you improve the touch points you can control?
Other information
How do I subscribe?
You can subscribe to Marketer + Machine in iTunes, here.
Where can I find all episodes?
To see all Marketer + Machine episode archives, click here.
Resources and links discussed
Check out Ted's blogs, TedRubin.com and ReturnOnInvestment.com.
Connect on Twitter, @TedRubin.
"Marketer + Machine" can be found on iTunes, Google Play, Stitcher, SoundCloud and Spotify. If you enjoy our show, we would love it if you would subscribe, rate, and review.
---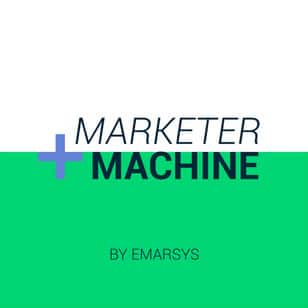 On Marketer + Machine, you will get an in-depth look at the creative, strategic, and innovative ways marketing leaders from around the world are not only acquiring but also retaining customers in today's uber-competitive marketplace.
Listen on your favorite podcast platform:
Our Satisfied Customers Include