Real-time marketing is coming to the forefront as brand-building itself becomes more evident than ever. Connected devices, connected homes, and voice and cross-device personalization are the parts that make "real-time marketing" a real thing. Lindsay Murray of Blue Acorn iCi joins the show to make real time more real than it's ever been.
We can't all be Amazon, but we can leverage technology to do more than just newsjacking or reactionary social posts. Consumers expect much more.
"Even the largest #brands out there are paralyzed w/ the thought of tackling all these channels & #technologies all at once," says @ppcsearch_ninja CLICK TO TWEET
Show details and highlights
► (2:45) What real-time marketing really means
► (6:28) Real-time use case: past-purchase data
► (9:58) How is real-time marketing impacting brands?
► (13:11) Start slow to find the right balance
► (16:28) Lindsey on the future: customer-driven marketing
► (18:37) Rapid Fire!
"#RealTimeMarketing is relevant to a particular consumer w/ #personalized #content based on their journey," says @ppcsearch_ninja CLICK TO TWEET
3 Key Takeaways
The only thing that really matters is driving real value! Find the right balance between delivering strategic, creative experiences to the human at the other end of the interaction and all the tech, data, and optimization that works to help us make it all happen.
Tools and tech can become overwhelming quickly! So, as you approach real-time marketing, don't jump into everything at once. Focus on a couple key areas and make sure messaging is consistent and on brand across all channels.
Data is and will always be foundational to marketers. But in the future, be prepared to enable and encourage your customers to help generate your marketing. Think unboxing, tutorials, reviews, and user-generated content.
Don't be afraid of data — using it to do triggered, real-time marketing. It doesn't always require an excess of resources or money to drive real-time marketing tactics.
Other information
How do I subscribe?
You can subscribe to Marketer + Machine in iTunes, here.
Where can I find all episodes?
To see all Marketer + Machine episode archives, click here.
Resources and links discussed
"Marketer + Machine" can be found on iTunes, Stitcher, SoundCloud and Spotify. If you enjoy our show, we would love it if you would listen, rate, and review.
---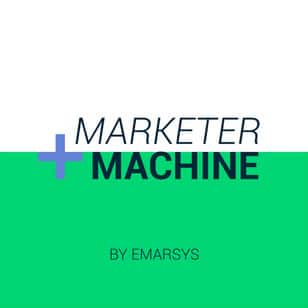 On Marketer + Machine, you will get an in-depth look at the creative, strategic, and innovative ways marketing leaders from around the world are not only acquiring but also retaining customers in today's uber-competitive marketplace.
Listen on your favorite podcast platform:
Our Satisfied Customers Include