Ben Mercer and Joshua Scotton are pioneers in their respective niche. They founded Personify XP in the hopes that they could not only help brands actually go beyond personalizing online experiences for known web visitors – but also create more relevant website experiences for anonymous visitors with whom a brand has no sales history. Their vision is coming to fruition.
Personify XP learns from visitors' behavior onsite and then uses this to give individually personalized experiences to visitors in real time. Because it is based on onsite behavior, it's effective even where there is little or no data on visitors, allowing it to truly target anonymous and first-time visitors.
Ben and Joshua joined the program – for our first dual-interviewee show – to talk personalization, challenges therein, and merging the online with the offline world.
"The key to merging offline & online #data is to get the customer behind it – people understand the intangible benefits of #personalization!" says Joshua Scotton of @personifyXP

CLICK TO TWEET
Show Details and Highlights
► (1:36) What is Personify XP? Marketing to visitors with whom you have no sales history
► (4:21) The challenges to personalization today: real-time, context, anonymous visitors
► (7:50) Consistent, cross-channel personalization: challenges and goals
► (10:51) Examples: using personalization
► (13:43) Bringing together the online & offline worlds
► (16:44) Consumer expectations and exchanging of personal information
► (18:13) Ben and Josh on the future of marketing: voice, chatbots
► (19:43) Rapid Fire!
"W/ the advent of #voice, we're reaching a point where we can start to merge online & offline to offer a truly personal #brandexperience, irrespective of which channel a consumer is on" says @bendjmercer

CLICK TO TWEET
Personalizing the Web Experience for Anonymous Visitors
Without giving away too much (you'll have to listen to the episode to learn exactly how to start personalizing the online experience for unknown visitors), what's the key to making this happen? I mean, is it really possible?
With Personify XP, yes, it is. But what else can you start doing today?
One thing that Joshua wants marketers to know (but is pretty sure they don't) is that while we tend to think personalization has to be difficult, it really doesn't have to be.
"Marketers look at personalization and think it [must be] very complex. But it's easy to forget that people are always subconsciously looking for connections everywhere – so take advantage of this! Even with small changes, people can connect the dots even where there aren't any, and think something is more complex than it is behind the scenes. For example, if you base personalization just on context, on the reason they're there on your site, you can make some small changes and anonymous or first-time visitors can think 'woah, this is really individual to me, this is great!' and they'd think you're doing groundbreaking stuff behind-the-scenes… when, in fact, you're using Personify to understand why somebody is on the site. It will look as if you really know that person. You can really make the most of this – simple things done correctly at the right time can make a powerful impact. It doesn't have to be a massive re-design of your site to increase customer engagement. The little things count!"
"We need to understand WHY somebody is doing #onlineshopping on your #website to create effective #personalization," says Joshua Scotton of @personifyXP

CLICK TO TWEET
Key Takeaways
It's not just about who is on your website, but why they are there. What's their intent? AI and machine learning – plus readily-available online information – can help answer this question for new and existing customers, alike.
Consistent content personalization across all channels is something we hear a lot about lately. And for good reason. It's what consumers crave and what all of us as marketers are (or should be) trying to deliver. This can be done – but it takes a different perspective about how data can be used. We need to use data to help us understand what a shopper is trying to achieve based on where they are, what device they're using, when they're shopping, and other characteristics.
Personalization changes with context, by situation, and over time. There is no one-size-fits-all approach to personalization. By its very nature, personalization is a real-time, fluid "thing." It changes based on each individual consumer's context and intent.
Other information
How do I subscribe?
You can subscribe to Marketer + Machine in iTunes, here.
Where can I find all episodes?
To see all Marketer + Machine episode archives, click here.
Resources and links discussed
The duo recommends checking out the book Prediction Machines as well as Bob Phibbs' "The Retail Doctor" podcast
Learn more about Ben and Joshua's work and their amazing software by checking out Personify XP
"Marketer + Machine" can be found on iTunes, Google Play, Stitcher, SoundCloud and Spotify. If you enjoy our show, we would love it if you would subscribe, rate, and review.
---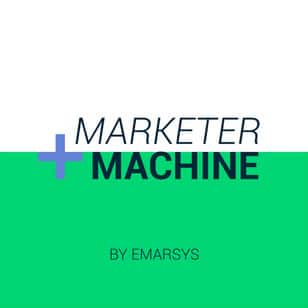 On Marketer + Machine, you will get an in-depth look at the creative, strategic, and innovative ways marketing leaders from around the world are not only acquiring but also retaining customers in today's uber-competitive marketplace.
Listen on your favorite podcast platform:
Our Satisfied Customers Include