Cue Clothing Co. is Australia's largest local manufacturer of fashion merchandise — and that's by no accident! Shane Lenton, CIO at Cue joined the show to share how the 51 year-old brand stitches together the entire digital customer journey to epitomize true omnichannel.
Consumers around the world are growing to expect a high level of personalized marketing. Marketers — especially those in retail and e-commerce — really want to deliver an omnichannel experience, but it seems ever elusive… something we can talk about and desire, but which silently tempts and teases us, always lying just around the bend. Constantly trying to get there can be overwhelming. Where do you even start?
Now, Cue Clothing Co. can use their customer data to provide a frictionless experience for customers regardless of touchpoint. Any team member can see who the customer is, purchase history, frequency of shopping, and preferences — whether in-store, online, via customer care, live chat, or any other channel.
So listen up — and prepare to hear how omnichannel really gets done with this best-in-class use case.
"#Omnichannel #marketing or #unifiedcommerce is really about having your systems talking in real time." – Shane Lenton of @cueclothing CLICK TO TWEET
Show details and highlights
► (1:46) Cue Clothing Co.
► (3:28) Building the basics of omnichannel — the "single view"
► (6:08) What does omnichannel even mean?
► (9:19) Results Cue has achieved by being omnichannel
► (10:37) The real road to omnichannel: getting the foundation
► (14:02) How to put your "customer-centric lenses" on
► (16:39) Recommendations for other retailers: no shortcuts!
► (18:43) Shane on the future: conversion of channels
"Consumers' desire for immediacy & instant gratification will continue to grow – #contextualcommerce is the future. – Shane Lenton of @cueclothing CLICK TO TWEET
3 Key Takeaways
It all starts with a single unified view of the customer. Without it, your hands are tied on how personalized you can get, how relevant you can be with timing, context, channel, etc. Aim for a single, unified profile of each of your buyers.

Omnichannel is about creating frictionless experiences for customers. Once you can see who each customer is on an individual level, use that insight to remove friction. Make the experience all about them. It's not about getting in front of your customers as much as possible. It's about serving them and engaging them in ways they want to interact with your brand.

As Shane said, don't take shortcuts. When it comes to approaching omnichannel, slow down a bit. Get a proper foundation in place first — a sound strategy and the right technology all aligned to clear objectives. Then get to work.
Other information
How do I subscribe?
You can subscribe to Marketer + Machine in iTunes, here.
Where can I find all episodes?
To see all Marketer + Machine episode archives, click here.
Resources and links discussed
Check out Cue Clothing Co.
Shane loves the Business of Fashion podcast
"Marketer + Machine" can be found on iTunes, Stitcher, SoundCloud and Spotify. If you enjoy our show, we would love it if you would listen, rate, and review.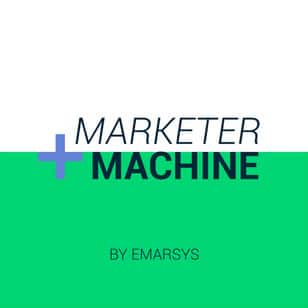 On Marketer + Machine, you will get an in-depth look at the creative, strategic, and innovative ways marketing leaders from around the world are not only acquiring but also retaining customers in today's uber-competitive marketplace.
Listen on your favorite podcast platform:
Our Satisfied Customers Include