What kinds of mobile marketing challenges does a mobile-first company — like Drizly — face in comparison to those of a typical retail or e-commerce brand? Erin Azar, Global Product Manager, talks everything mobile, including what the future looks like with regard to in-app messaging, the ability to send messages and have them preserved in an inbox, and geolocation.
Erin works to elevate mobile to be part of the omnichannel story and helps companies integrate mobile within the context of other channels like their website.
"Brands that are thinking about the #CX use tools that make it easy to bring campaigns to life in an #omnichannel reality & that leverage internal relationships," says @AzarMax CLICK TO TWEET
Show details and highlights
► (1:46) Erin's thoughts on Revolution 2018
► (3:31) Mobile-focused vs. retail/e-commerce challenges
► (4:47) The evolution of Emarsys' mobile product
► (6:42) Omnichannel: how to coordinate internal resources to link the customers' journey
► (9:08) Erin on the future: mobile apps and progressive web apps
"We're seeing some shifts in the #mobile space right now – brands are evaluating whether they need a #mobileapp, how it's being used, & how that #CX differs from their website" says @AzarMax CLICK TO TWEET
As channels continue to proliferate, the marketing landscape begins to mesh into a cohesive "one" whereby mobile must fit in. More brands are beginning to look at mobile more strategically, and incorporate it into their overall marketing approach.
Other information
How do I subscribe?
You can subscribe to Marketer + Machine in iTunes, here.
Where can I find all episodes?
To see all Marketer + Machine episode archives, click here.
Resources and links discussed
Learn more about Emarsys' Mobile Marketing solution
"Marketer + Machine" can be found on iTunes, Stitcher, SoundCloud and Spotify. If you enjoy our show, we would love it if you would listen, rate, and review.
This article features content from Revolution 2018. Join us for in London March 2020 for our next event. Interested in learning more? Click here.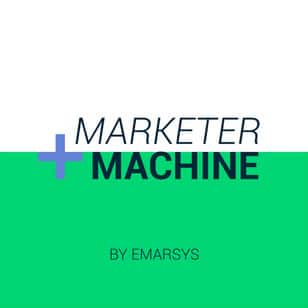 On Marketer + Machine, you will get an in-depth look at the creative, strategic, and innovative ways marketing leaders from around the world are not only acquiring but also retaining customers in today's uber-competitive marketplace.
Listen on your favorite podcast platform:
Our Satisfied Customers Include