How purposefully are you pursuing customer feedback, or incorporating it as the bedrock of your retention strategy? How much are you truly focusing on retention, itself?
Brian Merritt, VP of Customer Success at Trustpilot, joins the show to share how and why customer reviews and feedback are so vital to creating more revenue, long-term loyalty, and customer retention.
"You don't control the message – at the end of the day, customers are telling you what the deal is" says Brian Merritt of @Trustpilot CLICK TO TWEET
As Brian explains, your consumers are telling you what your brand promise is – they're dictating what your brand means… not you or your creative agencies! Hearing the words and tone that consumers are using to describe your brand is powerful because it helps you understand their sentiments – and when you respond in kind (adapting your messaging and communication to them), your customers will, quite simply, like you more. Brian offers a unique perspective on which of the main retention "health checks" is most overlooked by businesses, the real origins of Instagram (it didn't start as a photo sharing app), and how to reach your Millennial audience.
Show details and highlights
► (1:53) What is Trustpilot? ► (3:33) How reviews tie to retention ► (8:57) How are consumers talking about your brand? Perception is reality! ► (9:49) 5 health checks to gauge your retention efforts/success ► (13:41) Are 5-star reviews legit? ► (15:16) Consumers trust each other first – not brands ► (21:14) Brian on the future: voice search/marketing ► (26:00) Rapid Fire!
#Customers trust each other more than brands… their voice will be heard – the question is 'do you want to get ahead of it or not?'" says Brian Merritt of @Trustpilot CLICK TO TWEET
3 Key Takeaways
Reviews influence the vast majority of consumers' (89%, in fact) purchasing decisions. That means it's never been more important to manage your online reputation. Listening and engaging with what your customers are saying online can help you build trust and credibility, and improve your bottom line.
Health checks for retention: product consumption (how often are customers returning to buy again, how is the AOV changing, what's the frequency of their re-purchases?), service utilization (are customers using what they bought?), feedback (are customers talking about you, why don't they want to leave a review?), support escalations (what issues are being escalated and how are customers communicating inbound support issues?), and business outcomes.
Consumers are trusting each other more and more – they simply don't go to the brand, first. You're either transparent or you're not – but consumers' voices will be heard. The question is how you want to manage it. Develop a consumer review collection strategy where you can get ahold of your feedback… good or bad.
Other information
How do I subscribe? You can subscribe to Marketer + Machine in iTunes, here.Where can I find all episodes? To see all Marketer + Machine episode archives, click here.Resources and links discussed
"Marketer + Machine" can be found on iTunes, Stitcher, SoundCloud and Spotify. If you enjoy our show, we would love it if you would listen, rate, and review.
---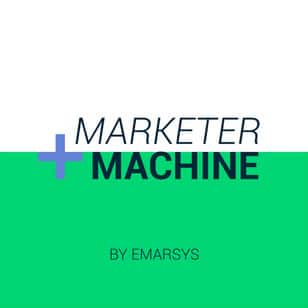 On Marketer + Machine, you will get an in-depth look at the creative, strategic, and innovative ways marketing leaders from around the world are not only acquiring but also retaining customers in today's uber-competitive marketplace.
Listen on your favorite podcast platform:
Our Satisfied Customers Include