Are you staying sane? Digital disruption, tech overload, the ads, emails, calls, beeps, bells, dings, pings, popups, players, notifications, texts, and more — how is it all impacting society… and your happiness? The truth is that we're addicted to it. And, as marketers, we're quite often responsible for some of these things.
In an era defined by digital distraction, the lines are becoming blurred between personal and professional, between work and play, and actually being happy vs. thinking we're happy.
Brian Solis, well-known and respected digitization expert, futurist, and anthropologist joins the show to discuss his new book, Lifescale: How to Live a More Creative, Productive, and Happy Life.
"What are ways we can help, entertain, or engage #customers? Marketing is becoming part of the #CX — that's where the future is!" – @BrianSolis CLICK TO TWEET
Show details and highlights
► (1:52) Lifescale: a look at the relationship we have with technology
► (3:17) Why Brian pursued a book about "focusing in the era of distraction"
► (8:31) Happiness and creativity are interlinked — how does tech play in?
► (13:49) What can marketers take away?
► (18:10) Brian on the future: complete reinvention of marketing
3 Key Takeaways
When we can look at technology for what it's supposed to be, human interactions improve. Creativity grows. Happiness and joy have a place again! Tech is supposed to bring us together in ways that simply aren't possible without it. It makes the world smaller. Makes communication easier. Makes us all more productive and efficient… if we use it properly.
Where does tech fit into your life personally and professionally? Ask yourself where the marketing you're doing fits into the spectrum for your customers. Are you delivering real, meaningful value? Or are you adding to the noise — just trying to win the game?
The digital disruption and the distraction that results from it are very real parts of our lives, both personally and professionally. And as marketers we are actually responsible for some of it. Reclaim your sanity… and choose the "calm" whenever you want it.
There's hope for our digital world, as we strive for more balance between the human and the tech. If we let the technology take over — let it run the show, dictate our strategies, and control our human-to-human interactions — that's where the trouble happens.
Other information
How do I subscribe?
You can subscribe to Marketer + Machine in iTunes, here.
Where can I find all episodes?
To see all Marketer + Machine episode archives, click here.
Resources and links discussed
"Marketer + Machine" can be found on iTunes, Stitcher, SoundCloud and Spotify. If you enjoy our show, we would love it if you would listen, rate, and review.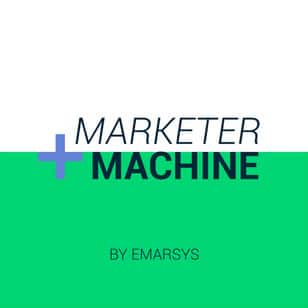 On Marketer + Machine, you will get an in-depth look at the creative, strategic, and innovative ways marketing leaders from around the world are not only acquiring but also retaining customers in today's uber-competitive marketplace.
Listen on your favorite podcast platform:
Our Satisfied Customers Include