Paul Roetzer, Founder of the Marketing Artificial Intelligence Institute, shares practical tips for getting started with AI, figuring out which use case you want to tackle, and making a business case to the C-Suite. If your company is in the process of or planning to adopt AI today, you have to accept that AI isn't a magical thing that you sprinkle on everything and suddenly see massive change. Understand the future is going to be intelligently automated in many cases, and it'll require testing, buy-in, investment, and trust. If you build your tech stack today around 10, 12, or 20 mar-tech vendors, Paul warns that, in 12 months, there will be better tech from vendors you haven't even heard of yet. The rate of acceleration is and pace of innovation is mind-numbing. Get comfortable with change in ways you've never had to before.
"If the machine can take over time-intensive tasks, it frees humans up to do creativity & strategy" says @paulroetzer #Productivity      CLICK TO TWEET
Show details and highlights
► (1:35) PR 20/20 and Marketing Artificial Intelligence Institute
► (3:13) What is AI marketing?
► (5:56) AI is literally everywhere
► (7:40) How to get started with AI marketing — planning, production, promotion, personalization, performance
► (11:07) Gaps in AI marketing technology
► (14:51) The convergence of the human side and the technology: what will AI handle?
► (19:05) How to pitch/sell AI to the C-Suite: building a business case
► (21:16) Paul on the future: intelligent automation
Getting Started with AI Marketing
AI has to be built in a narrow application — there's no general AI that can do 15 use cases. Most of the AI investments that Paul is seeing is going toward personalization and planning. Paul is tracking 750 companies with more than $4B in funding — a lot of them have no case studies. When the machine takes up time-intensive tasks, it frees up humans to do things they're creatively capable of doing. Machine learning is basically about making predictions — open rates, churn, what you want to click on, or what piece of content you want to consume. Marketing is more effective if the machine is constantly learning and improving based on probability of conversion.
Paul believes the future of marketing (in terms of AI and intelligent automation) shouldn't really (and can't) be considered beyond five or so years. That's long enough to look forward to, given how much growth and change we've seen already. We're at a pre-school level in terms of where AI will take marketing — it's very early. Many vendors that claim they use AI likely don't; and even more marketers likely don't have a true understanding of what AI is, how it can be applied, or what use cases is can actually address. Those which take initiative to see what's possible and what will be will create a massive, insurmountable advantage for their brands in the long-term.
"If #data is required to make a prediction, take an action, or create content, a machine can & will do that better than humans every time in the future" says @paulroetzer       CLICK TO TWEET
Key Takeaways:
AI is here today, and here to stay. You interact with AI every time you use Netflix, Google, Facebook, Amazon, and even smaller retailers. Customer data fuels it all.
Get started with AI — but begin by looking at your team and strategy, and identify areas where you could use help and where AI could add value.
Don't be afraid! AI will change marketing as we know it, but the human has the control! Think about AI marketing a bit differently — look at the possibilities.
Other information
How do I subscribe?
You can subscribe to Marketer + Machine in iTunes, here.
Where can I find all episodes?
To see all Marketer + Machine episode archives, click here.
Resources and links discussed
Get started with AI with the AI Score for Marketers!
Check out Marketing AI Institute.
Connect on Twitter, @paulroetzer.
"Marketer + Machine" can be found on iTunes, Google Play, Stitcher, SoundCloud and Spotify. If you enjoy our show, we would love it if you would subscribe, rate, and review.
---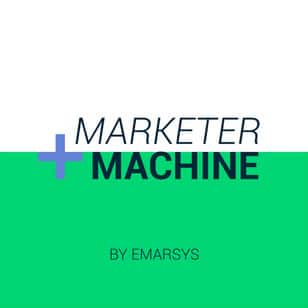 On Marketer + Machine, you will get an in-depth look at the creative, strategic, and innovative ways marketing leaders from around the world are not only acquiring but also retaining customers in today's uber-competitive marketplace.
Listen on your favorite podcast platform:
Our Satisfied Customers Include