With AI, marketers are able to predict dozens of metrics like CLV, likelihood to purchase, and overall revenue. It gives us the ability to unlock new dimensions of our database, to go from being reactive to being proactive, and to predict the future.
Marketers can use AI to get in front of customers and automate the execution of next-best offers, 1-to-1 content, individualized incentives, and more. But the most exciting part of AI for e-commerce and retail marketers is its ability to calculate the likelihood of an action happening or not happening.
You can also define opportunities within repeat segments, lapsing segments, churning segments, and more to fill revenue gaps. In this episode, we take a look at what the "marketing matrix" is, how AI helps escape it, and numerous use cases and examples that demonstrate how it's driving real world value.
"We have a solution as close to a silver bullet as possible to help us break out of the #marketing matrix – #AI is it," says @mjbecker_   CLICK TO TWEET
Show details and highlights
► (0:30) Introduction: AI is legitimate
► (3:21) Why the marketing matrix will continue if we don't invest in AI
► (5:57) AI is automation on steroids — predicting/calculating likelihood of an event
► (7:34) Is AI for you?
► (9:34) Two requirements for AI to work best
► (11:00) AI in action: 5 examples of use cases
► (15:00) BrandAlley and City Beach use AI
Other information
How do I subscribe?
You can subscribe to Marketer + Machine in iTunes, here.
Where can I find all episodes?
To see all Marketer + Machine episode archives, click here.
Resources and links discussed
Grab Emarsys' latest whitepaper on driving impact with AI
Check out our recent AI-related articles on the blog:
"Marketer + Machine" can be found on iTunes, Google Play, Stitcher, SoundCloud and Spotify. If you enjoy our show, we would love it if you would subscribe, rate, and review.
---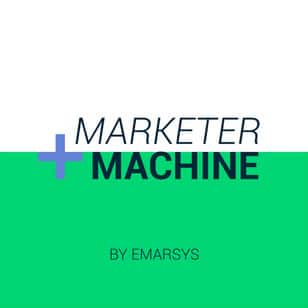 On Marketer + Machine, you will get an in-depth look at the creative, strategic, and innovative ways marketing leaders from around the world are not only acquiring but also retaining customers in today's uber-competitive marketplace.
Listen on your favorite podcast platform:
Our Satisfied Customers Include