Constructing and executing email campaigns can be quite difficult, cumbersome, and time-consuming. Once we get through conceptualization and creation, we need to get things set up, scheduled, and shipped – which, for many brands, can take up exorbitant amounts of resources. Why does it have to be so hard? The answer is that some platforms and processes make it harder than it needs to be. On top of that, marketers are under increasing pressure to perform.
Today's guest, Elliot Ross, CEO & Co-founder of Taxi for Email, shares his advice about how to be more efficient and effective with your email marketing.
Show details and highlights
►(2:32) Why email is so hard – Elliot shares his background
►(5:51) Content is everything – let it sit with the content creators
►(7:23) Problems with traditional email deployment
►(10:19) Efficiency benefits of ironing out email processes
►(14:25) Audit and monitor your process to determine opportunities
►(16:52) How to measure email success
►(21:40) Elliot on the future: AI's impact on email and content
"There's an @AlbertEinstein quote applicable to #emailmarketing – 'not everything that counts can be counted & not everything that can be counted counts," says @iamelliot CLICK TO TWEET
"The great & also bad thing about email is it's SO measurable!" – @iamelliot CLICK TO TWEET
3 Key Takeaways
It helps you see opportunities to create master templates. What common elements could you combine into one or a few templates to use instead of creating so many custom emails?
Consider adding basic stats about performance to your "wall of emails." This will help you test assumptions about which emails worked and which didn't.
Start tracking some stats around the process. For example, how long did it take from start to finish to create and ship an email? How many people had to be involved? Include that on your wall with each email, too. This should help you see what designs, layouts, content types and formats were faster to create and which were most cumbersome.
Other information
How do I subscribe?
You can subscribe to Marketer + Machine in iTunes, here.
Where can I find all episodes?
To see all Marketer + Machine episode archives, click here.
Resources and links discussed
"Marketer + Machine" can be found on iTunes, Stitcher, SoundCloud and Spotify. If you enjoy our show, we would love it if you would listen, rate, and review.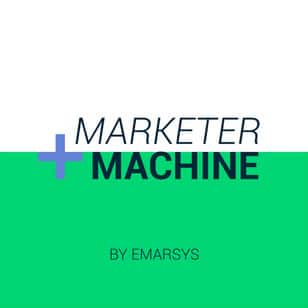 On Marketer + Machine, you will get an in-depth look at the creative, strategic, and innovative ways marketing leaders from around the world are not only acquiring but also retaining customers in today's uber-competitive marketplace.
Listen on your favorite podcast platform:
Our Satisfied Customers Include