This week, Matt Hayes, CEO of Kickdynamic — and one of the world's foremost email personalization and automation experts — joins the show to share how technology is enabling greater amounts of customization within email content.
Where challenges held us back in the past (and, in many cases, still do) including manual editing of data, you can now make your data email-ready more easily; then use it to do personalization at scale — in every email and to every recipient. Advancements in AI, location-based capabilities, and more is changing just how personalized emails can be.
"We have #emailpersonalization – matching products to behavior or purchase – & then we have relevancy, and that is where #locationmarketing comes in" says @matthewhayes CLICK TO TWEET
The process of message and content automation — along with the strategic use of tech — can free up time, enable you to go beyond simple two-segment email cadences, and boost overall engagement. We can now truly personalize each email and start driving more click-throughs, higher AOVs, more revenue, and greater customer lifetime value.
Show details and highlights
► (2:38) Email personalization defined and top barriers
► (5:38) Using data and content automation to overcome the scalability challenge
► (8:03) The value of content automation and retail examples
► (12:47) Geo-location and email personalization
► (18:15) Matt on the future of marketing: advanced tech (and AI) implementation
► (21:12) Rapid Fire!
"In 2019 and beyond, expect more use of advanced #technology, whether it be #AI, better #productrecommendations w/ better #algorithms, or next-best action predictions" says @matthewhayes CLICK TO TWEET
"I'm most excited about #emailpersonalization in #retail – retailers can #automate new-in products, for example. based on preferences, categories, & purchase behavior" says @matthewhayes CLICK TO TWEET
3 Key Takeaways
There are several challenges to doing email personalization repeatedly and at scale. Business-as-usual is not your friend — when you get stuck in the day-to-day and can't even get personalization set up, you never even give yourself a shot. Automation and tech is key to achieving the objective of mass personalization at scale. You can't create one email with millions of variations by hand. It has to be done in an automated way.

Timing is crucial if you want to increase engagement, as is relevant content based on each recipient's data and behavior. Personalization for one-off emails or per campaign isn't enough — you can personalize every email! We're talking about more than "Hi, first name" or segmenting by, say, womenswear or menswear. An amazing way to "right-time" or "real-time" with one email (with multiple versions using content automation) is by using a technology called Open Time Content. This capability lets you create pods or sections in your email that update to the latest content at the moment the email is opened. These pods take the latest content from your CSS feeds, availability, or even inventory in real time, automatically. With these campaigns, you only need to set them up once. The content can then be personalized to a recipient's preferences, browse behavior, or context of their journey.

Where do you fall on the spectrum of marketers adopting and implementing personalization tactics? Are you leveraging your data to deliver personalized email experiences? Are you using tools that put AI to work for you so you can use all that data to deliver personalized experiences at scale? And HOW are you approaching personalization? Yes, personalized campaigns by situation and behavior are foundational — but are you taking it to the next level and personalizing your content to the context of the recipient? How can you start thinking today about achieving greater levels of personalization tomorrow?
Other information
How do I subscribe?
You can subscribe to Marketer + Machine in iTunes, here.
Where can I find all episodes?
To see all Marketer + Machine episode archives, click here.
Resources and links discussed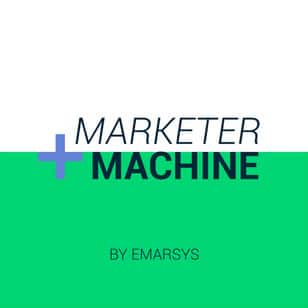 On Marketer + Machine, you will get an in-depth look at the creative, strategic, and innovative ways marketing leaders from around the world are not only acquiring but also retaining customers in today's uber-competitive marketplace.
Listen on your favorite podcast platform:
Our Satisfied Customers Include