We featured Matt Hayes on the show a couple months ago where Kickdynamic's CEO talked about email personalization; today we're airing his special Revolution sit-down where he shares why email is not dead and elaborates on how to escape the business-as-usual loop.
If you've ever felt so stuck in the weeds of the day-to-day, know that you're not alone. The "BAU loop" can render us complacent and ineffective if we succumb to it. Matt is pioneering industry-leading email personalization technology to help pave a better path to doing email. And, as Matt shares, email is more alive than ever — anyone who thinks otherwise likely isn't using it to its potential. By personalizing email content at the time of open, marketers are creating better interactions and boosting AOV, engagement, and revenue.
Show details and highlights
► (1:54) Personalizing email content based on context at time of open
► (3:02) What's the BAU loop?
► (4:17) Example: mobiles.uk personalized emails when opened
► (5:35) Boosting average order value with personalized emails
► (7:32) Start small and build from there — marginal gains
► (8:28) Matt on the future: using data for personalization
► (10:20) Rapid Fire!
"Marketers need to know that it's alright to take a step back & look at the overall strategy – don't get stuck in the BAU loop" says @matthewhayes CLICK TO TWEET
3 Key Takeaways
You can't do 1:1 personalization unless you're doing "message automation." This isn't just automating the sending of email, but also the content within it. Too often, the BAU loop — business as usual — prevents us from ever getting this deep in the first place!
Don't let BAU cripple your creativity! This occurs when, say, you're building an email, while meanwhile your design team is working on a component to be placed within the HTML. You begin testing, but you find that something's not quite right. You go back, have things redesigned, recoded, retested, and all systems are go! You're set to send, and then you see that the offer changes or that the product just went out of stock. Matt's seen cases where it took three weeks just to send one email. Don't let that be you any longer!
Email is alive and well. It's only becoming more timely, accurate, and effective! Don't try to personalize everything all at once, though. Matt mentions the "marginal gains" mentality, where you build one bit of personalization, get it out the door, see its effects, and go from there. If you commit to this progress, by the end of a year, you'll be looking at a completely different email program than when you began.
Other information
How do I subscribe?
You can subscribe to Marketer + Machine in iTunes, here.
Where can I find all episodes?
To see all Marketer + Machine episode archives, click here.
Resources and links discussed
Matt recommends learning from people outside of marketing and then applying that to your job. Check out The Tim Ferriss Show (if you haven't yet!)
Visit Kickdynamic to learn more
"Marketer + Machine" can be found on iTunes, Stitcher, SoundCloud and Spotify. If you enjoy our show, we would love it if you would listen, rate, and review.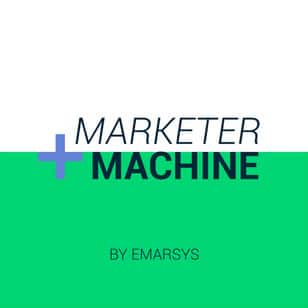 On Marketer + Machine, you will get an in-depth look at the creative, strategic, and innovative ways marketing leaders from around the world are not only acquiring but also retaining customers in today's uber-competitive marketplace.
Listen on your favorite podcast platform:
Our Satisfied Customers Include