What's at the root of any and every successful email marketing program?
If you said clean data, you're correct!
If only it were that simple, though, right? Cleaning your data can feel daunting. What does it mean? How do you get there? What should you, as a marketer, be doing today to ensure all those email opt-ins you are working so hard to generate are legit, valid, and belong to someone who actually wants to hear from you?
Phil Davis, Chief Business Officer at TowerData, joins the program to share his take. Phil offers tips, predictions, advice, and guidelines to help ensure that your email marketing is built on a solid, clean bedrock of data.
"My 3 predictions for the future are more #voice activated #emails, the rise of the #CDP & more video." – @PhilDavis1966 CLICK TO TWEET
Show details and highlights
► (2:25) TowerData, clean data, email list hygiene
► (5:27) Real-time email validation
► (6:20) 5 primary reasons real-time validation is important
► (11:21) Email validation evolution – several key challenges have emerged
► (14:36) How to prepare for the future of email right now
► (19:46) Phil on the future of email validation
► (25:30) Rapid Fire!
So much has changed over the last couple of decades in email. And that change isn't slowing anytime soon. In fact, it is likely only picking up speed. So how are you to keep on top of it all?
3 Key Takeaways
Don't overlook validation. It's about so much more than organization and the amount of emails you have in a database. It's about a clean list of valid emails that belong to individuals who actually want to receive communications from you. Communicating with these people keeps your sender scores high and keeps you off of spam and high-risk sender lists.

Consider real-time validation. Since the technology exists to validate the legitimacy and potential risk of an email address immediately as it's submitted for entry into your database, why wouldn't you?

Don't lose sight of the human at the other end of that email address. Regardless of how you validate your data, what new regulations may arise, or future changes, at the end of the day, we're delivering a human-to-human interaction.
When it comes to email, focus first on the experience you want to provide. Work to create content, messages, interactions, and experiences for that human at the other end of the line, and see everything in the middle as simply a conduit. With clean lists of recipients that want to hear from you, you can then use email and technology for what it's good at.
Other information
How do I subscribe?
You can subscribe to Marketer + Machine in iTunes, here.
Where can I find all episodes?
To see all Marketer + Machine episode archives, click here.
Resources and links discussed
"Marketer + Machine" can be found on iTunes, Stitcher, SoundCloud and Spotify. If you enjoy our show, we would love it if you would listen, rate, and review.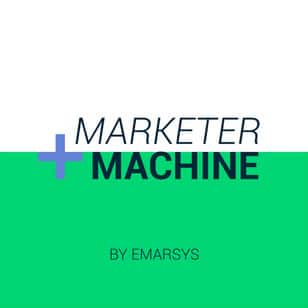 On Marketer + Machine, you will get an in-depth look at the creative, strategic, and innovative ways marketing leaders from around the world are not only acquiring but also retaining customers in today's uber-competitive marketplace.
Listen on your favorite podcast platform:
Our Satisfied Customers Include