Whether you're investing in a new marketing solution, looking at potentially migrating to a new platform/vendor, or adding new point tools to your existing stack, it can be challenging to understand how, exactly, this new 'thing' is going to drive value.
Alex Timlin, VP of E-commerce and Retail at Emarsys illuminates an often neglected aspect of new tech adoption — time to value! In this episode, you'll learn:
How turnkey tactics and embedded knowledge impact time to value
Tips for managing and transferring data to new tools or tech
How to estimate how long it will take before you can expect value with new tech
Key metrics to focus on improving value
Top performing brands that have seen quick time to value
"The marriage of #customer, product, & transational #data is quite new for a lot of #retail companies," says @ARTimlin CLICK TO TWEET
The remedy to combat long, drawn-out time-to-value schedules lies in turnkey solutions with embedded industry knowledge — which is a new approach for marketers as well as a paradigm shift in how we think about driving value with tech.
Show details and highlights
► (2:50) What do turnkey tactics and embedded knowledge mean?
► (7:44) Data transfer when adopting new martech
► (13:20) How to estimate time-to-value during evaluation stage
► (17:00) What are you trying to achieve with new tech?
► (18:52) Metrics: AOV, CLTV
► (23:50) Alex on the future of marketing: AI
"Don't just check the boxes & requirements of that RFP for today – think about use cases you'll want to do in 3-6-12 months down the road," says @ARTimlin CLICK TO TWEET
As Alex discussed, a 3-month timeline for an implementation really isn't that long — but marketers continue to face increasing pressures to perform. And, with a typical quarter of just 66 days, companies need to start driving return faster than ever.
Other information
How do I subscribe?
You can subscribe to Marketer + Machine in iTunes, here.
Where can I find all episodes?
To see all Marketer + Machine episode archives, click here.
Resources and links discussed
Grab Emarsys' latest whitepaper on achieving faster e-commerce growth, here.
Check out our recent time-to-value content on the blog:
Those Who Drag Shall Also Lag — Why Decision Makers Procrastinate Buying Better Marketing Technology
Why Does Time-to-Value Matter so Much? [Podcast]
Connect with Alex on LinkedIn, Twitter, or email him
"Marketer + Machine" can be found on iTunes, Google Play, Stitcher, SoundCloud and Spotify. If you enjoy our show, we would love it if you would subscribe, rate, and review.
---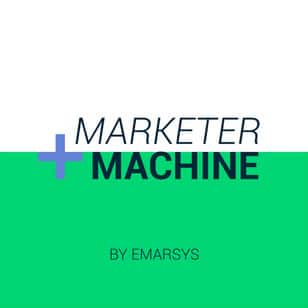 On Marketer + Machine, you will get an in-depth look at the creative, strategic, and innovative ways marketing leaders from around the world are not only acquiring but also retaining customers in today's uber-competitive marketplace.
Listen on your favorite podcast platform:
Our Satisfied Customers Include