What can you glean from your website data? We live in a time of content topic/SEO tools galore — but what does your own website search data tell you that competitors CAN'T see? Think about how you might you use your "thank you" and confirmation pages as opportunities to continue a relationship rather than end it. The best marketing answers customers questions and connects with them as humans. Technology and data is a utility; but it will never replace the human relationships only marketers can forge.
"A high revenue-generating #ecommerce site is a minor masterpiece of both #search & #CRO" says @crestodina      CLICK TO TWEET
Show details and highlights
► (2:31) Using tools to discover keywords and topics
► (4:45) Your audience is telling you what they want in your site search tool and chat log
► (10:45) Use data to do audience listening; but don't be afraid to break the mold
► (16:48) How to attract visitors, drive traffic, and convert in e-commerce
► (19:44) Andy's best e-commerce experience; how using people's "faces" might boost conversions
► (20:56) Using thank you pages to continue the customer journey
► (25:18) Andy on the future of marketing: paying for traffic, influencers, and friendship
Bringing the human element back into marketing
There's so many tools, software, and systems out there that are able to help you find content opportunities, keywords, or test and use the best copy. There's two main goals for your website: drive traffic, and convert visitors. Whether in content, copywriting, direct response, or analytics, find the human element to do that — and remember that behind every computer screen or piece of data, there's a person.
"The problem w/ an overreliance on #data is it's all historic, doesn't tell you what off-the-wall, brand new idea might work, or account for inspiration," says @crestodina      CLICK TO TWEET
The future of marketing is going to be more human. We will see a continued growth in popularity of influencer marketing. But organic influencer relationships will start to happen more and more in-person, like at events. Friendship is the future.
Key Takeaways:
Use qualitative data from your website search bar and chat log to glean insights, pick topics, and create content
Use thank you or confirmation pages to continue the customer journey
The unexpected moments of inspiration and risk-taking experiences will always be made by you and not the machine/data — continue being human!
Other information
How do I subscribe?
You can subscribe to Marketer + Machine in iTunes, here.
Where can I find all episodes?
To see all Marketer + Machine episode archives, click here.
Resources and links discussed
Grab Andy's book, Content Chemistry!
Visit Orbit Media Studios to learn more.
"Marketer + Machine" can be found on iTunes, Google Play, Stitcher, SoundCloud and Spotify. If you enjoy our show, we would love it if you would subscribe, rate, and review.
---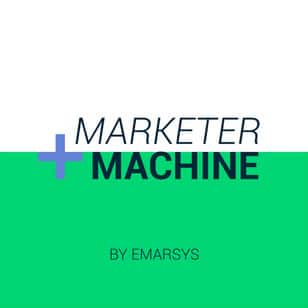 On Marketer + Machine, you will get an in-depth look at the creative, strategic, and innovative ways marketing leaders from around the world are not only acquiring but also retaining customers in today's uber-competitive marketplace.
Listen on your favorite podcast platform:
Our Satisfied Customers Include