Marketing leaders and their teams are challenged every day to find new ways to prove the value that marketing is contributing to the bottom line. The problem is that many marketers are still relying on the quick-hitter impact of metrics which seem to indicate success is happening, but may or may not be actually driving real and meaningful numbers like revenue, retention, and CLTV.
Marketers can move from operational to strategic KPIs to fix this issue… and there's finally a tool called benchmarketing.io that is geared to help do just that.
And that's what this next series on Marketer and Machine will cover — benchmarketing… what it means, why it matters, examples of how to do it, and tools that can help get you there.
#Marketing needs to shift from operational metrics to strategic KPIs that actually impact the business     CLICK TO TWEET
Show details and highlights
► (0:29) The problem with operational metrics/KPIs
► (1:22) "The quarterly call"
► (2:37) Making marketing a profit center
► (3:43) What is benchmarketing? Series overview
► (6:11) "The better quarterly call" (the one you want!)
We're often fighting an uphill battle when it comes to proving our worth as a marketing organization. But marketing doesn't have to be like this. With all of the tools and data available to us, it's time for marketers to make a change — from looking at and reporting on the same metrics over and over again — and start showing our organizations that we should be considered one of the most strategic assets in the business.
It's time for our industry to go from benchmarking to benchmarketing. We should be using strategic KPIs that go beyond operational and channel-specific metrics and give us a better understanding of how marketing is actually impacting the business.
What if you could tie those day-to-day metrics to revenue, customer growth and retention rate? With benchmarketing.io, this all becomes possible.
Other information
How do I subscribe?
You can subscribe to Marketer + Machine in iTunes, here.
Where can I find all episodes?
To see all Marketer + Machine episode archives, click here.
Resources and links discussed
Changing the Way We Measure Marketing: A New Free Benchmarking Tool for E-Commerce Marketers
The Marketer's Plight: Aligning to the CEO's Revenue Growth Goals
The Marketing Metrics & KPIs Your CMO Really Cares About
What Does Benchmarketing Mean?
"Marketer + Machine" can be found on iTunes, Google Play, Stitcher, SoundCloud and Spotify. If you enjoy our show, we would love it if you would subscribe, rate, and review.
➤ Try the benchmarketing tool for free
---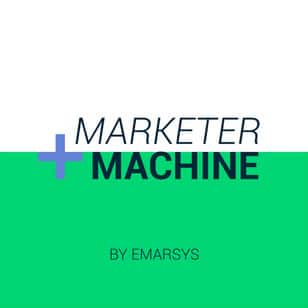 On Marketer + Machine, you will get an in-depth look at the creative, strategic, and innovative ways marketing leaders from around the world are not only acquiring but also retaining customers in today's uber-competitive marketplace.
Listen on your favorite podcast platform:
Our Satisfied Customers Include