What would you do if you could dig into the mind of your customer? How would your placement and context of the content you're including in your communications change if you knew what your buyers desired — based on neuroscience and behavioral marketing?
How would you rethink your creative if you knew that a beautiful picture with a price tag (vs. one without) triggered the same pain receptors in the brain which light up when you cut yourself?
Along with leading his agency which helps clients like Vodafone, Canon, and Sony, Chris Pearce, CEO of TMW Unlimited, has a passion and unique understanding of behavioral science and neuroscience — and how to dig into consumers' subconscious mind to ultimately create more emotive experiences. He joins the show to share details about his perspective, plus shares how marketers should be thinking about technology as a means to a strategic end, not as the end.
"W/ neuroscience techniques, you can understand what's going on in the brain – the value of a choice we make comes down to reward minus pain," says @chrispearce CLICK TO TWEET
Show details and highlights
► (1:03) Who is TMW Unlimited (you might know them better for their clients)?
► (2:24) The effect that great content and emotion has on consumer behavior
► (4:51) Emotional/behavioral marketing is nothing new.
► (6:25) How to use behavioral marketing to get into your consumers' subconscious
► (10:05) Balancing technology/data with creative, customer-centric thinking
► (13:48) Chris on the future of marketing: the acceleration of martech
"There's been a big shift toward emotional #marketing in the last 10 yrs – it's about getting attention, releasing chemicals in the brain, & getting brands locked into long-term memory" says @chrispearce CLICK TO TWEET
"Get into customers' subconscious & help
them consider your #brand as a solution
to some implicit goal they're trying to
achieve – then you'll be successful" says
@chrispearce CLICK TO TWEET
​
3 Key Takeaways
Understand context and the role of a particular piece of content at a particular time. Consider how a customer is feeling — their state of mind — at a particular time. It doesn't have to be highly creative… it can be utilitarian instead of crazy creative. This approach can be extremely effective in terms of understanding the job that needs to be done. Then, if you need extra creativity at certain touchpoints, that's where you'll have more time to shine.
Look at neuroscience techniques to understand brand purchase and shopping behavior. It comes down to reward minus pain. Manage the balance between anticipated reward versus likely pain (like the price). Think about how the brain receives content; it doesn't have a "brand" button. Most people don't think about marketing from this perspective during their day-to-day. Are you?
AI is not going to be as scary as nuclear weapons. But you should also remain mindful of how AI can help you in powerful ways. What effect will tech have on behavior change? How will AI help your bottom line and long-term advocacy? That's the job of tech and AI as the change of pace speeds up and stretched marketing teams are struggling to keep up.
Other information
How do I subscribe?
You can subscribe to Marketer + Machine in iTunes, here.
Where can I find all episodes?
To see all Marketer + Machine episode archives, click here.
Resources and links discussed
Visit TMW Unlimited's blog
Chris' recommended content: Decoded: The Science Behind Why We Buy and the Strands of Genius e-newsletter
"Marketer + Machine" can be found on iTunes, Stitcher, SoundCloud and Spotify. If you enjoy our show, we would love it if you would listen, rate, and review.
This article features content from Revolution 2018. Join us for in London March 2020 for our next event. Interested in learning more? Click here.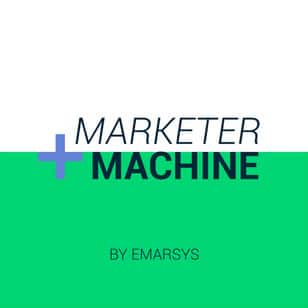 On Marketer + Machine, you will get an in-depth look at the creative, strategic, and innovative ways marketing leaders from around the world are not only acquiring but also retaining customers in today's uber-competitive marketplace.
Listen on your favorite podcast platform:
Our Satisfied Customers Include