What about those smaller, more niche e-commerce brands… the ones with a more narrow reach but an easily addressable audience?
Today's guest, Chris Pirrotta, is VP of Marketing at Sideshow, a unique, specialty manufacturer of movie, film, and TV collectible figures. Side note about Sideshow: If you want a life-size Darth Vader statue, a He-Man or She-Ra replica, or maybe a sixth-scale Deadpool figure, Chris is your man! He candidly shares the challenges that he and his team deal with on a day-to-day basis as they work to marry their marketing with the machine.
With an overwhelming amount of capabilities, Chris is working on trusting the machine to send the right message to the right customer, along with figuring out how to maintain authenticity with a growing, close-knit customer base.
"#Marketing is something you can pick up instinctually, just start!" – Chris Pirrotta of @sideshow CLICK TO TWEET
Show details and highlights
► (1:56) Sideshow: statues, collectibles, and action figures
► (4:20) Learning to trust machines with your marketing
► (7:05) Sideshow uses a nostalgic relationship-building approach.
► (8:41) How to be more authentic
► (10:37) Chris on the future: more accurate personalization
► (11:25) Rapid Fire!
3 Key Takeaways
First, what does your marketer-plus-machine blueprint look like? Are you there yet? Are you? ARE YOU?! Well, I'm here, as is Chris, to let you know something you shouldn't forget: it's OK if you're still working on learning about how machines can complement your marketing. You're NOT in the minority if you're still working on integrating AI, ML, and automation. All good things take time! So long as you're making progress, don't worry about anyone else.
Second, maybe you don't need ultra-advanced, super-complex automations, algorithms, and AI across your arsenal. Sideshow knows that building trust with customers in meaningful ways is critical, so they focus mainly on areas their audience hangs out, on social listening and Facebook advertising. No need to jump into the deep end if all of your fish swim in the shallow end.
Lastly, make authentic connections — whatever that means for you. Chris shared one of the most inspiring quotes we've heard from any guest thus far — and it's a mic drop moment, so I'll leave you with this thought: "The most effective marketing is marketing in which you really touch someone's heart."
A re-focus on authentic marketing will bring you closer to customers! As Chris said, "You can't fake authenticity when it comes to specificity." SMBs and more niche brands should want to be as authentic as possible because one loyal customer can be worth so much. Regardless, you've got to feed your customer's passion, whatever it is.
Other information
How do I subscribe?
You can subscribe to Marketer + Machine in iTunes, here.
Where can I find all episodes?
To see all Marketer + Machine episode archives, click here.
Resources and links discussed
Chris loves two podcasts: the Radiolab podcast and "The Way I Heard It" with Mike Rowe
Check out Geek — Sideshow's content hub
"Marketer + Machine" can be found on iTunes, Stitcher, SoundCloud and Spotify. If you enjoy our show, we would love it if you would listen, rate, and review.
This article features content from Revolution 2018. Join us for in London March 2020 for our next event. Interested in learning more? Click here.
---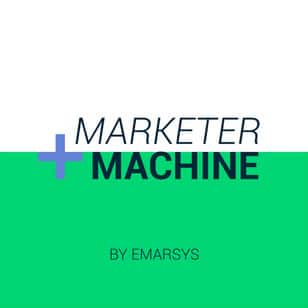 On Marketer + Machine, you will get an in-depth look at the creative, strategic, and innovative ways marketing leaders from around the world are not only acquiring but also retaining customers in today's uber-competitive marketplace.
Listen on your favorite podcast platform:
Our Satisfied Customers Include