It's time to think twice if you still believe that artificial intelligence is just fairy dust. AI is making more creative people more creative — and giving them much more time to unleash their imagination, inventiveness, and innovation. Maria Flores Portillo, Vice President at Persado and today's guest, believes AI technology can alleviate and automate repetitive, data-heavy tasks marketers are still doing today. Maria discusses how AI will not only unlock your creative potential, but also make better things – coming to conclusions that us, humans, would never be able to find!
"#Personalization should not be an objective, just a tool." – Maria Flores Portillo, VP @Persado CLICK TO TWEET
It's time to embrace AI, not to hide from it. And if you knew what it could do for you, as Maria shares, why would you ever want to?
Show details and highlights
►(1:51) Maria on Persado and Revolution
►(3:16) How AI helps creative people be more creative
►(5:34) Using data and AI to understand customer desires
►(7:23) Two tangible effects of applying data/AI: driving sales and knowing what resonates
►(9:09) Don't be afraid of AI: demystify and understand use cases
►(10:16) Maria on the future: AI and unbiased data processing
►(11:35) Rapid Fire!
"#Person10A5A1alization should not be an objective, just a tool." – Maria Flores Portillo, VP @Persado CLICK TO TWEET
Persado's clients using AI to augment their efforts are driving 41% more sales than those who are doing it manually. It's these kinds of results that you, too, can expect when you release your fears and start to leverage AI as a partner in your marketing approach! This leads me to my key takeaways from today's episode:
Key takeaways
To any marketer still feeling skeptical about AI: as Maria says, "demystify it!" AI isn't like Terminator portrays it, nor will some robot come take your job. Educate yourself and learn all you can. Then, find a specific use case based on one aspect of your marketing process you want to resolve, optimize, automate, or improve.

Using AI is a choice. Instead of spending ridiculous amounts of time sorting through spreadsheets, choose more time for strategy. Where you once manually created marketing messages for each customer, choose machine learning. In lieu of repetitive tasks that ring you dry by day's end, choose automation. These are all byproducts of using AI.

Third, as Maria alludes to, AI is a double-edged sword. It can help detach us from our very human laziness and biases… but we also have to be careful, collectively, to make sure our algorithms are processing all of this data in an unbiased way. We have to collect, manage, and store data — and write and program our machines — so that they avoid bias in any way, but still achieve what we need.
Artificial intelligence isn't "easy." But choosing to leverage it to make you more creative and more efficient… that's a simple decision to make. And the benefits will be well worth it.
Other information
How do I subscribe?
You can subscribe to Marketer + Machine in iTunes, here.
Where can I find all episodes?
To see all Marketer + Machine episode archives, click here.
Resources and links discussed
Maria's favorite podcast, Shiny New Object, with Tom Ollerton
Check out Life 3.0 — a book Maria recommends for learning to live with AI
"Marketer + Machine" can be found on iTunes, Google Play, Stitcher, SoundCloud and Spotify. If you enjoy our show, we would love it if you would subscribe, rate, and review.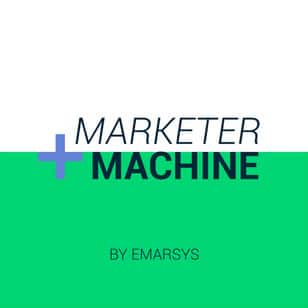 On Marketer + Machine, you will get an in-depth look at the creative, strategic, and innovative ways marketing leaders from around the world are not only acquiring but also retaining customers in today's uber-competitive marketplace.
Listen on your favorite podcast platform:
Our Satisfied Customers Include