Ashwin Ram, one of the premier AI and cognitive computing pioneers of this generation, joins the show to discuss the state of AI today and where building tech to replicate human thought will take marketers in the near future.
Prior to joining Google, Ashwin led AI development and R&D for Amazon Alexa, the intelligent agent that powers Amazon Echo and other devices. He has been pushing the envelope in artificial intelligence, natural language understanding, machine learning, and conversational dialog for years and is widely considered the leading expert at the intersection of cognitive AI and social computing.
Marketing, as Ram describes, is undergoing a shift, thanks, in part, to AI. AI helps marketers interact with people where they are without being intrusive.
"We're in the midst of a #marketing renaissance – everything is driven by #technology" says @ashwinram CLICK TO TWEET
Show details and highlights
► (2:28) Getting computers to simulate human thought and where AI stands today
► (4:55) Blending ethical implications of AI with innovation and creating a great CX
► (6:16) How humans work with machines and AI
► (7:06) What's more important: data or algorithms?
► (8:39) AI is helping us move from a channel-first to a consumer-first mindset.
► (10:00) Ashwin on the future of marketing: using AI as a personal ally
".@Google's modern ML system uses semi-supervised & transfer learning to take knowledge from one area & transfer it to something new where you may not have a lot of #data" says @ashwinram CLICK TO TWEET
Other information
How do I subscribe?
You can subscribe to Marketer + Machine in iTunes, here.
Where can I find all episodes?
To see all Marketer + Machine episode archives, click here.
Resources and links discussed
Google AI Blog and CognitionX, one of Ashwin's favorite AI advice mediums
Check out Ashwin's research blog, Cognitive Computing, and his startup, OpenStudy
Grab Emarsys' latest whitepaper about making impact with AI
"Marketer + Machine" can be found on iTunes, Google Play, Stitcher, SoundCloud and Spotify. If you enjoy our show, we would love it if you would subscribe, rate, and review.
---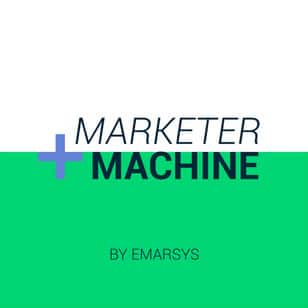 On Marketer + Machine, you will get an in-depth look at the creative, strategic, and innovative ways marketing leaders from around the world are not only acquiring but also retaining customers in today's uber-competitive marketplace.
Listen on your favorite podcast platform:
Our Satisfied Customers Include