In this week's episode, we chat with marketing renaissance man Christopher Penn, Founder of Trust Insights. He also operates his own blog, and frequently speaks on marketing, analytics, and AI. This week's episode explores AI marketing and predictive analytics, as Christopher alleviates some confusion that marketers seem to have about AI. Start small, and find a good balance between the machine and the strategy you put forth.
"What can you bring to the table that's better than what a #machine can do? Look for opportunities to replace certain tasks that are overloading you & can be #automated," says @cspenn

     CLICK TO TWEET
Show details and highlights
► (2:31) Intro: how AI gets machines do actions that humans normally would handle
► (6:07) How overloaded marketers can relieve their pain
► (7:26) Analytics: descriptive, diagnostic, predictive
► (15:21) Buying/using predictive marketing technology
► (18:02) Role of marketer is changing: setting strategy to guide machines
► (23:03) Future of marketing: Christopher's concern
How to leverage AI and predictive analytics
For now, machine learning offers certain key benefits that are helping to advance marketing as a practice; but it also has limitations, especially without a basic understanding of how it works and the outputs it's generating. There's such value in prediction for consumers and marketers. For the average marketer, it's about working with your data scientist to optimize your platforms and communications.
Christopher's concern is that marketers that don't have enough technological or data science sophistication will hand the keys over and blindly hope that the machines do everything. On the flip side, the next Golden Age of marketing is around the corner and will enable us to interact with machines in ways we can't yet imagine — implications for true 1-to-1 customization are tremendous.
"In the future, either you're going to manage the machines, or they'll manage you — it may sound dystopian, but more marketers will direct the #machine & set #strategy" says @cspenn

     CLICK TO TWEET
Key Takeaways:
As you look to incorporate AI and automation, look for the aspects of your role that require the most time or repetition. The machine can likely take on these tasks at a faster rate and more effective clip. This will allow you to focus on other elements the machine can't.
Manage the machine or it will manage you. While you may not be jumping to learn Python or go toe-to-toe on data analytics with Christopher, understand the technical capabilities available, as well as new opportunities that will emerge.
Even though there's pressure for more marketers to think and work like data scientists, this isn't realistic or necessary. Manage machines for effectiveness and accuracy, but there's no need to comprehend the technical details of how they work or what they do underneath.

Other information
How do I subscribe?
You can subscribe to Marketer + Machine in iTunes, here.
Where can I find all episodes?
To see all Marketer + Machine episode archives, click here.
Resources and links discussed
Check out Trust Insights
Visit Christopher's personal site and his podcast Coffee Over Marketing
"Marketer + Machine" can be found on iTunes, Google Play, Stitcher, SoundCloud and Spotify. If you enjoy our show, we would love it if you would subscribe, rate, and review.
---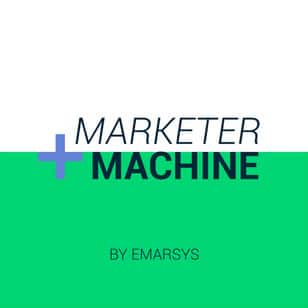 On Marketer + Machine, you will get an in-depth look at the creative, strategic, and innovative ways marketing leaders from around the world are not only acquiring but also retaining customers in today's uber-competitive marketplace.
Listen on your favorite podcast platform:
Our Satisfied Customers Include