Jim Sterne is as "throwback" as you can get in marketing – he sold business computers to first-time owners in the 1980's, consulted and keynoted about online marketing in the 1990's, founded a conference and a professional association around digital analytics in the 2000's and recently published his twelfth book, Artificial Intelligence for Marketing: Practical Applications. Sterne has remained active producing the eMetrics Summit and as Board Chair of the Digital Analytics Association.
He joined the show to offer insights on AI and machine learning – and addressed how common misconceptions about them (like machines becoming sentient or the inherent biases within artificial intelligence solutions) can be approached.
"There will come a time when I have my own #AI agent that works only for me, that knows everything about me, which protects my data & negotiates on my behalf" says @jimsterne CLICK TO TWEET
Show details and highlights
► (1:57) What is AI marketing – and what is it not?
► (3:25) Fears and misconceptions about AI
► (4:05) Privacy and bias concerns about data and AI
► (8:00) Bad data… or a bad job managing it? Use data to prove value
► (12:55) Do unicorns exist? Marketers, analysts, data scientists, data engineers
► (15:02) Strategies don't change; tools do – machine learning and AI
► (20:28) Jim on the future of marketing: data science, tools, innovation
► (24:24) Rapid Fire!
"#MachineLearning is what happens when a computer looks at #data, creates its own models, makes its own predictions, and, when given new info, changes that model & learns" says @jimsterne CLICK TO TWEET
Key takeaways
You don't have to understand all of the ins and outs of AI to be a successful, responsible marketer. You just need to understand the foundation of marketing and the role you play in protecting the data that your customers trust you with.
Strive to understand the big picture of how customer data flows through your system and "smell check" it for biases – then raise your hand when something goes awry.
Marketers are a strong force when partnering with a machine, no doubt. But remember: it's that balance between the human elements of the equation (our brains and our ability to gut check data and analysis) with the tech that can take all this data, process it, and help us accomplish wonders at scale.
Other information
How do I subscribe?
You can subscribe to Marketer + Machine in iTunes, here.
Where can I find all episodes?
To see all Marketer + Machine episode archives, click here.
Resources and links discussed
Check out Jim's book
This Week in Machine Learning and AI and the Digital Analytics Power Hour podcast
Consider attending Jim's conference and joining the Digital Analytics Association
Connect on Twitter, @jimsterne or on LinkedIn
"Marketer + Machine" can be found on iTunes, Google Play, Stitcher, SoundCloud and Spotify. If you enjoy our show, we would love it if you would subscribe, rate, and review.
---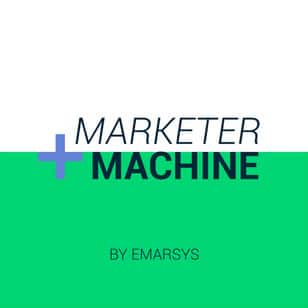 On Marketer + Machine, you will get an in-depth look at the creative, strategic, and innovative ways marketing leaders from around the world are not only acquiring but also retaining customers in today's uber-competitive marketplace.
Listen on your favorite podcast platform:
Our Satisfied Customers Include