Keeping up with the pace of change in today's retail industry has proven to be more and more of a challenge for many businesses. That's why we're looking forward to joining 3,000+ retailers, brands, startups, tech firms, investors and media analysts at Shoptalk Europe 2022 to help solve the challenges we all face in a busy commerce climate.
The event takes place just a few days from now, June 6-8th 2022.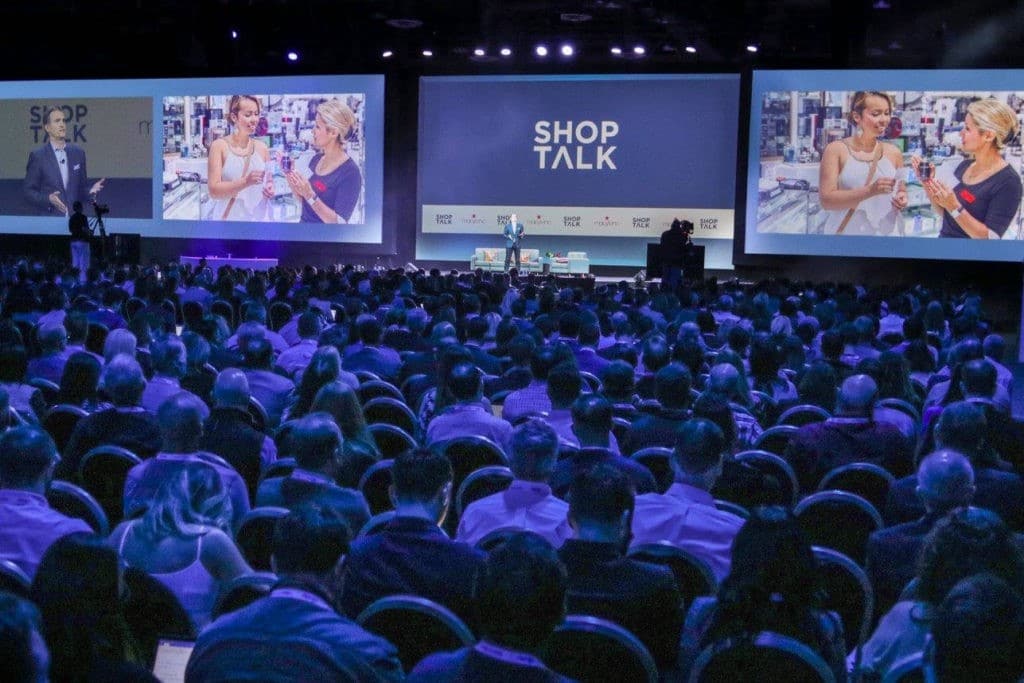 What is Shoptalk Europe 2022?
It is hard to find anything like Shoptalk Europe in the retail industry. The annual event is the industry's premier meeting space for more than 2,500 business leaders from the biggest retailers, brands, tech startups, venture capitalists, developers, and even journalists.
One reason we're so stoked to be there is because one in three guests is a C-level executive, and one in ten is a CEO. To put it simply, this is a yearly gathering and networking event for some of the most forward-thinking retail leaders on the planet.
If you haven't already registered, be sure to do so and come chat with us on the future of retail.
At the event, there will be three days of networking, talks, and insights. Throughout these three days, there will be different sessions, as summarized below.
Themes & Topics at ShopTalk Europe
June 6, 2022
Key Topic: Insights on Retail's Business
Investors will be discussing which retail trends, technologies, and business models excite them most. They will address how consumers discover, shop, and buy, how the tech landscape has changed, and how they identify the businesses that will define the next generation of commerce.
Key Topic: Grocery Stores
Convenience isn't just about speed; it's also about anticipating and catering to consumers' needs. This discussion will look at the technologies, tactics, and strategies needed to sustain long-term success in the grocery space. The session will feature a diverse set of brands presenting case studies on how they sell direct-to-consumer.
Key Topic: The Retail Organization
In this session, executives will discuss how companies are restructuring their teams to create a more connected shopping experience. Retail employees want to be part of organizations that are leading with purpose. We'll hear from leaders at three brands about their latest initiatives to champion equality and promote mental wellbeing.
Key Topic: Emerging Tech Startup Pitch
There will be an overview of the organizations that participated in the Tech Startup Spotlight track during this session. You'll get a chance to hear from 15 pre-Series A retail technology startups during this and the following two sessions.
June 7, 2022
Key Topic: Reinventing Physical Retail
In this session, three speakers will share their distinct approaches to the reinvention of experiential retail. The purpose and role of stores are changing, as are the factors that motivate consumers. High-touch experiences remove friction from the buying experience and encourage trial and discovery.Key Topic: Groundbreaking Marketing Strategies and Tactics
Digital wallets, contactless payments, Buy-Now-Pay-Later, and one-click checkouts are just four of many payment offerings seeing increased adoption. Live Streaming and shoppable video are huge opportunities for companies seeking to market their products online.
Key Topic: Growth Strategies for the Next to Normal
Brands are turning to online marketplaces to reach shoppers across borders and beyond traditional channels. In this session, leaders from established retailers and startups will discuss how they're operationalizing these new business models. Learn which strategies and tactics brands (and marketplaces) find most effective.
Key Topic: Grocery Stores
Grocery retailers face many new fulfillment technologies, processes, and vendors. We'll hear from companies taking diverse approaches to tackle fulfillment in this session. Hear how the unique business models of three consumer-facing startups are helping them scale in a highly competitive market.
Key Topic: The Future of Brands
The relationships that have traditionally defined the retail industry are shifting. Brands are going direct-to-consumer to understand and connect with their customers deeper (and to push back against marketplaces like Amazon). We'll hear from a mix of brands and retailers who will discuss how they are rewriting the rulebook on their relationships.
Key Topic: Tech Startup Spotlight
This event will feature companies whose solutions use robotics, automation, or other technologies to reinvent fulfillment and delivery. Each company's Founder/CEO will present their technology, followed by a group discussion on how brands and retailers can more efficiently transact in a complex retail landscape.
June 8, 2022
Key Topic: The Sophisticated Supply Chain
Suppliers and retailers prioritize investments to make their supply chains more flexible and adaptable. The session will feature retailers that have embraced the sustainability imperative.
Key Topic: Using Data Effectively
AI and machine learning can transform vast amounts of data related to supply chains, inventory management, and staffing into actionable insights. Retail and brand leaders share how they stay on the right side of consumers, regulators, and ethics while still leveraging data to build their businesses.
Key Topic: Meeting Changing Customer Demands
In this track keynote, hear an industry leader discuss how retailers develop and implement new services around the products they sell. You'll also learn how retailers are adopting clienteling and customer service technologies that empower their associates to offer personal service in stores. The session will feature a conversation with three companies at the forefront of experiential marketing.
Key Topic: Grocery Stores
Today's grocery and FMCG leaders are navigating a period of unprecedented disruption. Hear two leaders discuss the tough decisions they faced to position their companies for growth. Organizations must reassess their organizational structures, processes, and culture to thrive in an omnichannel world.
Key Topic: Global and Cross-Border Retail
Cross-border eCommerce represents about a quarter of European online sales. We will see how three retailers successfully extended their offerings across European borders for more growth.
Key Topic: Workshops
We'll hear from an expert about the current and future potential and risks for brands and merchants in the metaverse. Conversational and voice-activated commerce use cases will be the focus of this program, which aims to educate participants on how and when to implement these technologies.
Next Steps
As you can see, the event will be fruitful for any marketer that's looking to expand revenue, customer loyalty, and even operations into 2022 and beyond.
We'll be there, too. Come see us at booth B72 and book a meeting to speak with us on how you can prepare for the future of retail. Also, mark your calendar for a party that we have on Day 1 (6th June) for retailers to attend.
We'll see you there!