Did you know that roughly 61% of marketers say artificial intelligence is the most important aspect of their data strategy? 87% say they're using, or considering using, AI to supercharge their email marketing, and 47% of established companies already have a defined AI strategy for mobile!
In fact, AI can is changing marketing in a number of ways, including:
Handling aspects of customer relationships
Enabling marketers to do more with their data
Helping marketers with last-touch attribution
Allowing marketing teams to save time and boost efficiency
Spurring a shift from reactive to proactive marketing
About 61% of marketers say #artificialintelligence is the most important aspect of their #data strategy

     CLICK TO TWEET
In this series introduction episode, I have the privilege of sharing more about why AI is important for e-commerce and retail marketers, along with what you can expect over the next couple weeks.
As I've quickly been learning, the foundational layers of AI — the algorithms, simulation models, and software — are actually a dime a dozen. In a marketing context, the true value of AI goes beyond those baseline elements. But, you'll have to either subscribe to the show to learn what those key differentiators are… OR grab your copy of our latest white paper called "Making Immediate Impact with AI" to find out!
Other information
How do I subscribe?
You can subscribe to Marketer + Machine in iTunes, here.
Where can I find all episodes?
To see all Marketer + Machine episode archives, click here.
Resources and links discussed
"Marketer + Machine" can be found on iTunes, Google Play, Stitcher, SoundCloud and Spotify. If you enjoy our show, we would love it if you would subscribe, rate, and review.
---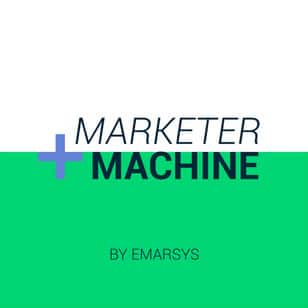 On Marketer + Machine, you will get an in-depth look at the creative, strategic, and innovative ways marketing leaders from around the world are not only acquiring but also retaining customers in today's uber-competitive marketplace.
Listen on your favorite podcast platform: