In this week's (opening!) episode, we chat with Raj Choudhury, President of BrightWave. We explore how technology — and the delivery/execution of marketing communications — has largely become a commodity. Too many marketers begin with technology and what it can do. The better option is to identify marketing fundamentals, goals or challenges, then figure out how technology can help solve that, scale it, and lend insights in a sophisticated way.
"A lot of marketers' 1st intention is to set up #technology – as opposed to asking the fundamental questions of "why," "what are we trying to drive," or "what are we trying to create?" says @rmchoudhury CLICK TO TWEET
Too often we're seeing cluttered mar-tech stacks of products, where marketers are having to administer, manage, and move data around as opposed to raising brand awareness, driving lead acquisition, or retention.
Show details and highlights
► (1:01) Intro: surplus of data and using it for, not against, us
► (2:40) Ask "why" before starting with technology
► (6:04) Don't succumb to becoming a data scientist – and where should mar-tech live: IT or marketing?
► (8:38) Problems from "Frankensteined" tech stacks
► (12:20) Email: bi-directional data flow and value of email
► (14:51) Create the best experience possible for prospects
► (15:28) Future of marketing: ML, AI, and marketers' trust in algorithms
Leveraging technology in the right ways
Don't look at your marketing technology from a "tech-first" standpoint. Take an iterative approach, where, every so often, you tweak and adjust your thesis and application of the tech in order to extract the maximum amount of value. Marketers shouldn't handle data transfers, tech management, or integrations. They should be creating content, creating relevance for their audience, and making strategic decisions.
At the end of the day, we want the optimal customer experience for the people we touch. We often can't do that without a good marriage between people (marketers), processes, and technology.
Systems will open up more, and marketers will become more confident, accepting, and trusting of their ML and AI systems. We will marry marketing know-how with technology know-how. The future is also unification of data and decisioning for full orchestration across channels, and one where marketers trust the technology to aid their strategies and plans.
"The future of marketing is true unification of #data & decisioning, where a marketer trusts/understands the systems they engage with" says @rmchoudhury CLICK TO TWEET
Key Takeaways:
Is your team leveraging technology to bring your creative ideas, strategies and content to life? Or are you looking first to your technology and what it's capable of — and then building strategies, campaigns and tactics around them?
What secrets might you be keeping from your CIO or IT team? What's in your tech stack that would come as a surprise to your IT team?
When was the last time you really took a good look at email and asked if you're using the channel to its full potential?
Other information
How do I subscribe?
You can subscribe to Marketer + Machine in iTunes, here.
Where can I find all episodes?
To see all Marketer + Machine episode archives, click here.
Resources and links discussed
Check out Raj's conference, "EiQ: The Intelligent Email Gathering," here.
See Raj's personal blog, here.
"Marketer + Machine" can be found on iTunes, Google Play, Stitcher, SoundCloud and Spotify. If you enjoy our show, we would love it if you would subscribe, rate, and review.
---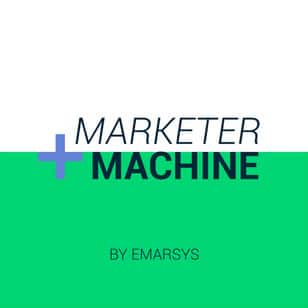 On Marketer + Machine, you will get an in-depth look at the creative, strategic, and innovative ways marketing leaders from around the world are not only acquiring but also retaining customers in today's uber-competitive marketplace.
Listen on your favorite podcast platform:
Proporciona las experiencias omnicanal altamente personalizadas que sus clientes merecen.