A strategic dashboard should help you navigate complexities involved in reporting, analytics, and understanding customer data. It should provide you with insights and data that reinforce marketing's value to the organization and help you prove your impact on the bottom line.
In fact, Emarsys was just recognized as a leader in The Forrester Wave™: Cross-Channel Campaign Management, Q4 2019. We received the highest scores possible in 22 criteria, including 'Reports and Dashboard.' Benchmarketing.io is a new kind of benchmarking tool designed for strategic marketers, NOT just channel managers.
Unlike other benchmarking tools that only give you access to operational and channel-specific KPIs, this dashboard gives you access to the strategic KPIs that make an immediate impact on your business.
Show details and highlights
► (1:28) The problems with martech adoption
► (2:54) Issues with using point solutions
► (3:37) The Forrester Wave™: CCCM Q4, 2019
► (5:11) A centralized dashboard is a non-negotiable
► (5:35) 6 questions to ask your martech platform company about your dashboard
► (6:44) Jim Koepke, VP of Sales, on the value of a unified dashboard
► (8:20) Benchmarketing.io allows you view strategic KPIs
"Unified reporting & a unified dashboard must be tied to a strategy to affect change" says @JimKoepke CLICK TO TWEET
We need to start uncovering the strategic KPIs that actually affect business results. Marketing leaders and marketers who embrace this new approach to measurement and benchmarking will become an invaluable, strategic asset to their organization. Those who continue to stick with operational KPIs will find it harder and harder to prove their success.
Benchmarketing.io gives you the framework to build a foolproof marketing plan that connects your day-to-day marketing activities with the high-level business objectives your CEO cares about most.
Other information
How do I subscribe?
You can subscribe to Marketer + Machine in iTunes, here.
Where can I find all episodes?
To see all Marketer + Machine episode archives, click here.
Resources and links discussed
"Marketer + Machine" can be found on iTunes, Google Play, Stitcher, SoundCloud and Spotify. If you enjoy our show, we would love it if you would subscribe, rate, and review.
➤ Try the benchmarketing tool for free
---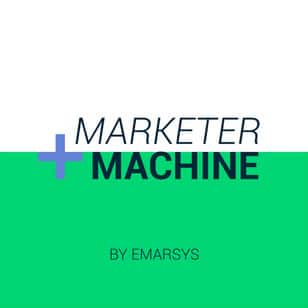 On Marketer + Machine, you will get an in-depth look at the creative, strategic, and innovative ways marketing leaders from around the world are not only acquiring but also retaining customers in today's uber-competitive marketplace.
Listen on your favorite podcast platform:
Proporciona las experiencias omnicanal altamente personalizadas que sus clientes merecen.