Better than anyone else, Amazon understands how to use data and how to very quickly get people to a single product among the 600M+ in their inventory. Like any leading e-commerce brand, Amazon always does what's best for their customer — not necessarily their merchants. However — as this week's guest, e-commerce expert Brian Beck describes — any product seller or manufacturer not on Amazon is risking their relevance.
Brian is leading industry rhetoric around digital commerce, specifically how to jump on the bandwagon that is Amazon. Considering the world's leading commerce company (and globally accepted "everything store") accounts for 60% of all product searches, you really can't afford to wait any longer to figure out your Amazon strategy. Luckily, Brian joined the show to teach you how in less than 25 minutes.
"60% of product search starts on @Amazon – for #retailers & #brands, it's critical to understand how you're positioned there!" – Brian Beck of @guidance CLICK TO TWEET
Show details and highlights
► (2:01) An e-commerce veteran on what's changed
► (5:21) The great e-com equalizer: the Internet
► (8:51) Consumers' attention (on mobile) is the golden ticket.
► (10:37) Why you have to have an Amazon strategy
► (13:09) Which brands do not need to be on Amazon?
► (15:03) Where e-commerce brands are finding alternative revenue streams
► (19:02) Brian on the future: consolidation and better use of AI
► (20:58) Rapid Fire!
"A lot of #marketers still aren't paying attention to @Amazon in the way they should" – Brian Beck of @guidance CLICK TO TWEET
3 Key Takeaways
Are you on Amazon? Should you be? How is the mega marketplace best suited to help you meet the objectives of your unique business? Or maybe it's not? Could it help you sell more products or help you raise brand awareness?
What channels are you using to not only market your business and interact with customers but to also actually sell your products? That's a massive question, and it's not to be taken lightly. However, it's an important one to continue to ask yourself. What do your customers want? Don't overshoot, but do aim to meet them where they are.
It's a lot. A whole lot. So keep your expectations in check in regards to what's possible, what's needed to best serve your customers, and to innovate along with the rapidly changing opportunities in the marketplace.
Other information
How do I subscribe?
You can subscribe to Marketer + Machine in iTunes, here.
Where can I find all episodes?
To see all Marketer + Machine episode archives, click here.
Resources and links discussed
Check out Brian's book, Billion Dollar B2B E-Commerce

Brian recommends reading The Four: The Hidden DNA of Amazon, Apple,
Facebook, and Google by Scott Galloway and The Everything Store
"Marketer + Machine" can be found on iTunes, Stitcher, SoundCloud and Spotify. If you enjoy our show, we would love it if you would listen, rate, and review.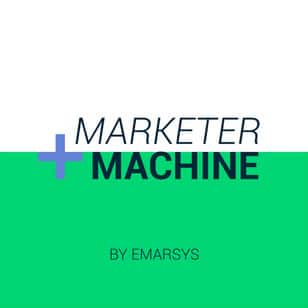 On Marketer + Machine, you will get an in-depth look at the creative, strategic, and innovative ways marketing leaders from around the world are not only acquiring but also retaining customers in today's uber-competitive marketplace.
Listen on your favorite podcast platform:
Proporciona las experiencias omnicanal altamente personalizadas que sus clientes merecen.