When's the last time you thought about how quickly you were driving value from your martech? Time to value is a subtle and often overlooked component of marketing today.
Welcome to the next series of Marketer + Machine where we will explore an often neglected topic: time to value. That is, how long you have to wait to get through all the setup and implementation before you actually start driving results with your tech.
The challenge many marketers are facing is trying to accomplish what they need with a very quick speed-to-market. Though many tech vendors have great solutions and powerful platforms, when you look at the time and effort required to get up and running, it can sometimes take a year or more — not to mention hundreds of thousands of dollars!
As we will explore in this series, the key is to look for software solutions that maximize the ability (right out of the box) to deliver what you need without tremendous effort. Marketers need turnkey solutions with embedded business knowledge that dramatically reduces the time and resources that need to be put into it up front.
The quicker you get your time to value completed, the more sales and revenue you'll see. What's perhaps most important is that a shorter time to value gives you a leg up on the competition. If you take too long, your competitors can get their foot in the door and win your customers away from you.
Today's newest platforms should include industry-specific case studies already built into the platform, making it possible to choose the best strategies quickly and activate campaigns, again, in days — not weeks.
Tech adoption is a fact of life, and it's becoming more efficient. If it's not already happening in your company, time to value in martech is the next big thing marketers will have to better understand.
Other information
How do I subscribe?
You can subscribe to Marketer + Machine in iTunes, here.
Where can I find all episodes?
To see all Marketer + Machine episode archives, click here.
Resources and links discussed
Grab your free copy of our whitepaper called "Delivering Faster E-commerce Growth" to learn more.
Check out our recent time-to-value articles on the blog: 
Those Who Drag Shall Also Lag — Why Decision Makers Procrastinate Buying Better Marketing Technology
How Long Is Too Long to See Value in Marketing Tech?
The Better Your Product Data Is, the Shorter Your Time to Value
"Marketer + Machine" can be found on iTunes, Google Play, Stitcher, SoundCloud and Spotify. If you enjoy our show, we would love it if you would subscribe, rate, and review.
---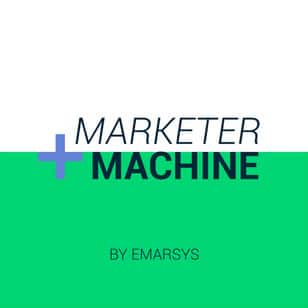 On Marketer + Machine, you will get an in-depth look at the creative, strategic, and innovative ways marketing leaders from around the world are not only acquiring but also retaining customers in today's uber-competitive marketplace.
Listen on your favorite podcast platform:
Liefern Sie die vorhersagbaren und profitablen Geschäftsergebnisse, die ihr Unternehmen erwartet.