It is fabulous when you see something you've been working so hard on come to fruition; to know that something you've created really helps marketers do their jobs more efficiently and serve their brands in faster and more measurable ways.
That's why we're so excited to announce that Emarsys has been recognized as a leader in the Gartner 2020 Magic Quadrant for Personalization Engines. Being a leader two years in a row shows us that more of our clients are able to leverage our verticalized approach to accelerate results and really take their marketing capabilities to the next level.
"Emarsys is a Leader in this Magic Quadrant… Emarsys' Personalization Platform leverages a broad suite of customizable templates to meet the needs of both nontechnical and technical users and accelerate time to value for its clients." — Gartner 2020 Magic Quadrant for Personalization Engines report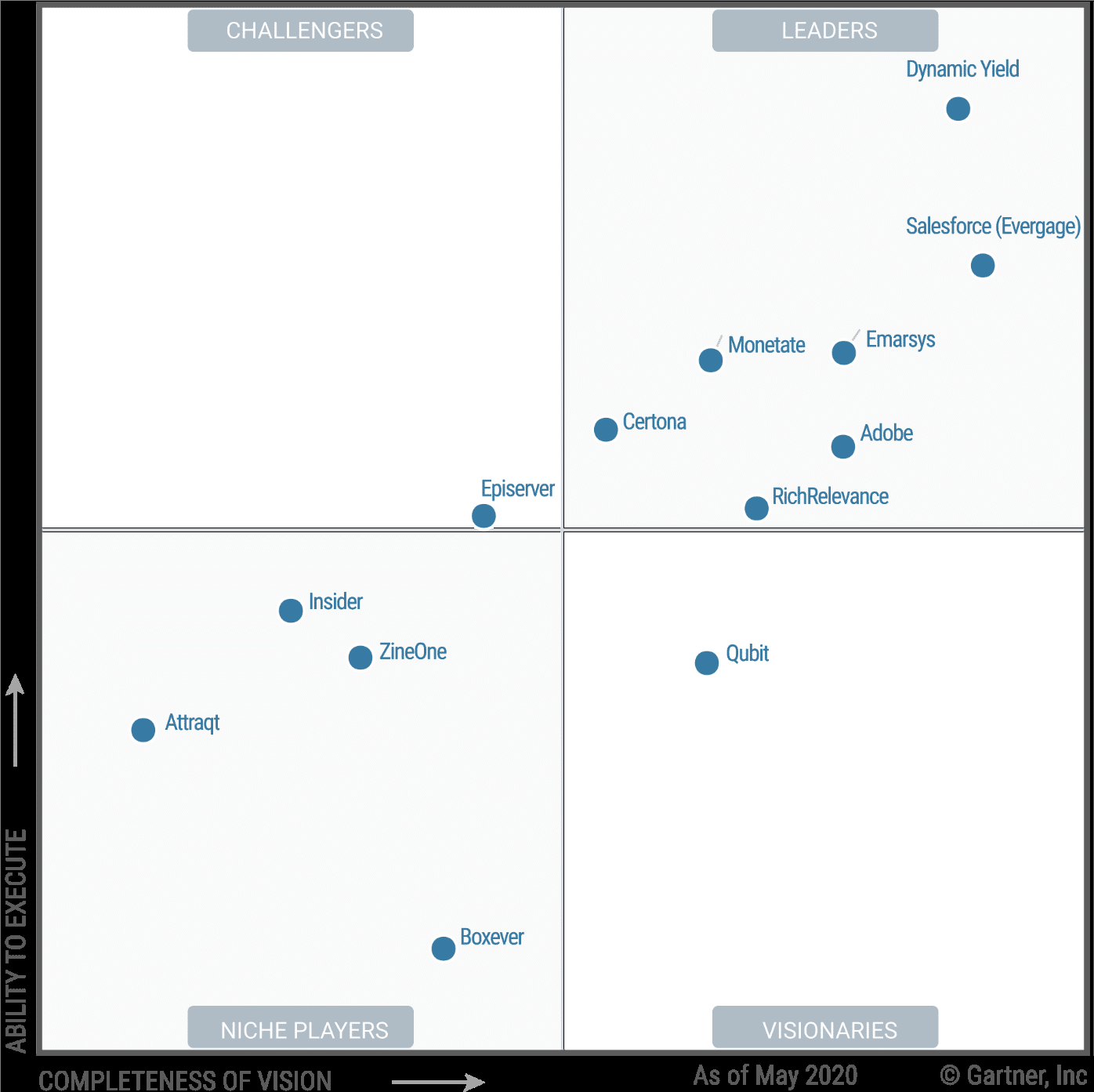 What It Means to Be a Leader in Personalization Engines
"Leaders are vendors that demonstrate a solid understanding of the product capabilities and commitment to customer success that buyers demand in the current market…
In the modern personalization engine market, purchase decision makers demand easy-to-use and easy-to-buy products. They require that these products deliver clear business value and deliver results with limited technical expertise and without the requirement for upfront involvement from IT.
In a rapidly evolving market with constant innovation, a Leader must also demonstrate that it is not focused only on current execution. It must have a robust roadmap for solidifying its position as a future market leader, thus protecting the investment of today's buyers." — Gartner 2020 Magic Quadrant for Personalization Engines report
What Marketers Need Most
With the sudden surge in online shopping this year, it became pretty clear that digital commerce is absolutely critical for any brand's success, which is why it's so important to have tools that allow you to engage customers in increasingly personalized ways, and still deliver a true 1:1 customer experience.
As the Gartner report shows, the demand for personalization is understandably high, but not all brands are confident that they are able to deliver on this using their current vendor.
Return on investment needs to be trackable and accessible, and a great way to make that happen quickly is by taking the guesswork out of creating and executing campaigns. We know this, and that's why the Emarsys platform comes with industry-specific knowledge already inside the platform, allowing marketers to quickly leverage use cases and crowd-sourced, data-driven solutions that are ready to use out-of-the-box. The result is that they know which strategy will benefit their ROI before they even get into the operational practicalities.
Personalization That Truly Delivers
By listening to our clients and partners, we built a platform that serves marketers as well as the business itself. We talk about accelerating business outcomes, and one of the aspects of achieving this is offering speed to market. But it goes much deeper than that, it's the combination of robust reporting, real-time analytics, and proven, vertical-specific tactics and strategies that grow revenue, customers, and AOV.
Underneath all this is our channel-agnostic personalization engine that sits on top of our CDP, which is how the 1:1 engagement magic happens. We present all the insights in an easy-to-navigate dashboard and arm our clients with AI-powered features that make launching and tracking automated omnichannel campaigns easy.
Quickly Driving ROI from Personalization Efforts
To us, speed to market is obviously business-critical. But what's really rewarding is to see that our clients agree by giving us high scores for ease of deployment and overall value, because it means we're delivering for marketers who need to work efficiently and rapidly respond to changes in the market without taking months to see results.
"Gartner predicts that by 2025, 80% of marketers who have invested in personalization will abandon their efforts due, at least in part, to lack of ROI. Platform providers are attempting to mitigate this risk through improved measurement and reporting capabilities." — Gartner 2020 Magic Quadrant for Personalization Engines report
That's exactly why we provide effective reporting and real-time analytics within the platform so that brands can know, in the moment, how their marketing campaigns are performing and adjust to respond to customer behavior. The combination of industry-specific knowledge, insight-rich use cases, and benchmarking tools grants the marketer powerful ways to optimize personalization across channels and see revenue gains quickly.
A Marketer-Friendly, IT-Free Personalization Tool
Emarsys clients rated our AI offering very highly, thanks to how intuitive our platform is and how powerful the results are.
When Gartner assessed Emarsys' AI capabilities, they were looking for: "A wide variety of prebuilt machine learning models [that] helps marketers trigger and optimize marketing campaigns, which likely contributed to above-average client reference scores for targeting and triggering, as well as testing and optimization. The platform's recently added 'visual affinity' feature allows users to add unstructured data (i.e., images) to typical structured data to improve product recommendations."
Emarsys was judged on the following core capabilities of personalization engines:
In-session behavior tracking, data collection, and ingestion
Predictive analytics, data modeling, and user segmentation
A/B and multivariate testing and algorithmic optimization
Next best action or offer and product and content recommendations
Personalization performance tracking, measurement, and reporting
If a brand doesn't have these core capabilities, then how can they deliver 1:1 personalization?
Client Success Is Everything
According to Gartner's research: "Client success remains a top priority for personalization vendors. This year, vendors made new strides in helping clients identify account-specific behaviors, tactics and use cases to improve the impact of their investments in personalization engines."
So it's not enough to create easy-to-use marketing software — clients need expertise and guidance when it comes to campaign growth. Because we've built in years of experience in the platform, we put our clients ahead of the game. Of course, we also provide a roadmap for next steps supported by strategies and tactics that will enable brands to grow and succeed rapidly — and measurably.
"Client references rated Emarsys' reporting capabilities above average across vendors evaluated in this research, with vertical-specific reporting tiles reducing the need for brands to customize out-of-the-box reports."
More to Come
We want our clients to grow revenue. That's the simplest way to define our mission. The knowledge that we've built into the platform is what sets us apart: very few vendors can even do it, and none as well as Emarsys.
While we're honored that Gartner has recognized our personalization expertise, this wouldn't be possible without our customers and partners. Our innovative success depends on giving marketers real-world solutions for the campaign challenges they face, and our customers and partners provide some of the best operational feedback there is. We are proud to be a part of their successes.
Handpicked Related Content: