In the early 1900s, Schlitz Beer was in trouble. Market share and sales were down. The forecast was bleak. So the company hired Claude Hopkins, a famous copywriter and advertiser, to create a campaign.
After a tour of the Schlitz Beer facility, Claude noticed the intricacies of the beer-making process:
Pipes and filtering pumps were cleaned twice a day.
Beer bottles were sterilized four times before filling.
An artesian well brought in fresh, clean water for creating beer.
Brewing rooms had an air filtration system to impede contaminates.
Guess what? Every beer manufacturer had this same process… it was common knowledge and never used by other beer manufacturers in advertisements. Hopkins used this information in an advertising campaign to propel Schlitz Beer from eight in the US to tie with first.
"Because its purpose is to create a customer, the business enterprise has two — and only these two — basic functions: marketing and innovation."
Peter Drucker
Drucker is right, the basic function of every company is marketing and innovation, but if an innovative company isn't marketing, then it may not do as well as expected. This is why marketing is more important than ever.
As a marketer, you want technology that is powerful yet intuitive. Something that makes you look like the hero you are. With the Emarsys Summer Release 2020, the updates are designed to do just that… make your life easier.
Want to drive value and accelerate business outcomes? Then keep reading.
Marketing Revenue Impact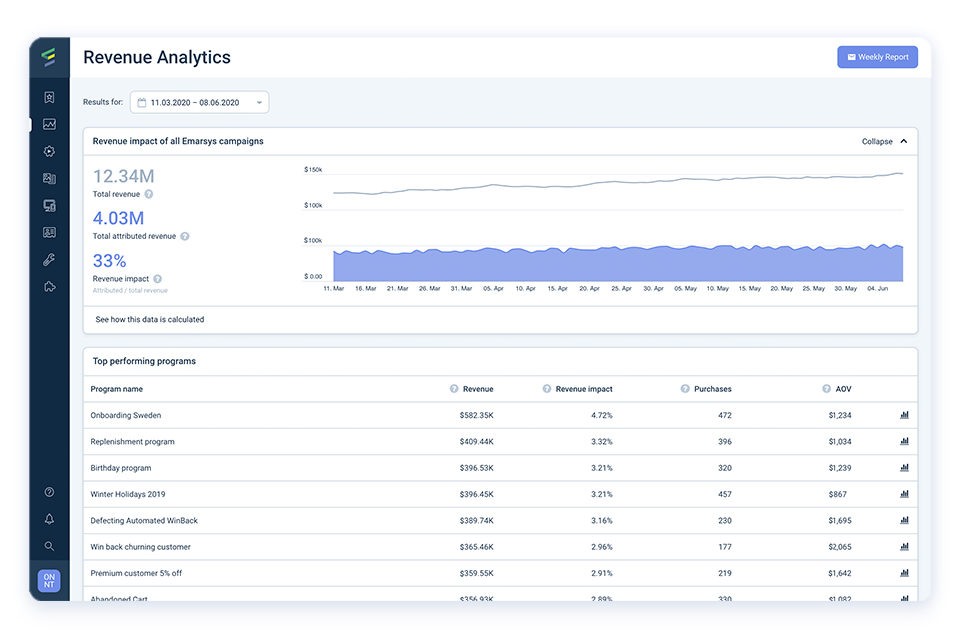 According to Gartner's CMO Spend Survey, as of earlier this year, marketing spend stagnated for many companies. Marketing budgets are about 11.2% of company revenue, unchanged from the previous year.
With the coronavirus pandemic, many marketing budgets have tightened further. Marketers are tasked to do more with fewer resources. It's never been more important for marketing to prove their value and show how they contribute to the company's revenue.
As there are multiple moving parts to every campaign and someone has to collect all this information into a spreadsheet or chart, it's not always easy to see revenue attribution.
In our latest release, you no longer have to meddle with manual reports or use other internal resources to try and cobble together some sort of report. In one big dashboard, you can see the revenue attributed to marketing, and uncover the campaigns doing well and those that could use some improvement.
Want to see how you can accelerate your business outcomes through revenue attribution?
Actionable Campaigns
What if you could, at the click of a button, set up and automate complex campaigns and use more of your time for strategy? With the latest release, it's now easier to find a marketing tactic such as onboarding, hot lead conversions, first-time to repeat buyer lifecycle tactics and deploy it right away.
There are even new, retail-specific tactics you can use to convert offline shoppers to online and increase your store revenue. Plus you have complete control over the automation of all your tactics. Deploy them and customize their automation based on your strategies.
Loyalty Solutions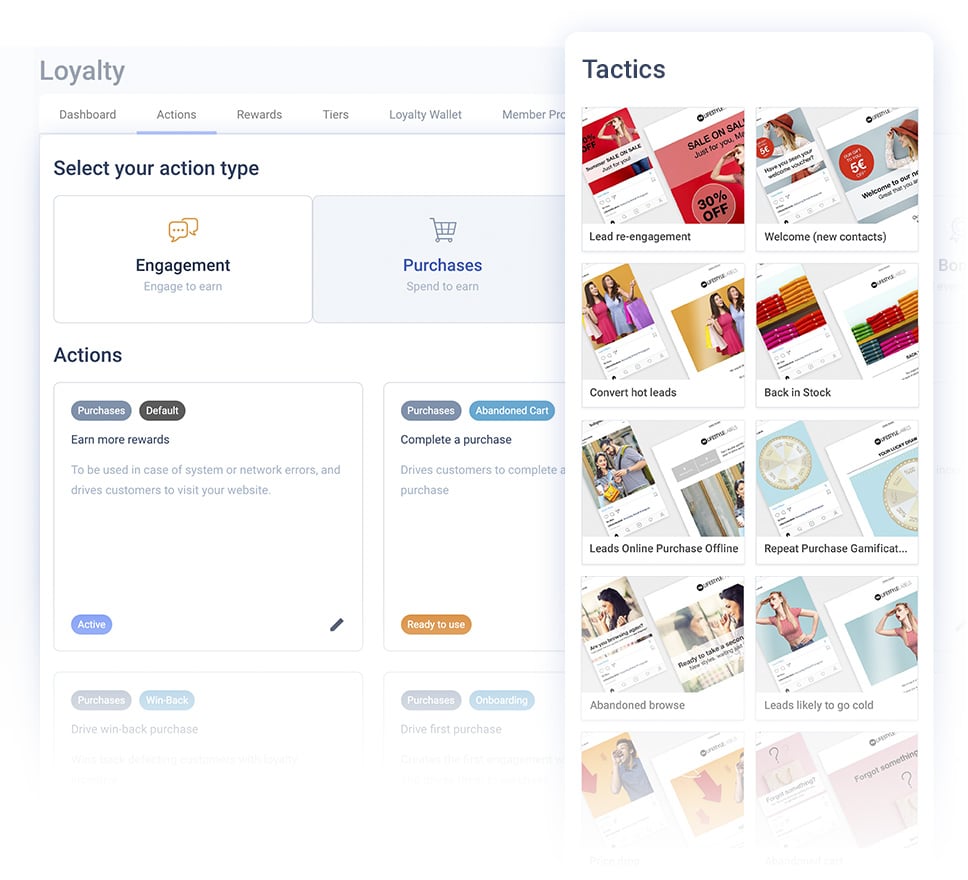 Even though 20% of your customers are loyal, they provide up to 80% of your company's revenue. These same customers are 5x easier to retain and spend 67% more on products and services than new customers.
Not only can you roll out a fully integrated loyalty program in a day, but Emarsys Loyalty enables you to personalize experiences for loyal customers and maximize their lifetime value.
With the latest release, your company can easily connect with loyal customers to maximize their lifetime value. Assign rewards to members, such as VIP status, create incentives with the loyalty wallet, and leverage use cases to quickly set loyalty journeys in motion.
If you want to drive repeat purchases, then a loyalty program is a fantastic way to do so.
Mobile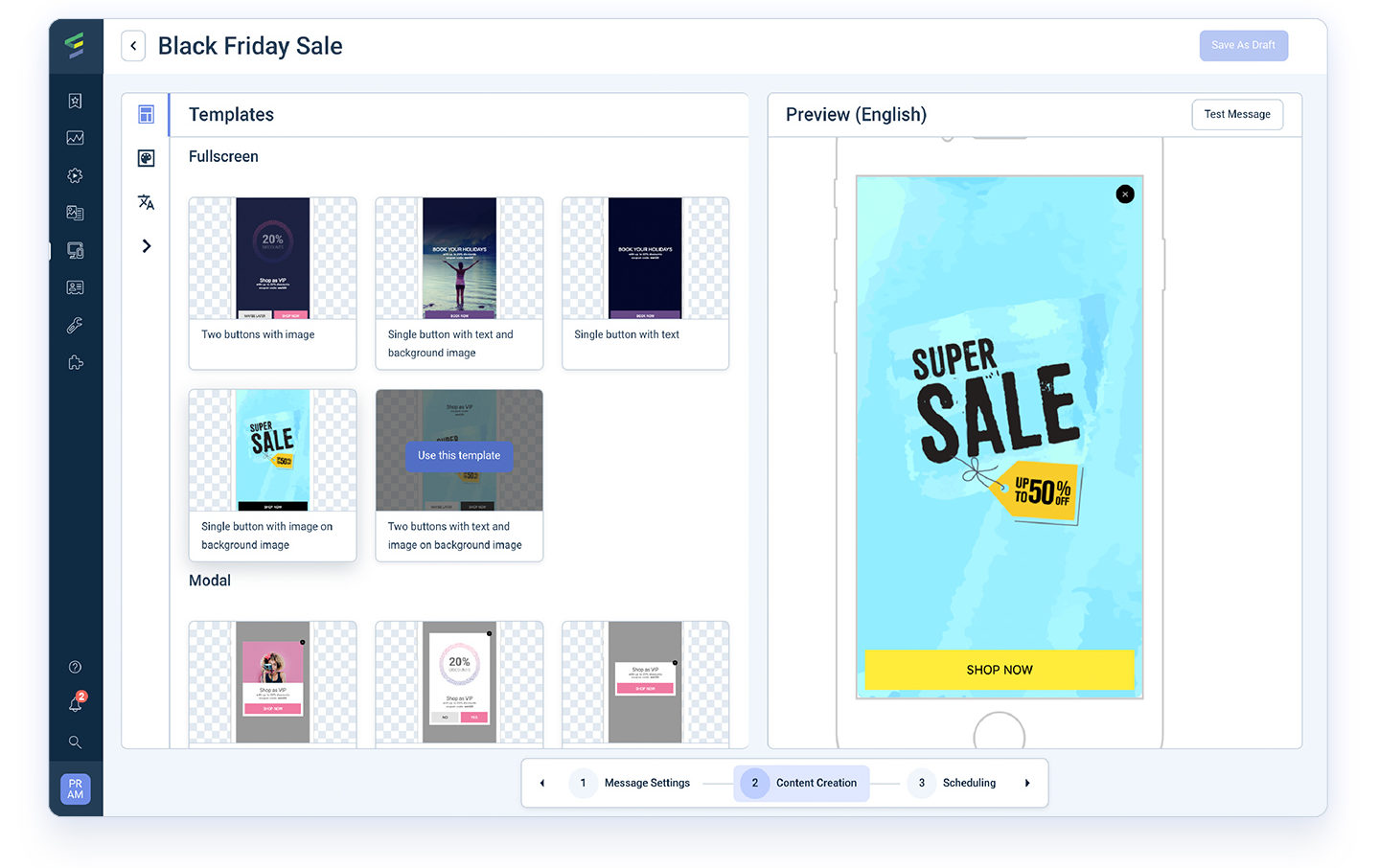 As you may already be aware, about 80% of our time online is spent on a mobile phone. It's one reason a mobile strategy is so valuable to your company.
With the latest updates to mobile you can:
Send silent push notifications to customers using your app.
Easily send messages only to specific platform users.
Engage customers with push action buttons.
Send the right message at the right time through highly targeted segments based on in-app behaviors.
Mobile is the future and will only gain in popularity. Having a solid strategy and actions already in place can place you ahead of the competition.
Final Thoughts
It's never been easier to scale your omnichannel marketing. What takes other platforms days or weeks to set up, can be done on Emarsys with the push of a button.
As a customer engagement platform, Emarsys is the platform of choice for over 1,500 brands. You now have the tools to execute, at the highest level, your strategies to accelerate your time to value and your business outcomes.
It's never been easier to connect with customers across multiple channels, leverage proven tactics, set up automations, showcase the value of your marketing campaigns, and focus on your strategies to grow your company.
See the 26+ new features designed to drive revenue and growth for your brand.
Handpicked Related Content: