On average, it takes 90 days or more to activate marketing strategies using new technology. A financial quarter contains, on average, 66 days. So, marketers have just 66 days to impact business results and report back on success.
Time is, by far and somewhat silently, the most critical aspect that marketers have to grapple with. It has a profound impact on business value that few marketers have considered up until now.
The quicker speed-to-market we can achieve, the more value we can bring in shorter time to our customers… all leading to expedited revenue growth. In order to achieve quicker time-to-value, marketers need turnkey solutions with embedded business knowledge that dramatically reduces the time and resources that need to be put into it up front.
Show details and highlights
► (1:32) Time-to-value is an enterprise-wide endeavor
► (3:04) Challenges that impede speed-to-market
► (4:29) Turnkey solutions: Zach McCoy, VP of Client Success
► (5:53) How to get quicker time-to-value now
► (6:55) Embedded knowledge: Alex Timlin, VP of Retail & E-commerce
► (8:20) The decision cycle: Chris Ortega, Director of Finance
► (11:14) 3 ways to find quicker time-to-value
"Get your people out of the process, #data, & information phase – have #martech do that" says @1_Future_CEO CLICK TO TWEET
"Embedded knowledge [is saying]… how do we
effectively crowdsource… what other people do…
build a community of people solving for similar
problems, and then kind of push that back into the
platform so the platform is a living, breathing
extension of this community."
Alex Timlin • VP, Retail & E-commerce, Emarsys • @ARTimlin
Other information
How do I subscribe?
You can subscribe to Marketer + Machine in iTunes, here.
Where can I find all episodes?
To see all Marketer + Machine episode archives, click here.
Resources and links discussed
Grab your free copy of our whitepaper called "Delivering Faster E-commerce Growth" to learn more.
Check out our recent time-to-value articles on the blog:
Those Who Drag Shall Also Lag — Why Decision Makers Procrastinate Buying Better Marketing Technology
How Long Is Too Long to See Value in Marketing Tech?
The Better Your Product Data Is, the Shorter Your Time to Value
"Marketer + Machine" can be found on iTunes, Google Play, Stitcher, SoundCloud and Spotify. If you enjoy our show, we would love it if you would subscribe, rate, and review.
---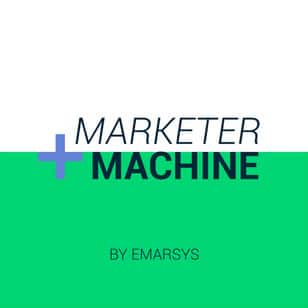 On Marketer + Machine, you will get an in-depth look at the creative, strategic, and innovative ways marketing leaders from around the world are not only acquiring but also retaining customers in today's uber-competitive marketplace.
Listen on your favorite podcast platform:
Our Satisfied Customers Include