Emarsys Summer Release 2020
26+ new features focused on bringing data, marketing, and people together to strengthen your business.
The omnichannel customer engagement platform of choice for more than 1,500 companies worldwide.

Bring data, marketing, and people together
\

Data

Your data is stronger when united together into a single platform, giving you a real-time view of your customers, and allowing you to deliver true 1:1 personalized omnichannel experiences.
\

Marketing

Your marketing is stronger when it is unified across all channels and aligned to business outcomes, bringing the goals of marketing and the overall business together.
\

People

Your people are stronger when they are connected to industry-specific knowledge crowdsourced from their community, empowered with marketer-friendly technology.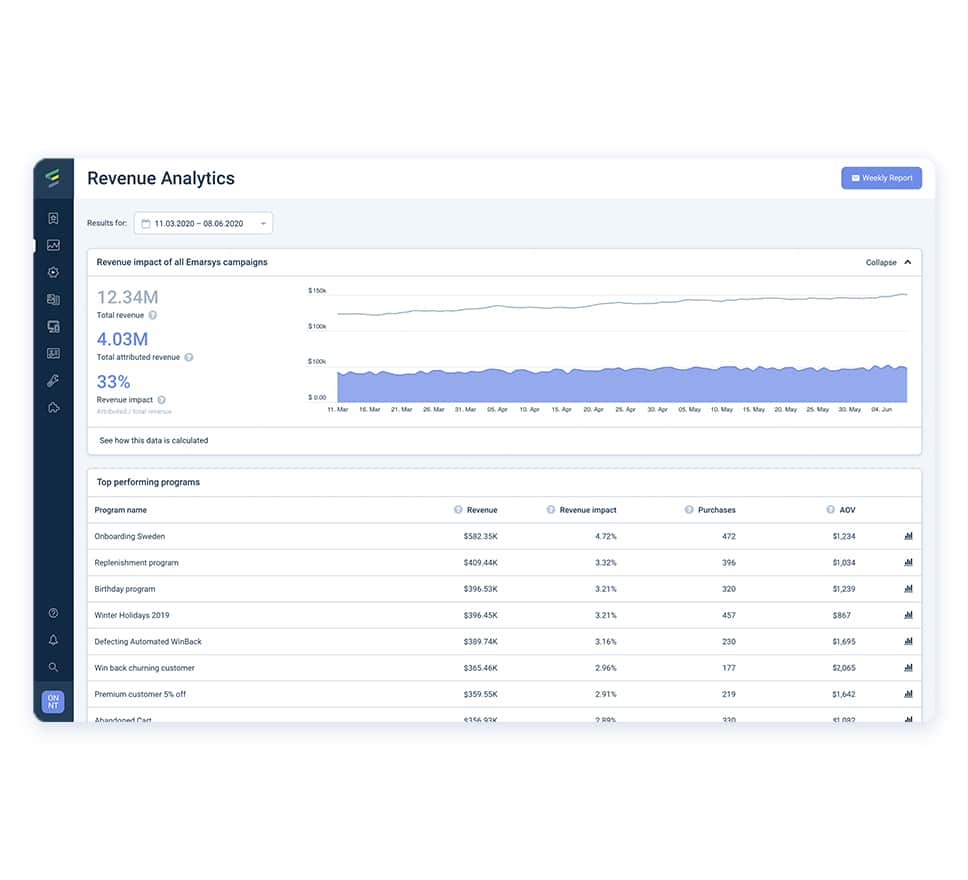 Ready-made revenue impact reports
As a marketer, it's vital that you have the ability to connect your omnichannel efforts to revenue. You can now monitor how specific omnichannel campaigns impact revenue and your overall business outcomes so you can quickly optimize your efforts. Say goodbye to complex, manual reporting.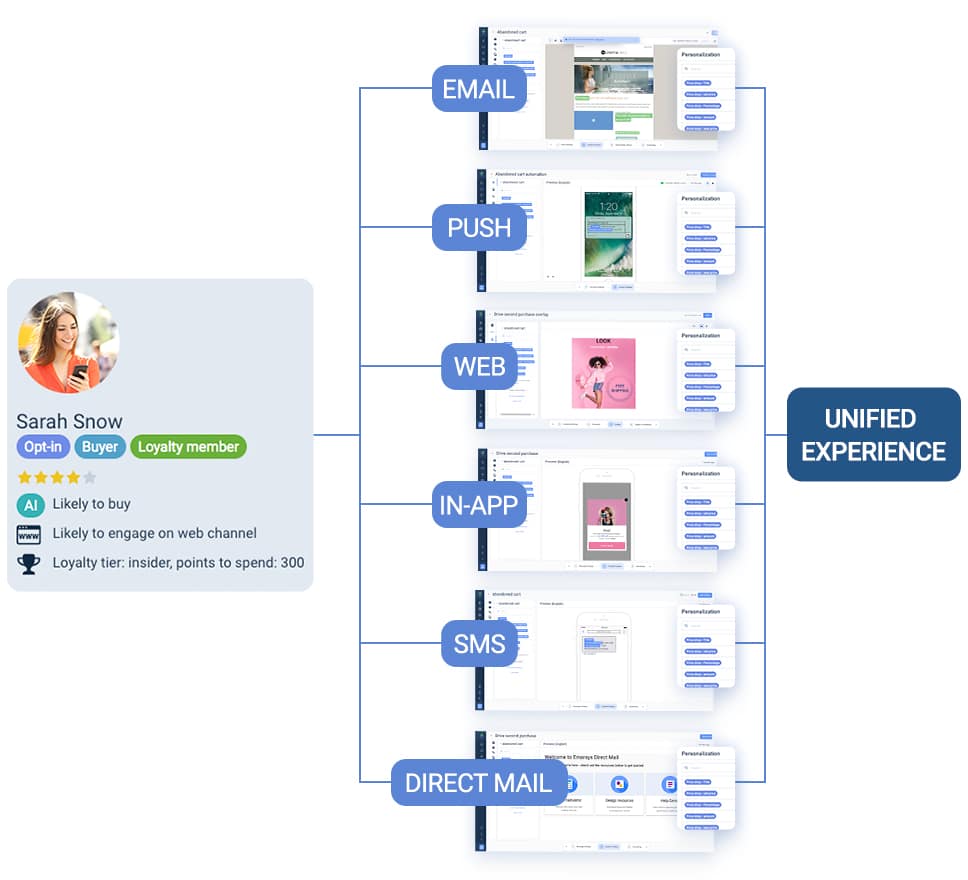 Customer-centric omnichannel personalization
Rapidly deliver a consistent, personalized experience for customers across all channels. All data sources are consolidated and synced in real time so you can create customer-centric experiences and even personalize your website, app, and in-store communications with automated 1:1 product recommendations.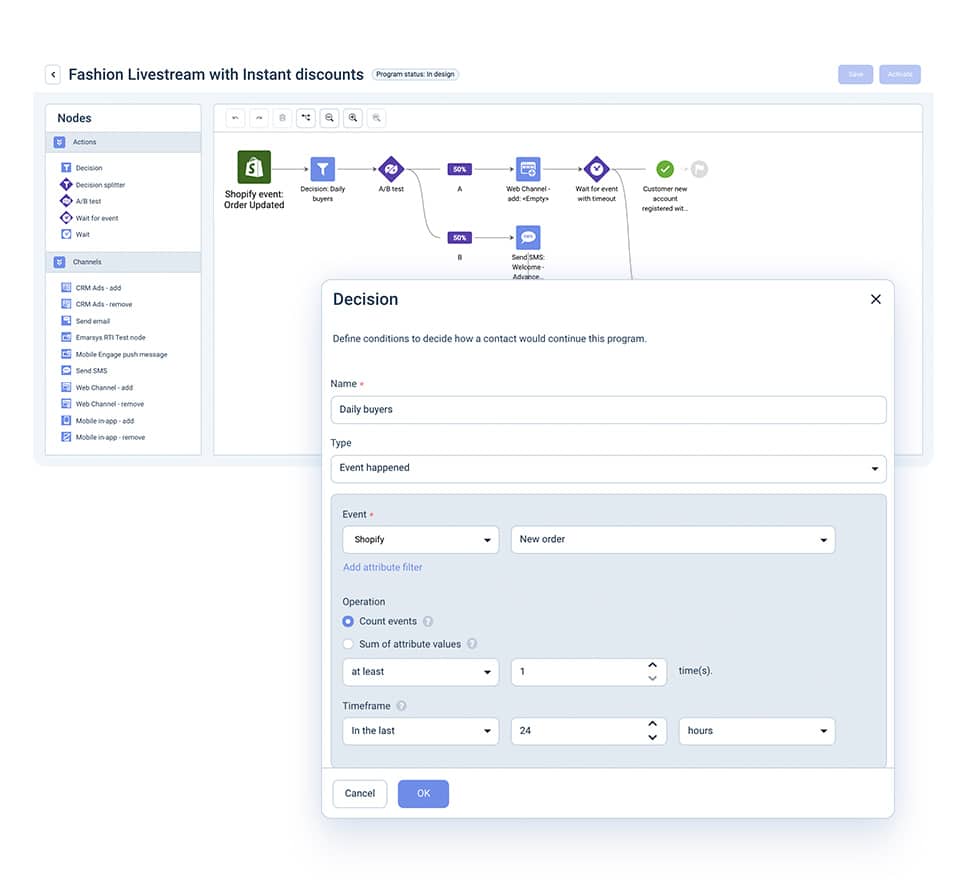 Real-time omnichannel interactions
Drive conversions with 1:1 personalized messages delivered at the right moment in any channel. Drive the best action in real time with personalized interactions based on advanced decision nodes without relying on your IT department.

Thomas Allendoerfer
Product Manager

"The Emarsys Interactions offers Tipico a platform that matches the customer-centric nature of our sports betting business. We can leverage its architecture and intuitive user-interface to achieve a fast time-to-market, with personalised customer journeys across all integrated communication channels in Emarsys. Being able to use real-time event data in combination with historical data points to calibrate our decision making in customer journeys is of great benefit to us. This allows the operational teams to react quickly to results and to setup A/B tests with ease. At the end of the day it brings us a big step closer to target our customers at the right time and on the right channel in a highly segmented approach."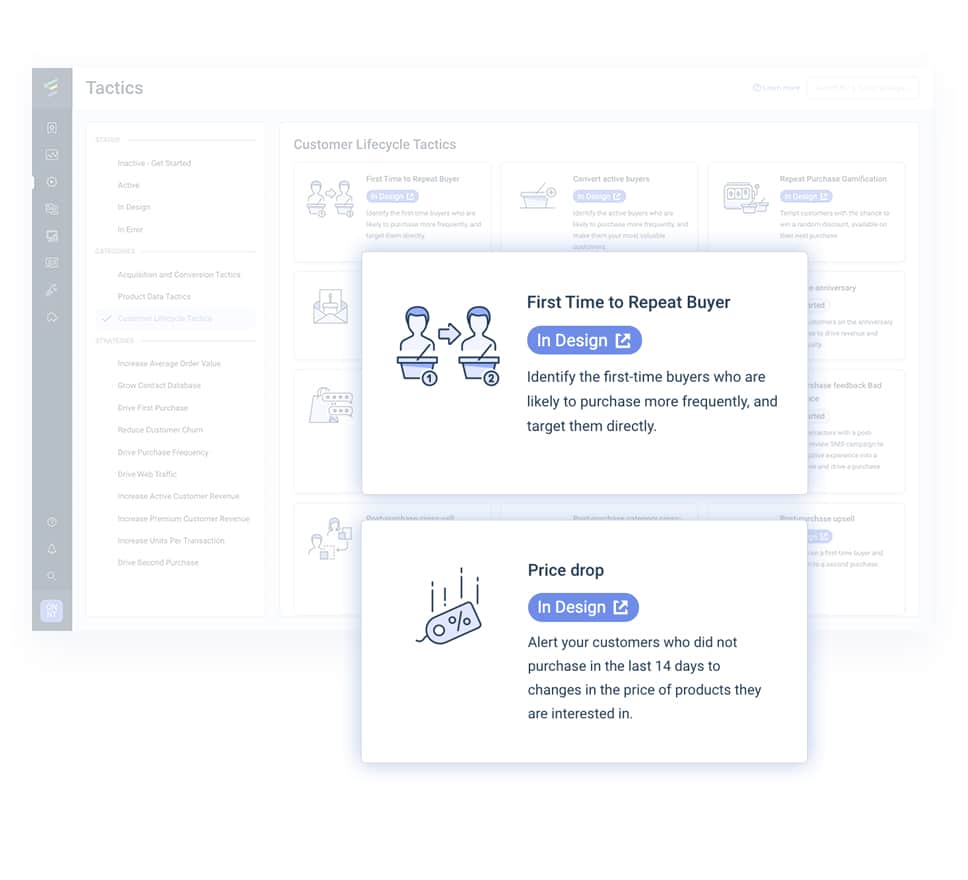 Instantly deployable use cases
Tactics are complete automation workflows based on proven, top-performing industry use cases. The following were added to our comprehensive set of Tactics:
Launch loyalty strategies to increase customer revenue and drive repeat purchases.
Deliver 1:1 omnichannel personalization to customers by connecting offline and online sales.
Respond to Shopify Plus events in real time.

Roumen Staykov
Founder/CEO

"Tactics allow us to get tested and proven automations up and running very quickly. After deciding on a goal and a customer incentive, the only thing left to do is for our designer to create a few graphics and we can go live."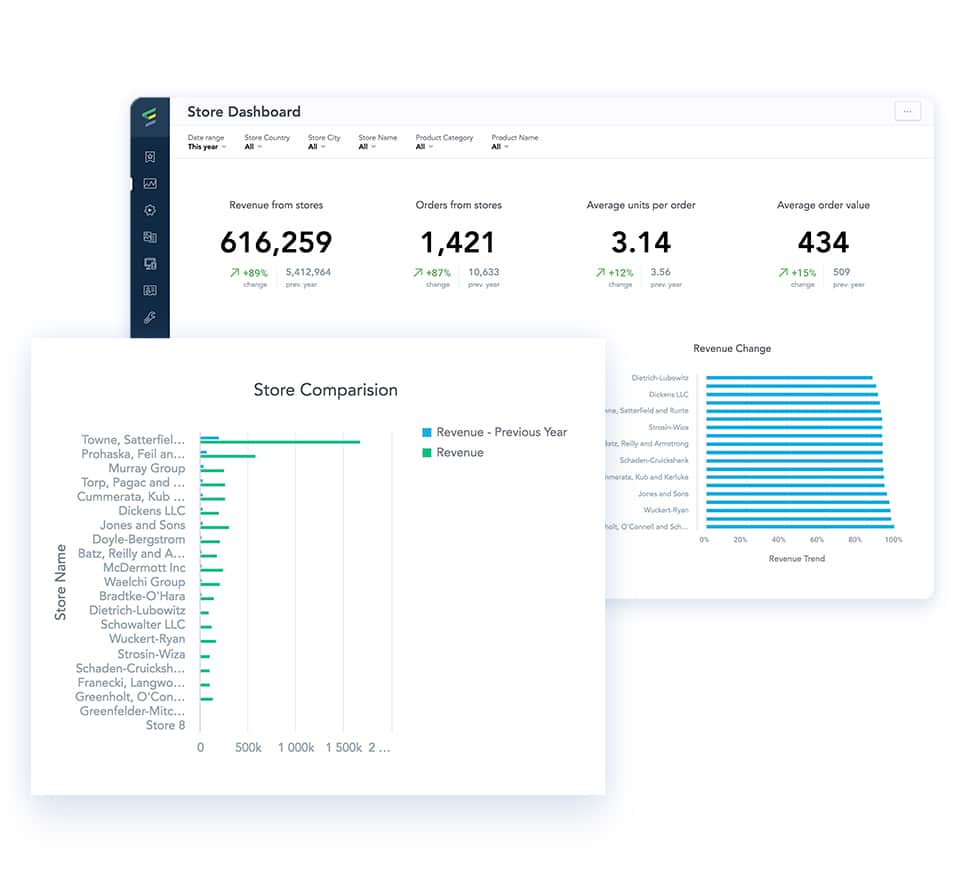 Built-in store analytics for retail growth
Quickly measure the digital marketing impact of your store's performance, and drive higher customer engagement through 1:1 omnichannel experiences by combining all the data on your customers, products, and sales.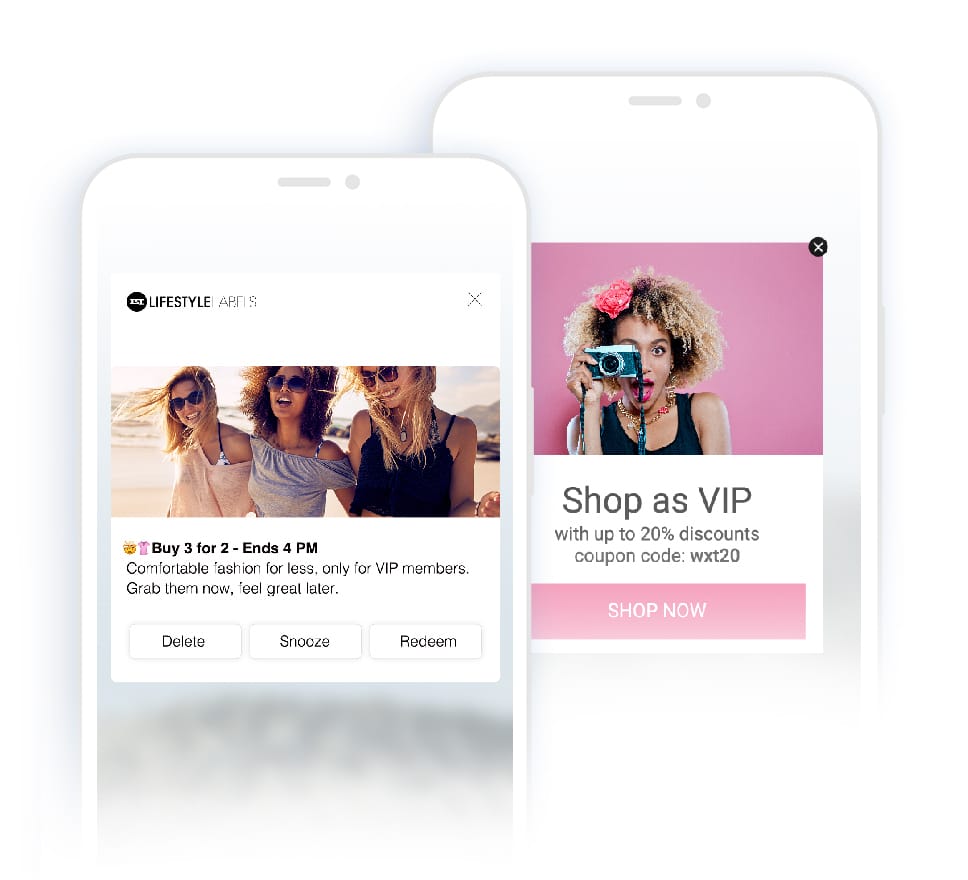 Rapidly personalize engagement on mobile
Strengthen your mobile experience by connecting with existing and new users through personalized, contextual real-time messages in your app and through SMS and push notifications. Reward loyal members, offer product recommendations, and incentivize your customers based on actions on your site and within your app.



"We wanted to evolve our email communications with a specific focus on being more nimble and faster in our personalization and segmentation efforts. We had relied on internal resources which was not always as timely as we needed. By going with Emarsys, we increased scalability, time to market, ease of making changes or testing new concepts while maximizing on their evolving technology."
Platform key capabilities
Choose the market leading technology
Emarsys platform is ranked a leader for personalization, cross-channel campaign management and marketing automation.
Our Satisfied Customers Include